It is a truth universally acknowledged that the "birds and bees" talk will be one of the most uncomfortable conversations you'll ever have with your child -- but it will also be one of the most important.
If you're stuck on where to start, it might be worth taking a "card" from one seventh grade teacher, whose strategy to encourage young students to ask honest questions about sex went viral this week.
According to Mashable, the teacher placed a box in the classroom where students could submit anonymous questions on flash cards. The teacher then started a Tumblr, Sex Questions From Seventh Graders, documenting some of the queries received. The Tumblr has since been taken down, but images of the index cards were quickly picked up elsewhere on the Internet, forever reminding us of just how awkward the middle school years can be.
While some questions were innocent ("Is there ways to have a baby but without having sex?"), others showed wisdom far beyond their teenage years: "Why do we have to learn about the reproductive systems when these boys are immature?"
Below, read more sex questions from seventh graders then tell us in the comments: how do you plan to approach "the talk" with your kids?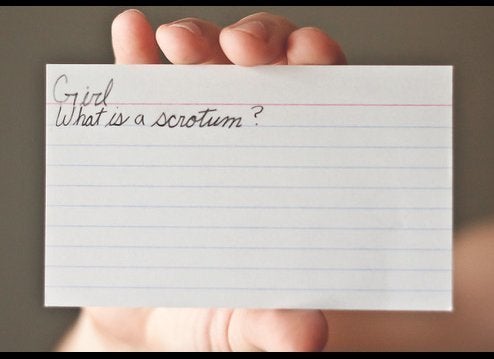 Sex Questions From 7th Graders