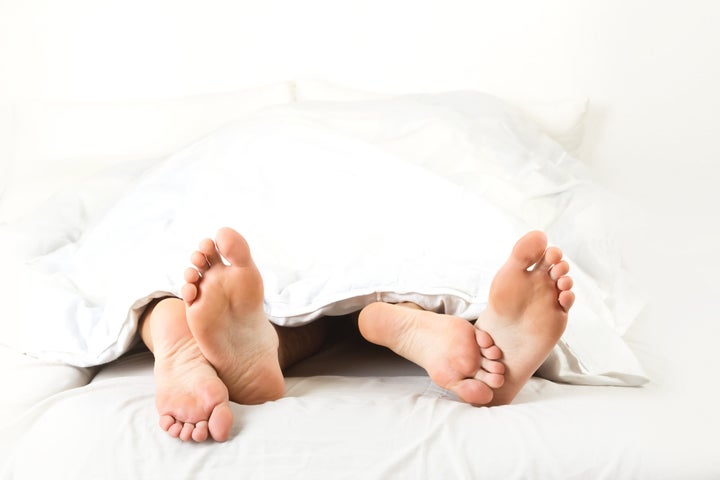 After being single for about six months, I finally came alive again, and by alive, I mean ... alive down there. After my breakup, I thought I'd never want to have sex again. My libido, along with my record collection and art books, got lost in the shuffle. Months went by where I saw single pals on the prowl and just was not interested. I worked on my strength, on my joy factor - but it was my co-author and hot-blooded pal who brought me back to the living, insisting that I practice the resolutions I share with you below. And when the libido did come back - it came back in spades. The more I loved myself again, the more I wanted to spread the joy.
It was her good advice that got me there, along with nights out with another faction of my friends who explicitly lived the life I was now trying to emulate. They refused to let me wallow in the sexual chastity of it all (after all, I was born a Catholic). They were a group of guys who would not allow the "closed for biz" sign to go up on my sex life. It just offended their sensibilities. Yes, they are my gay male pals. It seemed my gay buddies were better equipped to cope with the sexual aftermath that a breakup can bring ... certainly moreso than the average broken hearted woman.
Or perhaps they just had better apps.
Between Grindr and Scruff, these boys are getting down like nobody's business. With a new year approaching, they and my co-author helped me craft these simple resolutions for a sexual awakening in 2013 - 'cause the longer you live without it, the longer you can go without it. And that is NOT a goooood thing.
Resolution No. 1: Use it before you lose it.
Will yourself to fuck. Get that brain of yours horny. Eat oysters, wear crotchless panties, and for god's sake, diddle yourself ... for your gynecological health as well as your hot factor. Come back to the living, girl -- we've missed ya!
Resolution No. 2: Get yourself some bush confidence.
We don't care how you wear it: Brazilian, Sicilian, 70's abandon. We're not too fond of full bald eagle (you are not 11) but ... however you like it, make sure she's ready to go. Be a Boy Scout about your bush and be prepared. You wanna, as the fabulous Caitlin Moran says in her hysterical furry chapter in How to Be a Woman, "get return on your wax." Yeah, baby!
Resolution No. 3: Be sexy and safey.
Another aspect of being prepared: always carry protection. Ladies, this is essential for so many obvious reasons ... but it's more than protection, it's also intention. Much like a nice neat bush, it reminds you that the option is open. Every time you reach into your purse for your lipgloss, you'll see that little foil packet and be reminded that tonight could end in many different ways and in many different positions.
Resolution No. 4. Speakin' of positions, resolve to work out - a lot.
Not for the reasons you think, though. Getting a tight body is fine and dandy, but the way you feel about yourself is more essential. And endorphins get your mojo flowing ... bring on the kegels! Or consider getting all your exercise this year from doing it ... kama sutra style. Remain open to new ideas and you'll get plenty nimble along the way.
Resolution No. 5. Go ahead: nurture a crush ...
... and watch what that'll do to your sex drive. I sprayed my present lover's cologne all over my sweat shirt and I'm wearing it now. Purrrrr. I'm 14 again and lovin' it. And this, after he told me he was leaving for Dubai after a marathon sex session. Talk about an exit strategy ... and a Red Flag ... but a crush does bring you back to life. For that, Soldier Boy, I am very grateful.
Resolution No. 6: Be the approacher.
Let's face it, there's a lot of timid guys out there. It doesn't mean they're all bad. It just means they're products of our times. So roll with it. You want something -- reach out. I, too, wish that the primal male were more plentiful. As E. Jean Carroll says: "I was sick sick sick of modern man. I wanted a real man, and not a sperm less." But guess what, E. Jean, we all want to get laid ... and that primal male search is a vast and lengthy undertaking. Let's deal with what we've got and make the most of it. Think boy toys ... think early Madonna ... and lighten up.
Resolution No. 7: Be chatty in the sack.
Tell him what you like. Verbal foreplay is a turn on. Get over your queasiness and go for it. Your bed partner ain't a mind reader.
Resolution No. 8: Get your toys on.
Don't wait for a relationship to restock the toy drawer! Get some choice things ... sensual oils, a blindfold, silk scarves, something to tickle him, or maybe a paddle to spank him -- or go Fifty Shades with Ben Wa balls and chains. Your vibrator doesn't only have to come out when you're solo ... you can incorporate that too. And don't forget lube! Lube makes everything better and makes the world go around.
Resolution No. 9: Be interested in the world.
Nothin's sexier than a smart lady in a hot dress. Get involved in the world and the world will get you laid. Promise.
Resolution No. 10: Get some audio-visual stimulation.
Watch a little online porn. Let's face it, ladies, they don't make it for us, do they? But, I promise, there are a myriad of free websites with a wide array of female-friendly lusty vids. Or better yet: rent Rome! You can't beat porno as performed by the Royal Shakespeare Company! If you do that, your libido has no choice. If it's been absent for a while, it will come back like a stampede of wild horses.
Resolution No. 11: Turn on that light!
Turn your confidence on, girl. And if you can't find the switch, learn to act "as if." Fake it till you make it, baby.
Resolution No. 12: Now get out there and DATE!
It's the end of the year, and it looks like it ain't the end of the world after all. A new beginning. So GET OUT THERE. Everyone's feeling festive and frisky. Ok, fine, so we ladies don't have the easy hook up app, Grindr, but we do have dating websites where you can specifically say you are just looking for fun. OK Cupid is free and generally there's a good mix of folk who are up for some good clean messing around. Let's remain unafraid of new ... of surprise.
We all, as Walt Whitman (a randy one) said, contain multitudes. It's important to remember this...to encourage it for this new year and new you. Broaden your sexual horizons in this new single moment. There is something so liberating about being single. Reinvent and rediscover your sexy self. Don't let your ex take that from you. Just make sure the guys you are hooking up with are single too, because we are ethical, after all -- are we not?

Maryjane Fahey is the coauthor with Caryn Beth Rosenthal of DUMPED, a breakup bible for women to get off their asses and over their exes in record time. AVAILABLE NOW. Find, tweet, facebook, whatever them... they're very friendly.
DUMPED for 2013 -- New Year, New YOU -- treat yaself and your pals!!
Related
Popular in the Community