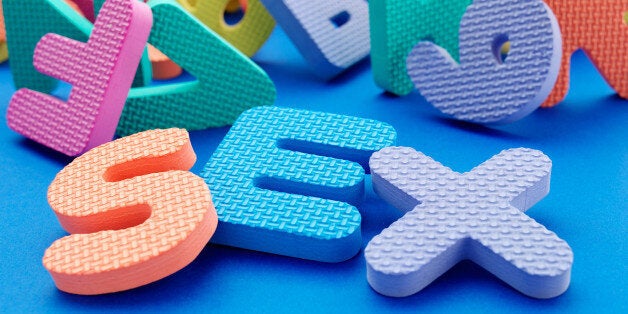 In the post-sexual revolution world, you'd think a group of young, sexually active women wouldn't start fidgeting in their seats at the mention of using sex toys. Didn't cultural phenomena like "Sex and the City" and 50 Shades of Grey shed the awkwardness and prepare us for this?
It appears not: The general reaction I got when I brought up the topic to various friends -- both single and in relationships -- was giggling and blushing ... but also curiosity.* Sure, plenty of women have already tried sex toys -- 44 percent of women between the ages of 18 and 60, to be precise -- but what about the silent, intrigued majority who don't know where to start?
Before I knew it, I found myself in a bright pink sex shop surrounded by vibrators, cock rings and all sorts of sexual contraptions I'd never want my mother to know I've seen, all in the name of research. But it wasn't some daunting, x-rated experience --it was actually pretty fun and damn educational.
The first rule of shopping for a sex toy is to loosen up and enjoy the ride.
"The analogy I use is dessert," Dr. Ava Cadell, certified sex counselor and author of NeuroLoveology, told me. "When you go out to a restaurant, dessert is not necessary, but it sure is yummy when you have it. That's how I think of sex toys. They're just yummy enhancements."
Cadell told me that there's six types of sex toys -- vibrators, dildos, nipple toys, sexercises, penis rings and masturbation toys -- so the second step is deciding what you're looking for. In my quest to help curious females everywhere, I stopped by Babeland in New York City to see what's out there. If tawdry, in-your-face fetish stores scare you off, rest easy that there are plenty of sex toy shops that feel more like high-end fashion boutiques.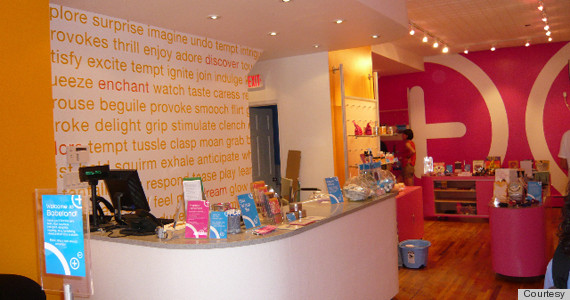 Babeland in Brooklyn, New York
Most Babeland customers are looking for something to share with their partner, Claire Cavanah, Babeland co-founder and co-author of Moregasm: Babeland's Guide to Mind-Blowing Sex, told me. The best-selling vibrator for her is "hands down" the We-Vibe 4, a two-pronged vibrating sex toy that's supposed to help with simultaneous orgasms. There are even toys you can control with your smartphone, like the OhMiBod Blue Motion.
Obviously, there's quite a bit to sift through, so here's what you need to know:
If you're curious about sex toys, you need to get over your insecurities and fears.
While plenty of Cadell's clients come to her about sex toys, Ellison said that, in her 40 years as a sex therapist, she hasn't seen too many people willing to broach the topic themselves. They both agreed on one thing, though: Each person's insecurities and fears about sex toys are unique.
For some women, the idea that "it's not natural" bogs them down when it comes to sex toys -- only a living, breathing partner is supposed to make you orgasm. Others have told Cadell that they're embarrassed or worried that a high-powered sex toy will make them desensitized to the human touch, rendering them only able to achieve orgasm with a sex toy. Men, on the other hand, tend to be threatened: Don't I satisfy you? Am I not a good enough lover that we need something else?
"I always tell men, 'No, no, no, don't worry. A sex toy can't cuddle; a sex toy can't kiss; it can't give you compliments,'" Cadell said. "But it can add orgasmic intensity for a woman by stimulating key erogenous zones that a man doesn't always find or doesn't always know exist, such as the U-spot, the G-spot, the A-spot,** the perineum -- all of these areas that are highly sensitive for women."
Cavanah said that vibrator beginners tend to get caught up in the mechanics of toys and whether they'll get something wrong, so she recommended starting simple to assuage those fears. (Think: a small clitoral vibrator without any bells and whistles that can be easily stashed away.)
"The only way you know what you like is if you start and experiment," Cavanah said.
Plus, Cadell said that simple sex toys, like blindfolds, can empower women and actually distract them from any hangups they may have with their bodies.
"It's even better for the ladies to blindfold their men, because that gives women more confidence," she said. "I've had so many clients that told me that once they blindfold their lover, they can do things and say things. They're 10 times bolder than they've ever been. It liberates them."
As for the ladies who are unsure if they want to look into sex toys for personal use?
"It's better than going on a bad date. And it's safer than a one-night stand," Cadell said.
Once you've decided you're willing to give sex toys a go, let your turn-ons guide you on where to start.
After helping countless Babeland shoppers over the store's 21-year run, Cavanah suggested to think about what turns you on and go from there.
Want to test the waters? Start with massage candles. Into the 50 Shades craze? Try a blindfold (or a ben wa ball if you're adventurous). But a lot of women want to go straight to vibrators -- perhaps the infamous "rabbit" episode of "Sex and the City" piqued their interest? -- so Cavanah recommended that they start with a non-phallic clitoral vibrator before moving on to internal vibes. (She said men tend to go for vibrating rings and masturbation sleeves, if you're curious.)
"At some point, most women discover that they are more likely to orgasm from clitoral stimulation than from vaginal, so products with vibration focused on that specific areas have become very popular," Cavanah said.
Next, think about how strong you want your vibrations. Cavanah said that if it takes "a good while" for you to get off with your hand or you need a shower massager, go for more powerful vibrators. You should also look for quality construction and body-safe materials, like silicone.
"Then, throw any rational thinking aside and pick the one that tickles that sexy part of your imagination," she said.
Going into the store, rather than shopping online, is the best way to go -- but make sure you talk to your partner first.
Both Cadell and Ellison say store assistants can be invaluable in the quest for a sex toy, whether you're alone or with a partner.
"It can be done online, but I think the personal going to a store can be an adventure and something outside what [couples] have usually done in their lives," said Ellison.
If you do plan to use the toy with a partner, both Ellison and Cadell recommended broaching the topic with him or her before buying anything. In fact, shopping together makes for a great "date," said Cadell.
To bring it up to a partner, she recommends being direct. You can say things like, "I feel like sex toys will add more variety to our sex life" or "I'd like to experiment with a vibrator or a dildo. What do you think?"
You can also just ask your partner to go to a store with you and see what's out there for the fun of it. Couples often start out by experimenting with anything from vibrators to cock rings to basic S&M kits (yes, some are more "basic" than others).
"Buying something really innovative that opens up conversation is probably better than just buying a dildo, which can be intimidating for the man and for the woman," Cadell said. "But common household items are a great prelude to sex toys."
If you're not ready to go to a store, Cadell recommended starting with a feather duster to caress your partner's body ("Just make sure you didn't actually dust the furniture with it!") or a man's tie to restrain your partner's hands ("with permission, of course"). She also said you could use a piece of ice for "sensation play" or a spatula for spanking.
"Sometimes people explore with fruit and vegetables or whip cream," Ellison added. "You know, get one of those spray containers of whip cream or chocolate sauce and lick it off."
But whatever you decide to buy (if you plan to buy anything at all), take Ellison, Cadell and Cavanah's biggest piece of advice about sex toys: have fun, relax and don't judge yourself. It may be a bit awkward, but there's absolutely no reason to be ashamed.
*I recognize that this isn't the most representative sample, but I don't purport to be a social scientist.
Related
Popular in the Community