How many times have you walked past a small massage business without any thought to what might actually be happening behind the opaque doorway and the glowing sign welcoming patrons? Have you ever given thought to the working conditions of the people washing the dishes at the restaurant you dined at last night? Would it shock you to know that modern slavery exists, that it is one of the fastest growing crimes worldwide, and that it is estimated to make more than $32 billion a year globally?

Human trafficking in the sex trade and labor industries is big business - very big business - denying freedom to millions of women, children, and men in the U.S. and around the world. It's organized, sophisticated, and nimble, and traffickers come up with dozens of savvy ways to control they people they exploit.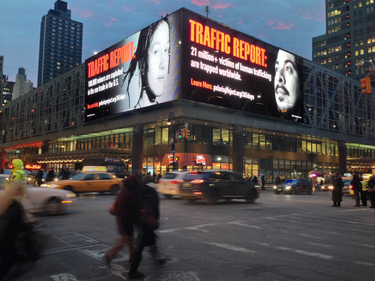 Based on the popular notion that sex trafficking spikes at the time of the Super Bowl, the issue has recently received an increase in media attention again this year. However, it is important to know that there isn't much evidence linking the Super Bowl to a major rise in trafficking. Instead of spotlighting the Super Bowl, we recommend a closer analysis of the available data and the sad realities of this societal plague to better understand how and where trafficking is really happening. Polaris Project has served more than 600 trafficking victims and fielded reports of more than 14,000 potential human trafficking cases through the National Human Trafficking Resource Center (NHTRC) hotline. In doing so, the organization has gathered a wealth of data on the economic system and market dynamics that fuels human trafficking.
Although there is a market for commercial sex around the time of the Super Bowl, this market demand exists 365 days a year. It could be there at any event where masses of people descend upon a specific city or region, and it is also there on any average day when no big sporting events are taking place. Human trafficking exists everywhere, from rural towns to large cities, and in every U.S. state - anywhere a trafficker can make a profit by exploiting vulnerable people.
So, this isn't just a Super Bowl problem. It's a national problem. Multiple cases of potential human trafficking were reported to the NHTRC hotline from all 50 states and Washington, D.C. in 2013 alone.
A better way to think about trafficking is this: traffickers run enterprises wherever they believe they can make high profits with little risk, and their operations rapidly evolve to changing market dynamics. They adapt to change better and faster than many large corporations. The sophisticated human trafficking industry must be met head-on with similarly adept counter-marketing, legal mechanisms, policy reform, and other strategic interventions to expose and disrupt the networks and systems that profit off the pain, suffering, and exploitation of others. At its core, human trafficking is a business. We have to fight it like one.
That's why Clear Channel Outdoor and Polaris Project are partnering to significantly raise the profile of this crime. We've expanded our billboard campaigns from cities like Baltimore, Las Vegas, and Phoenix to New York City and New Jersey as more than 500,000 football fans descend on the region and when the eyes of the nation are turned east for the biggest sporting event of the year. Seizing this invaluable opportunity, our new campaign will make nearly 10 million impressions over a two week period around the Super Bowl.
To the public, our message is simple - you can play a role in stopping human trafficking by understanding the facts and reaching out to the national human trafficking hotline if you suspect someone is being victimized. To the men, women, and children being exploited, our message is a hopeful one - know that there is a way out and that there are resources available to help.

We know partnerships like these work. The trucking industry, through the organization Truckers Against Trafficking, has trained thousands of truckers about the signs of human trafficking and when to call the national hotline. As a result of these efforts, the national hotline has received nearly 800 phone calls from truckers, including calls with valuable tips and information.
The financial sector can also take steps to cripple the trafficking industry by reporting suspicious financial transactions that may be tied to human trafficking operations. The hospitality industry can partner with organizations to train hotel staff on preventing and detecting sex and labor trafficking. Workers can learn how to spot when pimps are controlling women and girls and are trying to use hotel rooms as a transient and anonymous venue for commercial sex. And of course, media can play a role, as Clear Channel Outdoor has, by exposing the trafficking industry, raising public awareness, and inspiring victims to seek help. By applying pressure points like these, we create more risk and make modern slavery less profitable.
It's critical that this moment of opportunity tied to increased awareness at the Super Bowl be extended to a broader and more sustained effort that addresses the true magnitude of the problem and provides the necessary resources. Clear Channel Outdoor and Polaris Project invite other companies and business leaders to join in this effort.
Support HuffPost
The Stakes Have Never Been Higher
Related
Popular in the Community