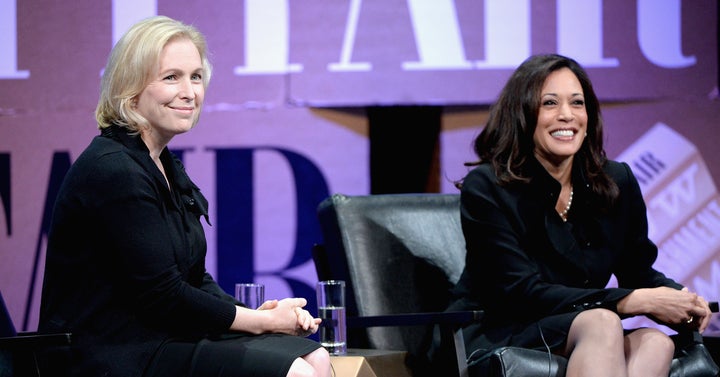 Twenty-four Senate Democrats, including potential presidential candidates Kamala Harris (D-Calif.) and Kirsten Gillibrand (D-N.Y.), have thrown their weight behind a soon-to-pass bill that is supposed to protect sex workers but would actually put them at greater risk by making it harder for them to use the websites they rely on to protect their identities and screen clients, according to sex workers and their advocates.
The Senate could vote as early as this week on the Stop Enabling Sex Trafficking Act (SESTA). A version of the legislation easily passed the House, 388-25, late last month. Both proposals would hold online platforms, such as Craigslist and the personal classifieds site Backpage, liable for user content related to sex trafficking. This could encourage websites to censor sex-related ads to protect themselves from litigation, free-speech advocates warn. Sex workers would have to turn to methods that offer less privacy to promote their services, making it tougher to screen clients or warn others about dangerous customers.
Voluntary sex work is often conflated with sex trafficking, which is less common than trafficking of people into farm, factory or household labor. But many sex workers are not victims of the sex trade or human trafficking; they are self-supporting and have decided for themselves to do the work. Given harsh prostitution laws across the country, sex workers often work underground and depend on sites like Backpage, which allow users to screen clients, protect their identities and find clients.
SESTA's opponents argue that making websites liable for sex trafficking-related content will push both sex trafficking and voluntary sex work further underground ― leaving trafficking victims and voluntary sex workers worse off than they are now.
Once websites are legally liable for user-related content related to sex trafficking, they'll turn to automated filters to find and delete that content, predicted Elliot Harmon, an activist at Election Freedom Frontier. But automated filters, while useful to site moderators, aren't an effective method of monitoring content, leading to needless censorship. Google's PerspectiveAPI, an automated filter meant to monitor "toxicity" in online discussions, was unable to differentiate between "I am a Jew" and "I don't like Jews." There's no reason to believe automated filters will be any better at differentiating between ads for voluntary sex work and those tied to sex trafficking than they were at identifying anti-Semitism, Harmon added. And sites that can't post sex workers' ads without fear of being sued probably won't post them at all.
"When websites are shut down, the sex trade is pushed underground and sex trafficking victims are forced into even more dangerous circumstances."
And pushing sex work-related ads offline will leave sex-trafficking victims even worse off than they are now, said Jean Bruggeman, executive director of Freedom Network USA, an advocacy group that supports victims of human trafficking. Ads for sex work that appear online are easier to monitor and track than ones that appear elsewhere, Bruggeman noted. Without an online platform, sex traffickers and their victims will be more difficult to track down; having a digital footprint is actually helpful when it comes to finding and rescuing victims.
"When websites are shut down, the sex trade is pushed underground and sex trafficking victims are forced into even more dangerous circumstances," Bruggeman said. Under SESTA, "trafficking victims face even more violence, are less likely to be identified, with less evidence of their victimization."
SESTA "boasts of being the answer to uncovering and punishing those engaged in sex trafficking online, but what it actually is about is internet censorship," Briq House, communications director for the Sex Worker Outreach Project-USA, which promotes the decriminalization of sex work, wrote last summer. "Without proper ways to establish identity, set service boundaries and screen people properly, this bill could turn casual meet-ups into life-or-death situation."
The bill is cruising toward passage anyway. Its most prominent Democratic backers were reluctant to address sex workers' critiques of the measure.
Harris, who as California attorney general charged the CEO of Backpage with felony pimping, did not respond to requests for comment, and Gillibrand's office cited the fact that the bill has broad support from sex trafficking advocacy groups, tech groups and faith leaders.
A spokesman for Sen. Rob Portman (R-Ohio), the bill's Republican author, similarly declined to comment on sex workers' concerns and also pointed to the list of groups backing the proposal.
But some of the bill's backers insist it will protect women who are at risk.
"I have a constituent whose daughter was trafficked and then killed using Backpage and these sites," said Sen. Tammy Duckworth (D-Ill.). "We have to do something."
"I think we need to do everything we can to try and shut down those websites," said Sen. Jeanne Shaheen (D-N.H.). "But there are a lot of other things we need to do to support victims and to make sure law enforcement has the tools they need."
About a dozen human trafficking organizations have endorsed the bills, including the National Center for Missing and Exploited Children, the Trafficking in America Task Force and the New Jersey Coalition Against Human Trafficking.
"Lawmakers are not listening to us."
"This bill targets the business model of companies like Backpage.com by opening the door to civil liability and allowing states to enforce their trafficking laws when online entities choose to profit from the exploitation of sex trafficking victims," Christine Raino of Shared Hope International, a religious-based organization focused on preventing sex trafficking, wrote in support of the measure. Major websites including Facebook, Google and Oracle also support SESTA.
But several groups that advocate for sex workers are concerned that no one is talking to those who would be most affected.
Congress's attempt to combat sex trafficking is a good thing, Bruggeman said, but these laws are drawn up without consulting sex workers and victims of sex trafficking about their lived experiences.
That several feminist senators who are otherwise outspoken advocates for sexual assault survivors support the legislation is also a disappointing factor for many sex workers ― a group often left out of mainstream feminist movements to begin with.
"I live in California, and Kamala Harris is my senator. It has been dispiriting, to say the least, to see her zeal in using law enforcement to crack down on voluntary sex workers in an effort to combat trafficking," Lola Davina, a former sex worker and author, told HuffPost. "I wish Senator Harris would take the time to actually talk directly to voluntary sex workers to learn about their lives and livelihoods. Sex work is often an occupation of last resort that women, queers and trans folk fall back on when they have few other options .… Making their work even more dangerous, more marginal, more stigmatized, more difficult does nothing to help them ― they are collateral damage in the fight against trafficking."
And Davina isn't sold on the idea that senators have assembled a broad coalition of advocacy groups to back SESTA.
"I wish lawmakers would see voluntary sex workers for what they are," she said. "Small business owners attempting to promote their services, which, when consensual, harm no one."
This article has been updated with comment from Duckworth and Shaheen.
Popular in the Community