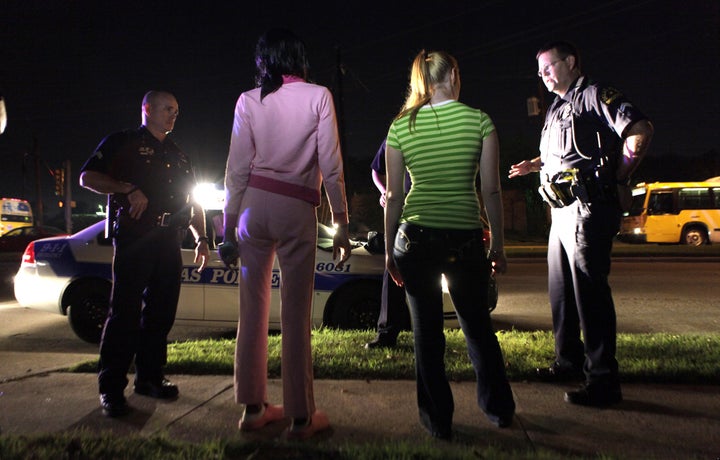 Julie*, a California girl-next-door, star volleyball player and award-winning concert pianist thought the boy who invited her to his home was her friend. But after he and four other classmates gang raped her, this naïve 15-year old blamed herself. Consumed with guilt, she told no one -- especially not her parents.
"I became suicidal, smoked weed and slept around," Julie says. "I went from the perfect angel to a little girl lost in the world of drugs and men."
The emotional trauma drove her from the people who cared about her. She dropped out of school, ran away, and became a real "ho", like the rap lyrics she and her so-called friends idolized. Alone and vulnerable, she was an easy mark for a sadistic pimp, Maurice MacFarland, a.k.a. "Genius," who followed the pimp "code book" to the letter. He began the grooming process by plying her with gifts, words of love and drugs. He then beat and raped her into submission before trafficking her to Washington D.C. where she was rented by the hour to powerful men with deep pockets. If she didn't earn $1,000 a day, he beat her viciously.
Eventually, they made it back to California where the two were arrested. Her luck changed when she was picked up by a detective who worked closely with Lois Lee, Ph.D., the founder of Children of the Night in Van Nuys, Calif., whose life work is rescuing teen prostitutes. Julie's long road to normalcy began while she was in Lee's capable hands. Though terrified, she agreed to testify against "Genius" who is currently serving a 77-year, eight-month sentence for sexually exploiting and trafficking a child.
A pioneer in rescuing America's sex slaves, Lee hit the streets long before law enforcement even recognized prostituted children. What began as a study in human sexuality for a Ph.D. dissertation became her life's work. For 27 years, she says she has been in the middle of a tornado.
Actually, it's more of a tsunami.
Julie is just one of the young girls Lee has rescued since she founded Children of the Night in 1979. Over the last 30 years, she has raised $40 million in private funds to provide shelter, an onsite school and specialized services needed to help these girls return to physical and mental health. Her hotline receives more than 10,000 calls a year from all over the country and many of the program's graduates -- including Julie -- have gone on to college and become lawyers, executives and educators.
In the beginning, Lee ran the organization from her small apartment, supporting victims age 11 to 17 through her financial aid, part-time teaching and research fees. A generous grant from the Playboy Foundation enabled her to buy food and turn her home into a hotline for girls (800-551-1300) caught in the sordid web of life on the street.
While child prostitution is an equal opportunity crime, Caucasian girls bring top dollar on the streets -- $60 to $300 for 15-minute to one-hour increments. Blondes with blue eyes known as "swans" command even more and in Minnesota, Native American girls are in high demand.
Contrary to the belief that the sexual exploitation of children only takes place in Third World countries, it occurs daily in the United States. A well-known trafficking highway leads down the Eastern seaboard, through Miami, Charlotte, Atlanta, Phoenix, Las Vegas, Los Angeles, Portland, Seattle, Hawaii, Minneapolis and more. No city -- regardless the size -- is immune.
Trafficking minors for prostitution is the third highest money-maker for organized crime in the U.S. Only gun and drug sales are higher. Teens are recruited in arcades, malls, entertainment centers, tourist attractions, concerts and even schools.

The problem has become so enormous that it will take the combined efforts of law enforcement, non-profits and the faith community to stem the tide.
Lee assists other agencies around the country to develop programs similar to hers to rehabilitate prostituted teens who suffer from PTSD, Stockholm Syndrome (victims become sympathetic to their perpetrators), STDs, HIV-Aids, educational issues and psychological trauma.
Children of the Night has been in the fight longer than any other American organization. Others have followed, but more are needed to join forces and battle this crime against children.
(Photos courtesy of Children of the Night)
Related
Popular in the Community