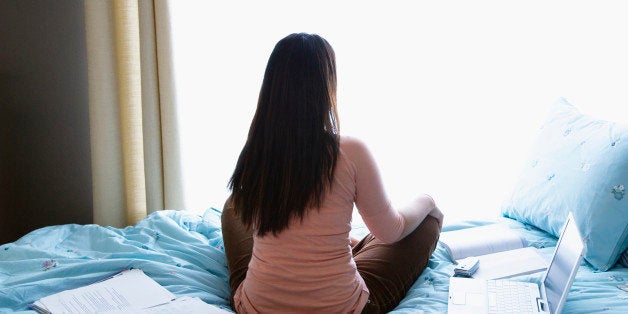 Throughout the next few months, HuffPost Teen is highlighting the way teens think and feel about sex through anecdotes written for our series, "Teen Sex: It's Complicated." All of the authors are teenagers who have agreed to be published anonymously. If you want to share your thoughts, join the conversation here.
To me, the word sex means nothing.
I lost my virginity to my first serious boyfriend when I was 14, and then he moved away and we broke up. Obviously, I was devastated and cried for days. Eventually I got over it.
Then high school came along. Throughout high school, each serious boyfriend after that ended the same way. I fell in love, we had sex, and then we broke up and each time after, I was so upset. I was heartbroken.
I'm not sure when the switch came, but it came. And when it did, I told myself, "Alright. Enough is enough." I decided that I could be like every other boy, and just have sex, no feelings and no attachments. And that's what I did for a very, very long time. Sex was nothing to me. Maybe it was a way for me to get attention from a boy, even for a split second. All that mattered to me was the moment I was in. You could say it was almost an addiction.
But now as a sophomore in college, I've slowed down, and learned that sex is something important. It isn't something that can just be rushed in the backseat of his mom's Escalade or on his dad's boat while I told my parents I was at the gym. And even though I write this story days after my heart was broken again in the same cycle, I realize that I don't regret it like I have so many other boys.
Sex should be an act of love, between two people or even you're just showing yourself some love. It should be something important to you, even if you can't finish the sentence "To me, the word 'sex' means..." Because sometimes sex is inexplicable -- you can't put one word to it -- and guess what? You don't have to, because it's your sex.
Calling all HuffPost superfans!
Sign up for membership to become a founding member and help shape HuffPost's next chapter