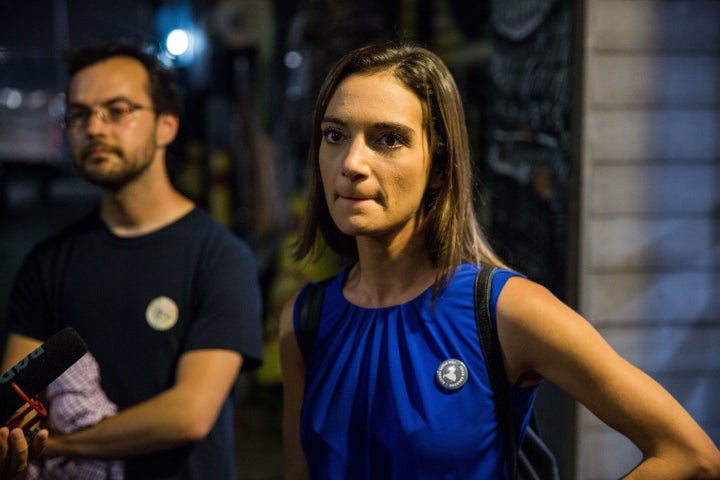 Sex workers' rights advocates are celebrating Julia Salazar's win in New York's Democratic primary for a state Senate seat on Thursday, saying that they have an ally in the 27-year-old Democratic Socialist.
Salazar included the decriminalization of sex work in her campaign platform. Her platform included plans to stop massage parlor raids and unnecessary "loitering" arrests that predominantly affect women of color. No other politicians, including any in the Democratic party, have made sex workers' rights such an integral part of their policy.
"Julia is the first ever vocal advocate for sex workers' rights to run on the issue and win," Lola Balcon, a community organizer for sex workers' rights, told HuffPost on Friday. "That's so big for us," she said. "It shows that voters in New York are ready to talk about this issue."
Sex workers have historically not trusted politicians, especially Democrats who boast progressive policy ― like calling for affordable health care, reforming the criminal justice system, and legalizing marijuana ― but who continually leave sex workers out of it. Salazar's background in community organizing with the Democratic Socialists of America set her apart from veteran state Sen. Martin Dilan, who she defeated in the primary. To many sex workers, she represents what a progressive candidate can truly look like.
"Julia took the time to not only consider sex workers' rights as a potential platform issue, she made the time to listen," advocate Emily Iris told HuffPost. "Julia's win means that sex working people here in New York now have an ally in office."
Salazar did more than just listen ― she involved sex workers in her campaign, too. In August, members of New York's sex workers' rights movement, including Balcon, teamed up with Salazar's campaign for a canvassing event in Brooklyn. Around 40 sex workers and their advocates went door-to-door to discuss sex workers' rights ― and why they think Salazar is the best candidate for concerned community members.
Sex workers and their advocates have long pointed out that a platform cannot be truly progressive if sex workers, who are often the most vulnerable members of their communities, are left out. Sex workers face huge threats of violence from both clients and law enforcement officers; many of the workers are low-income women of color. Immigration status and gender identity also play a role in sex workers' safety.
"Julia's win means that sex working people here in New York now have an ally in office."
But Salazar understands that sex workers' rights exist at the intersection of criminal, racial and immigrant justice, and her views on the topic fall in line with those of the DSA at large. The DSA, while still a relatively small political organization, has had a successful election season. Fellow DSA member Alexandria Ocasio-Cortez, who has also spoken out in support of sex workers' rights but didn't include them in her campaign platform, won the Democratic primary for a U.S. House seat from New York in June, defeating powerful incumbent Joe Crowley.
"We as an organization have historically been one of the most sex worker-inclusive organizations on the left, probably the most," Daphne Weinstein, co-chair of the DSA's Lower Manhattan branch, told HuffPost on Friday.
"My perception of Julia's experience is that she really, deeply understands the general principles around harm reduction and criminalization of marginalized communities," Weinstein said. "She understood that [sex workers' rights] adhere to general principles that fall with her views."
Balcon and Iris hope that Salazar's win will open the doors for other politicians to take a stance on sex workers' rights.
"Politicians are bandwagon-ers, so I think we're going to see more people be open to talking about it," Balcon said.
"I believe the more vocal we become about how [progressive issues] intersect with the criminalization of sex work, more allies like Julia will emerge as they connect the dots," Iris said.
Salazar's win also offers some positive momentum for the sex workers' rights community, considering another candidate ran unsuccessfully on a similar platform earlier this year. Suraj Patel, who also worked with Balcon and other community organizers, sought the Democratic nomination for New York's 12th Congressional District in June's primary, but lost to veteran Rep. Carolyn Maloney.
Popular in the Community