Sex work isn't (just) about sex; it's about work. All workers deserve rights. As more women and men come forward to speak up about having had their rights violated in the workplace due to sexual harassment, sex workers continue to face extreme violence, stigma, and discrimination with limited laws to protect them. But thanks to committed advocates and a rare breed of policymakers who are driven by human rights, the fight for sex workers' rights may be taking a turn.
From Washington, D.C., USA, to Cape Town, South Africa, there is growing momentum to reform laws that currently criminalize adults who exchange in consensual sex for money. Equipped with evidence and a human rights framework, advocates are making a compelling argument for decriminalization.
Campaigns to decriminalize sex work in Washington, D.C. and South Africa are driven by sex workers themselves and sex worker rights advocates. Sisonke Movement National Coordinator Kholi Buthelezi, a leading voice for decriminalization of sex work in South Africa, perhaps said it best: "It's about sex workers so they must be part and parcel."
Asijiki Coalition for the Decriminalization of Sex Work (Asijiki) is a coalition of sex workers, activists, advocates, and human rights defenders who are advocating for law reform that would decriminalize sex work in South Africa. Full criminalization of sex work is currently the law in South Africa, and has resulted in violence against sex workers, and hindered access to basic services including health services and abuse of sex workers, including by police officers.
Across the Atlantic in Washington, D.C., the Sex Worker Advocates Coalition (SWAC) is pushing for decriminalization of sex work in the District of Columbia. D.C. also criminalizes those who engage in sex work, which results in similar barriers as in South Africa.
In Washington, D.C., Councilmember David Grosso (Independent, At-large) collaborated with SWAC on a bill that he introduced last month, Reducing Criminalization to Improve Community Safety and Health Amendment Act of 2017. The bill eliminates criminal prohibition and penalties for sex work. It also creates a task force to evaluate the effects of removing the criminal penalties and recommend further efforts to promote public safety, health, and human rights.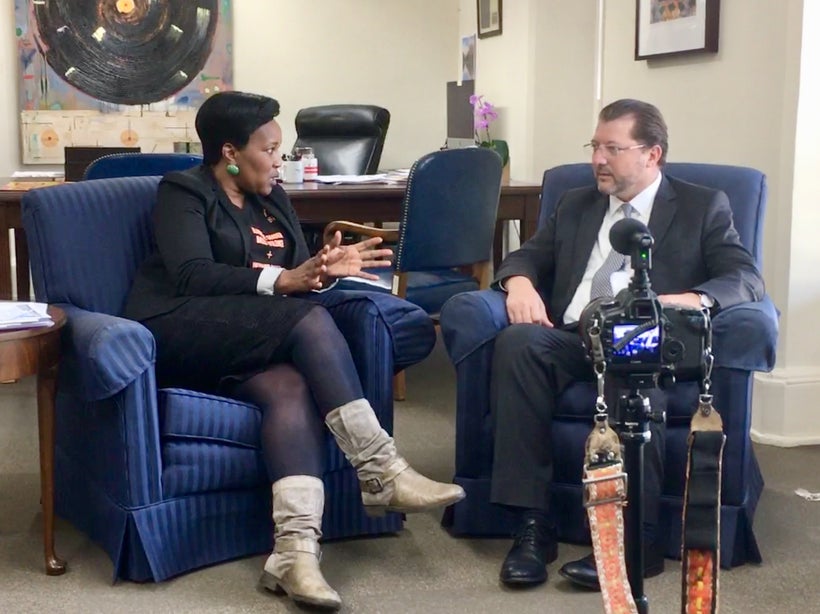 Decriminalization of sex work is not only the right thing to do, it is the smart thing to do.
Decriminalization addresses stigma, discrimination, and high rates of human rights abuses and violations that sex workers experience globally. It is also good public health policy that has proven to reduce HIV/AIDS. In fact, decriminalization could avert 33-46% of HIV infections among all people worldwide. Studies in Kenya and Canada show that the elimination of violence against female sex workers by clients, police, and others could lead to a 17-20% reduction in HIV infections, and that sex worker involvement and leadership in HIV programs are effective at reducing the transmission of HIV. The World Health Organization affirms that sex worker involvement is essential in the design and delivery of programming.
Every year, we celebrate International Day to End Violence Against Sex Workers to call attention to hate crimes committed against sex workers all over the globe. It is a call to recognize sex workers' rights as human rights. Make no mistake, decriminalization is not a panacea for violence and discrimination against sex workers, but it is the right place to start to achieve human rights for all.
Calling all HuffPost superfans!
Sign up for membership to become a founding member and help shape HuffPost's next chapter
This post was published on the now-closed HuffPost Contributor platform. Contributors control their own work and posted freely to our site. If you need to flag this entry as abusive,
send us an email
.