For the low price of $9.98, teen girls can be stripped of any personal ambition and reduced to their eventual title of "wife."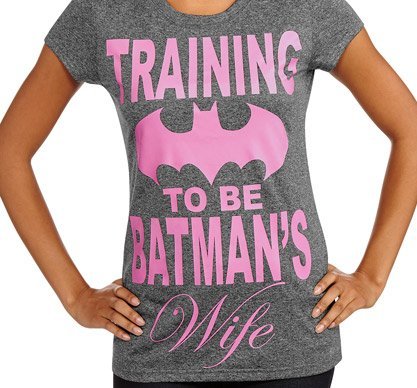 The T-shirt in question.
The shirt's overt sexism has caused outrage among parents, DC Comics fans, Twitter users and Amazon reviewers. On Jezebel, a writer who goes by "Eldritch" analyzes the problems with the shirt, starting with the first word on it. "What does 'training' mean here, anyway? Training to be thin enough, pretty enough for the likes of Bruce Wayne? Or perhaps training on how to cook and clean for the caped crusader?" she asks.
The Daily Dot's Gavia Baker-Whitelaw then highlights the absurdity of the rest of the message: "When a 12-year-old wants to buy Batman merchandise, it's generally not because she's impressed by Bruce Wayne's eligible bachelor status."
By insinuating that girls aspire to marry "superheroes," DC Comics seems to miss the very important fact that young girls want to -- and should -- see themselves as superheroes. Baker-Whitelaw points out that DC is in the same camp as Marvel whose who has been guilty of the same poor taste when it comes to licensed products. In April, Avengers fans petitioned shirts that told boys to "Be a Hero" and girls to "Need a Hero."
DC Entertainment isn't defending the shirt. A spokesperson told The Huffington Post:
DC Comics is home to many of the greatest male and female Super Heroes in the world. All our fans are incredibly important to us, and we understand that the messages on certain T-shirts are offensive. We agree. Our company is committed to empowering boys and girls, men and women, through our characters and stories. Accordingly, we are taking a look at our licensing and product design process to ensure that all our consumer products reflect our core values and philosophy.
The Mary Sue's Victoria McNally proposes a solution for them and other manufacturers: "Let's have a bunch of t-shirts for little girls that depict Supergirl or Batgirl being a badass, or maybe a Justice League shirt for boys that doesn't ignore the fact that Wonder Woman is a member."
Walmart did not immediately provide comment when reached Tuesday morning by The Huffington Post.
CORRECTION: A previous version of this article suggested that the Avengers are a DC Comics property. The Avengers are Marvel characters.