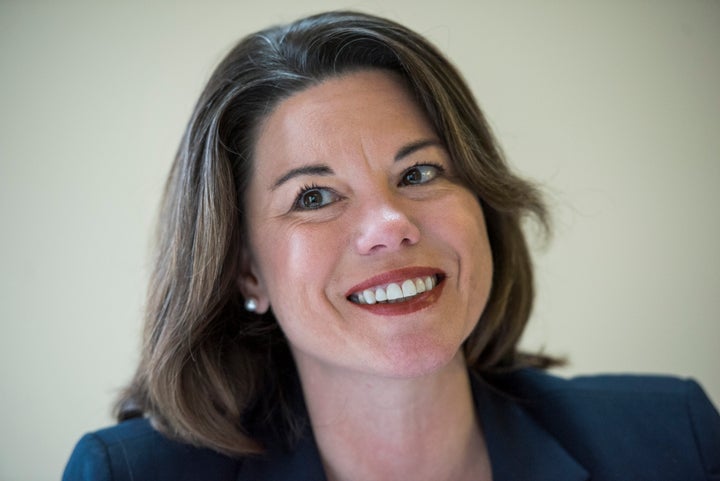 Republican Rep. Jason Lewis has lost his re-election bid for Minnesota's 2nd Congressional District to Democratic Angie Craig, according to The Associated Press.
The election was a rematch between Lewis, a controversial former radio host first elected in 2016, and Craig, a queer businesswoman who turned the race into a toss-up. 
Craig previously lost to Lewis by less than 7,000 votes in the district, which spans an area just south of Minneapolis and St. Paul. Voters there lean to the right, with the district going to President Donald Trump in 2016 by just over 1 percentage point.
CNN showed how the congressman regularly sowed racial and gender-based controversies on his syndicated program, which ran from 2009 to 2014. At various points over the show's lifespan, Lewis mocked women who say they are traumatized by unwanted sexual contact, called welfare recipients "parasites" and Hurricane Katrina victims a "bunch of whiners," and said black Americans have an "entitlement mentality" and have "traded one plantation for another."
In February 2012, he lamented not being able to call any woman a "slut" anymore on the air, after Rush Limbaugh faced backlash when he applied the term to a law student who advocated before Congress for birth control access. 
"Now, are we beyond those days where a woman can behave as a slut, but you can't call her a slut?" Lewis asked at the time. He stood by the comments, saying it was part of his job to be "provocative."
Craig's 2016 loss was one of the nation's most surprising election upsets, according to local news site MinnPost. Since her defeat, she told the news outlet, she worked on being a better listener and had refocused her campaign message around her bootstrapping life story, opening up about her wife and their four sons. 
Calling all HuffPost superfans!
Sign up for membership to become a founding member and help shape HuffPost's next chapter