When Jennifer Smith's son brought home a permission slip for a sixth-grade pool party, she was surprised to read a stipulation: "All girls must wear a non-white t-shirt over their swimsuit."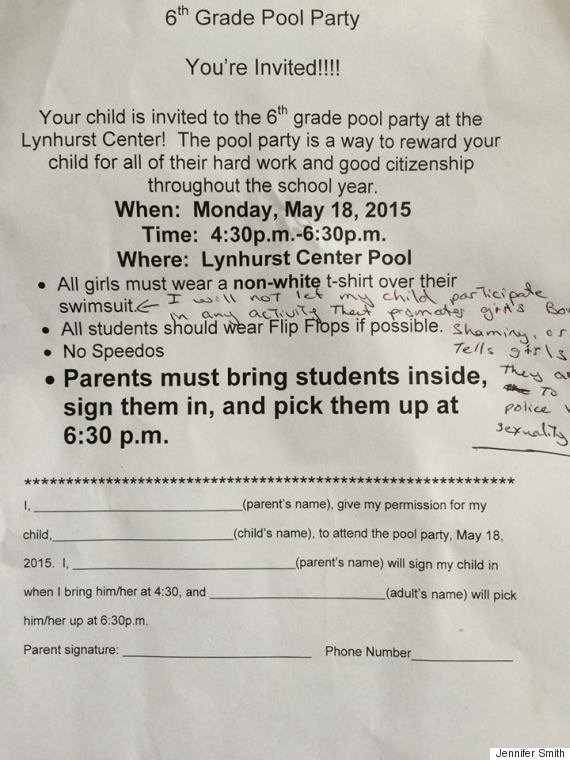 "Being a feminist and seeing things through that filter, I was just kind of enraged by that," Smith told The Huffington Post. "They're saying little girls need to be ashamed of their bodies and cover themselves up."
The pool party was being held for sixth-graders at Rhoades Elementary in Indianapolis who have displayed good citizenship. Although Smith does not have a daughter, she did not want to encourage the gendered rule. The slip also said Speedos would not be allowed.
"I have a little boy, I'm teaching him to think correctly, and this is contrary to what I'm teaching him," she said.
Smith contacted the school to understand why the rule was put into place. She said the school explained that there had been inappropriate swimwear at past parties and that they wanted to help students who may be uncomfortable not covering themselves. The T-shirt rule was also an economic consideration.
"We know that for many of our families, buying an extra [one-piece] swimsuit for their children would be a luxury they cannot afford," a district spokesperson told HuffPost. "To address the issue of appropriate dress for the swim party, we believed asking the girls to wear T-shirts over their swimsuits was the solution that addressed the issue most sensitively."
Smith countered that idea in an email to the school's principal. "Setting one standard for half of the student body only promotes the idea that girls bodies are naturally shameful," she wrote.
Ultimately, after Smith went to the superintendent, the pool party rule was changed to say that T-shirts were optional. Smith was pleased with this progress and said she believes it will help the girls in the class know that their bodies are not shameful and that they are not responsible for how others see them.
"If we can change little things to make it better, and examine the reasons why we do things, that would be great," Smith said. It's these small decisions that can alter how young people view themselves and help or hurt them in the long run, she added.
The pool part was held on Monday. According to Smith's son, no girls wore a T-shirt.