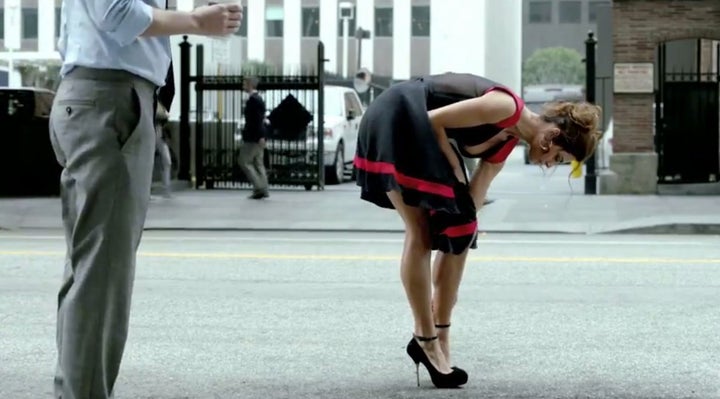 Given that a 30-second advertising slot during the Super Bowl can cost up to $4 million, you'd expect companies to be rolling out their best, most effective advertising for the big game. Unfortunately, some advertisers seem to think that the best ads are those that play to and reinforce stereotypes about what men do and should want from women.
That's a problem for women, but it's also a problem for advertisers and for men. An estimated 111.5 million viewers watched the Super Bowl XLVI TV broadcast in 2012, of whom 51 million were women. Wouldn't advertisers have more overall success running commercials that don't ignore, demean or vilify almost half of those tuning in?
Some advertisers have tried to appeal to that female audience. David Beckham's H&M underwear ad, for instance, proved very popular with women. But it, too, was part of the problem and it doesn't solve the issue at hand: Super Bowl commercials too often opt for sexual objectification in place of a clever idea, with negative results for both men and women. Many of the commercials objectifying women are not particularly flattering to men either, portraying them as mindless, gullible and sex-obsessed.
How bad is it? See for yourself. Here are 8 of the most sexist (and sexualized) Super Bowl ads in recent history:
According to this car commercial, all women do is nag, and all men do is take it. Take out the trash! Walk the dog! Carry my lip balm! Eat some fruit! Men put up with this incessant harping not out of the goodness of their hearts, but because the upside to this endless obedience is that they can drive the car they want to drive. The ad works by encouraging men to make women the target of their frustrations and see women as undermining their masculinity -- at a time when traditional definitions of masculinity aren't holding up as well as they once did. If the car's tough and speedy and great, why not tell male consumers that it's tough and speedy and great? Minus the shots of men who look like their dog just died (and suspect their wives had something to do with it).
Women, listen up. The only way to get a man to pay attention to you instead of a football game is to strip naked and cover your body in nacho-cheese flavored chips. Glad we cleared that up.
Supermodel Adriana Lima has a PSA for all the clueless men out there. Want to have sex with a woman? All you have to do is send her flowers. It doesn't matter if she likes you or not, it's just an economic exchange that all dudes should cash in on. Lima instructs viewers: "Valentine's Day is not that difficult. Give, and you shall receive."
A close runner-up to this video is Teleflora's 2009 Super Bowl ad, in which talking flowers inform a cat-owning, romance-novel-reading woman "no one wants to see you naked!" All we want this Superbowl is a 1-800-FLOWERS ad in which Lena Dunham parodies both of these spots.
GoDaddy ads are notorious for consistently portraying women terribly, despite a near-constant backlash against their practices. In 2012, Kelly Clay at Forbes suggested the company's advertising was a reason users to leave the web hosting service.
One of GoDaddy's worst was the 2012 "Body Paint" ad. Race car driver Danica Patrick and personal trainer Jillian Michaels apply body paint to a naked model (Natalia Velez), turning her into a walking billboard.
PETA has spent years -- and millions -- trying to make animal rights sexy, or at least associate them with naked ladies. The organization has paid a number of celebrities to strip down for PETA campaigns, and faced opposition at every turn. In 2010, the city of Montreal denied PETA a permit to unveil a new ad featuring Pamela Anderson marked up as a piece of meat. According to CBS News, City Commissioner Josee Rocheford emailed the organization to say that the ad "goes against all principles public organizations are fighting for in the everlasting battle of equality between men and women."
PETA's history of sexist advertising includes its fat-shaming "lose the blubber" billboard and dominatrix-style "pleather yourself" poster, but the worst of the worst was its 2009 "Veggie Love" Super Bowl commercial, which NBC refused to air but is still viewable on the web. PETA describes the video as " a bevy of beauties who are powerless to resist the temptation of veggie love," and seemed confused about NBC's decision to ban the ad. We are not confused.
Upton's hypersexual commercial for the "Southwest Patty Melt" features her writhing, sweating and undressing in the backseat of a car while enjoying a Carl's Jr. burger. The commercial was banned from airing during the 2012 Super Bowl, but was shown during the Academy Awards.
Two womens' disagreement over what makes Miller Lite so great quickly degenereates into a sexy catfight. They rip each others' clothes off as they wrestle in a swimming pool then a conveniently placed mud pit, before the scene switches and we realize this advertisement is just a fantasy dreamed up by two guys in a bar. At least Miller recognizes that women wouldn't be so drawn to the commercial.
Jamie Peck at The Gloss wrote, "This ad perpetuates the idea that women are secretly turned on by street harassment... as well as the idea that women are cars, which I'm pretty sure can be easily debunked by science?" Well said, Jamie.
Is anything missing from our list? Sound off in the comments below, or Tweet @HuffPostWomen.
Related
Popular in the Community