While on a trip to check out graduate programs, Alexis, 24, went out drinking and met S., 29, at a local bar.* Their physical chemistry was immediate and they slept together that night.
Six months later, Alexis relocated to the area for school and she and S. immediately started dating. For five months, they had sex every day. Then things slowly began to shift.
"I would go over to his place and instead of having sex, we would watch movies or play video games," said Alexis. "I remember being really confused ... and talking to him about it, because I was getting scared he wasn't interested in me anymore."
Alexis' previous relationship had ended after her then-boyfriend cheated on her, and Alexis worried that less frequent sex meant she and S. were headed for a similar fate.
But S. wasn't concerned. "He said, 'I don't know why you would think that. I really like it when we have sex, but I could have sex with anybody. I want to hang out with you,'" said Alexis.
The couple settled into a new rhythm, which Alexis described as "when it happens, it happens ... and eventually it just started happening less." At one point last year, Alexis realized she'd forgotten to refill her prescription for birth control pills, but it didn't matter. She and S. had not had sex in weeks.
"[We thought], 'Well, maybe it's a problem that we have, and we need to work on it.' But after talking about it more, it was like, 'Nope, it's not really a problem,'" she said. "We both still are really attracted to each other. It's just we're doing other things." Now, two and a half years into their relationship, they have sex no more than once a month.
Conventional thinking tells us that relationships between young people are supposed to be hot and heavy. Millennials, in particular, are a generation raised on internet porn and Cosmopolitan erotica. They want more sex, hotter sex, now.
Except, of course, when they don't. Plenty of young couples, like Alexis and S., say they're fine, even happy, to be in relationships that are relatively sex-free. For these couples, infrequent intercourse isn't a sign of flagging intimacy or reduced attraction. They just don't feel the need to make love very often.
"It's only been recently that people have been willing to go on, say, the 'Oprah' show and talk about their sex lives."
Perhaps the best data about how frequently couples have sex comes from the Kinsey Institute. A survey of more than 2,300 married men found that nearly 46 percent of 18- and 24-year-olds, and 37 percent of 25- to 29-year-olds, said they had sex two to three times per week, compared to just 27 percent of 30- to 39-year-olds, 20 percent of 40- to 49-year-olds and 15 percent of 50- to 59-year-olds. In a similar vein, 18- to 24-year-olds were far more likely than their older counterparts to have sex four or more times per week, while 18- to 29-year-olds were the age group least likely to have sex only monthly, or a few times per year.
"There's definitely research out there to back the idea that for the majority of people -- particularly young men -- sex drive is highest in youth and declines with age," said Laurie Mintz, a professor of counseling psychology at the University of Florida and author of A Tired Woman's Guide to Passionate Sex.
Yet Mintz said it's a mistake to think that every happy, healthy couple enjoys a single, normalized level of sexual activity. Because the discussion of sexual subjects has historically been taboo in so many societies, historians know very little about couples' sex lives through the ages, explained Elizabeth Reis, a professor of women's and gender studies at the University of Oregon.
"It's only been recently that people have been willing to go on, say, the 'Oprah' show and talk about their sex lives," Reis said. "For most of American history, that has not been the case."
Similarly, it's "an increasingly new phenomenon that we have expectations," said Mintz.
"It's the double-edged sword of something good. [Before sex researchers] Masters and Johnson and Kinsey, we didn't know what people were doing," Mintz told HuffPost. "Now, we have a lot more information with which to develop our 'normality' anxiety."
The Internet is saturated with lists and articles extolling the many virtues of having more sex (this site being no exception). One particularly insistent blog post on the website of the celebrity heath professional Dr. Oz, entitled "You Need To Have More Sex!," cites a statistic that suggests married couples are having less sex now than they did 20 years ago. The post's author, Dr. Corey Hebert, calls this "horrible" and a "disturbing trend."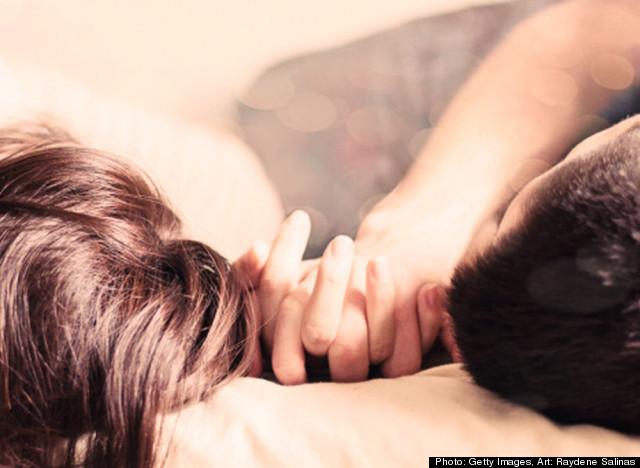 All of which means that couples like Erin, 30, and her 33-year-old fiance T. frequently grapple with what they perceive as pressure to have sex more often than they'd like. When they first got together, the duo took their time sexually, kissing and holding hands for the first few months. Once they began having intercourse, they settled into a pattern of sleeping together between two and four times a month.
But a year into the relationship, Erin overheard T.'s friends talking about how they took girls home three or four nights a week, and she began worrying that something was wrong with her relationship. She asked her girlfriends, who assured her their sex lives were also "dying down" -- but for them, that meant sex two or three times a week.
"I was shocked," Erin wrote in an email to The Huffington Post. "Had I fallen that far from the cultural norm? ... Am I not asking for it enough? Is he seeing someone else and drawing away from me? I started thinking all these horrible thoughts."
Erin started initiating sex more often -- not because she craved it, but because she wanted the validation. But it wasn't any good.
"When you're having sex because you think you need to, it just becomes a chore," she said. "You're in a rush to get it done just to say you succeeded, and if you don't, you feel like a failure."
Then one day, after months of stressing, Erin decided to stop putting so much pressure on herself, and the couple slipped back into the schedule that felt right for them.
"I quit worrying about it. And we have a phenomenal sex life," she said. "It happens whenever we want."
"I started seeing a psychologist about whether I was resigning myself to a sexless life."
For other couples, however, infrequent sex is the result of an uneasy compromise.
Lindsay, 34, and her wife, 36, have been together since their late 20s. Like many couples, they went through what Lindsay called a "very hot and heavy period." But after six or seven months, Lindsay says her partner began offering more and more excuses for why they couldn't have sex that day.
"There was always something looming, or something on the back burner that made it very difficult for her," she said. "We react to stress very differently -- sex is always on the menu for me, no matter how stressed we get. But not for her."
Lindsay told HuffPost that she and her wife have had sex two and a half times in the past year, "and I don't really count that half." Her wife knows she is sexually frustrated, and knows that if she comes home from work and Lindsay is wearing short shorts and no bra it represents an overture, but it usually goes nowhere. Lindsay masturbates once a week to meet her sexual needs and has, on several occasions, tried to get her wife to participate or at least watch, but to no avail.
"A couple of months before our wedding, I started seeing a psychologist about whether I was resigning myself to a sexless life," Lindsay said. "I thought, this person is my best friend, she loves me, she is unconditionally supportive of me. Am I going to trade something that we've built for a fling with someone I don't care about?"
And that is the central paradox with sex and relationships, said Barry McCarthy, a professor of psychology at American University and a certified sex and marital therapist. When a marriage or a relationship is healthy, sex generally plays a relatively small role. But when there are sexual problems, the relationship becomes subverted and sex quickly becomes an all-consuming concern.
"For over 95 percent of couples who have no sex, that will be a big problem and is a major cause of divorce early in the marriage," said McCarthy. "However, sexually one size never fits all, so some couples can be non-sexual and successful."
The key to a healthy sexual arrangement, said McCarthy, lies not in meeting arbitrary benchmarks, but rather in creating a unique sexual lifestyle that works for both partners. McCarthy emphasized that sex and sexuality can be about so much more than intercourse. Some couples have sex infrequently, but have other ways of expressing their sensuality (think body massages and head rubs), playfulness (say, playing Twister or giggling together in bed), or giving each other pleasure without penetration.
"The couple needs to figure out who they are sexually. Do they emphasize intimacy? Eroticism?" McCarthy said. "It's not about right or wrong. It's about figuring out who you are."
For Alexis and S., that has meant making peace with rarely having sex more than once a month, and cherishing the fact that they are extremely affectionate.
"We hold hands a lot. One of us can't go to bed without the other person going to bed at the same time, because we always hold each other," Alexis said. "We play sports together and will hold hands in between innings and kiss." She guesses that anyone who knows them would be shocked to learn they don't have sex multiple times a week.
"It's not about right or wrong. It's about figuring out who you are."
But neither she nor her boyfriend are particularly troubled by it, nor are they unfulfilled. Alexis said she cannot speak to S.'s habits, but she herself masturbates only once or twice a month. More often than not, if she feels like masturbating, she simply initiates sex -- and "when we have sex," she said, "it's great."
Marriage isn't currently on the table for Alexis and S., but the pair are now living together and Alexis thinks there's a good chance they will stay together long-term. She imagines their sex life will continue on at a similar pace, and she said the idea of that fills her with contentment.
"We could have sex more, and that would be great," she said, "but I think we could also have sex even less and that would be fine."
*For reasons of privacy, the women in this story asked that only their first names be used. Some of their partners' first initials have also been changed.
Related
Popular in the Community