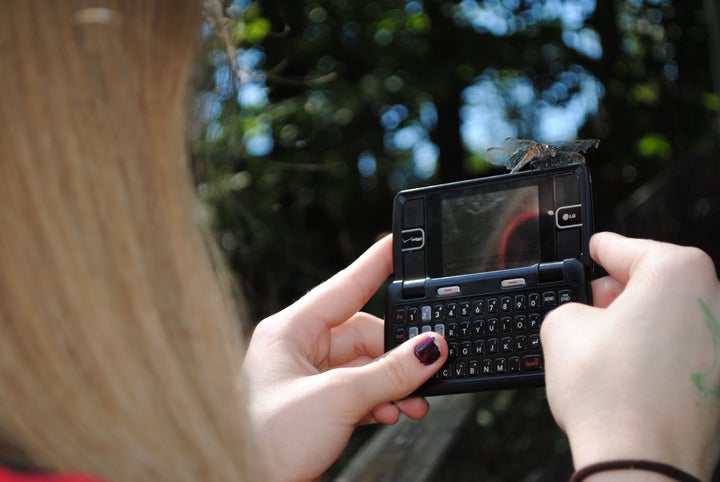 Published in Pediatrics, an academic journal, the study found that 1 percent of children between the ages of 10 to 17 had created sexually suggestive images in the past year.
Sexting is defined as the transmission of sexually provocative images, whether on a cellphone, the Internet, or other electronic media.
While the practice of sexting has grown increasingly worrisome to many parents, Monday's study seemed to further discredit a 2008 survey by the National Campaign to Prevent Teen and Unplanned Pregnancy, a private nonprofit. The widely circulated study estimated that as many as one in five teenage girls frequently sent racy images of themselves to others.
"We were concerned that prior studies inflated the numbers and created unneeded concern about younger teenagers participating in this behavior," said Lisa Jones, a professor of psychology at the University of New Hampshire's Crimes Against Children Research Center. Jones was one of four scholars who authored the new paper.
It is one of the largest studies to look at the prevalence of sexting among young people. The national, confidential telephone study included 1,560 youth.
For 10 to 12-year-olds, the researchers found that 1 percent had appeared in or taken a nude or nearly nude picture.
Among 13 to 15-year-olds, 1 percent had appeared in or taken a nude or nearly nude picture.
Finally, among 16 to 17-year-olds, 5 percent had appeared in or taken a nearly nude picture.
The researchers defined nude or nearly nude images as those including "underwear or bathing suits, sexy poses with clothes on and pictures focused on clothed genitals." Sexually explicit images were defined as pictures including exposed breasts, genitals and backsides.
"When it came to the kinds of images that could potentially be considered child pornography, we found that it involved a much smaller percentage of kids than had been previously reported," Jones said. "And, not surprisingly, such behavior was much more common among older teenagers."
When it came to older teenagers, for 31 percent of those who engaged in sexting, the behavior was also accompanied by drug and alcohol use or other aggravating features. And when it came to the recipients of such explicit images, Jones said that the vast majority were people who children and teens knew personally, rather than strangers.
But even with this study's findings, Jones said she thinks the topic is at least worthy of a conversation between a parent and a child -- especially since the consequences of distributing or possessing a sexually explicit image can carry with it the danger of criminal charges.
"The consequences can be serious in terms of the law, and once something is on the Internet, you can't get it off," Jones said. "The evidence is that most youth are making better decisions than they were 10, 20, even 30 years ago. While parents should have conversations, they should feel reassured and place it in the context of what's really going on."
Nancy Willard, who directs the Center for Safe and Responsible Internet Use, which advises teachers and parents on Internet safety, cautions parents against reacting based solely on studies like the one from 2008.
"The overwhelming majority of young people are making good choices and intend to make good choices," Willard said. "Granted, yes, they sometimes make mistakes, but the majority of them actually handle negative situations effectively and are not overly distressed by them."
When it comes to effective risk prevention, Willard advises teachers and parents to reason with young people. "Your responsibility is to help them understand that the majority of other teens are smart and make safe and responsible decisions, and help them learn how they can do so also," said Willard, author of the forthcoming book "Cyber Savvy: Embracing Digital Safety and Civility."
Amanda Lenhart, a senior research specialist at the Pew Research Center, saw similar findings in a Pew report she spearheaded in November.
Despite such low numbers, Lenhart cautions parents to at least begin a dialogue -- as a preventative measure more than anything else.
"While it's not a substantial number of students sending around images of themselves, when it does happen, it can be a big deal for an individual or for a school," Lenhart said. "It doesn't happen that often and it doesn't happen to that many kids, but when it does, it can really rock a community and make a big impression."