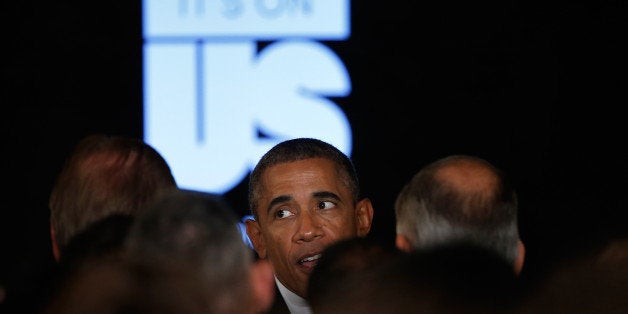 Two new reports show the U.S. Department of Education has been hit with a massive increase in complaints about schools' handling of sexual violence over the last few years. Meanwhile, the number of staff in the department's Office for Civil Rights has been dropping. The predictable result: a growing backlog of cases.
"We are standing a bit in front of the fire hose," Catherine Lhamon, assistant secretary for civil rights at the Education Department, told HuffPost.
Three Democratic senators said Tuesday that the latest data show why Congress needs to increase appropriations for the department.
The number of Title IX sexual violence complaints received by the department jumped from just 20 in fiscal year 2009 to 123 in fiscal 2014. As of April 8, 2015 -- a little over halfway through the current fiscal year -- the department had received 68 such complaints.
However, the number of staff has been falling at the Office for Civil Rights, which is tasked with enforcing Title IX. In 1995, the office had 788 full-time employees and received 4,981 discrimination and Title IX complaints. By last year, its total staff had decreased to 544, while it received 9,989 complaints. (Title IX covers a range of gender equity issues in schools, including sexual violence, sexual harassment, parity in athletics and denial of benefits.)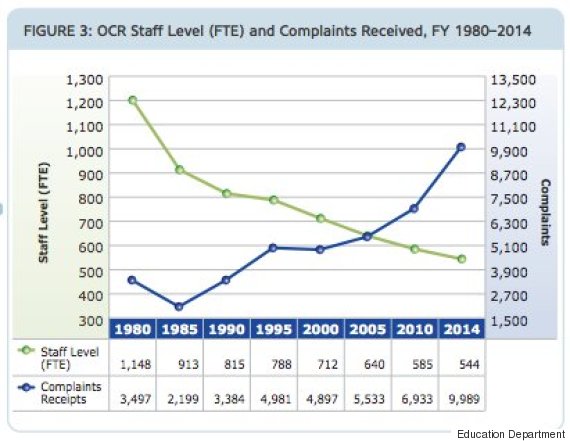 The influx in complaints has led to more investigations -- shooting up from 55 colleges under scrutiny a year ago to 109 as of this week -- and the length of time it takes to finish these reviews is growing.
"This data underscores that more must be done to address the backlog of ongoing Title IX investigations into how college campuses handle sexual assault, including the UVA investigation that has been pending since June 2011," Sen. Tim Kaine (D-Va.) said in a statement Tuesday, highlighting the ongoing inquiry at the University of Virginia.
Boxer and Sen. Kirsten Gillibrand (D-N.Y.) also released statements calling for greater Education Department funding.
President Barack Obama's proposed fiscal 2016 budget would increase the Office for Civil Rights' funding by 31 percent to $131 million, which the Education Department has said it would use to hire 210 full-time employees.
The department's stated goal is to close Title IX investigations within 180 days. In its letter to Boxer, the Office for Civil Rights described the sexual violence cases as more complex and cautioned that such cases may raise "systemic, campus- and institution-wide issues" that take longer to fully review.
In sexual violence cases that resulted in a "substantive" closure, the investigations typically took around a year to complete from 2009 through 2012, according to the Boxer letter. That time increased as the number of complaints grew in 2013, and by 2014, sexual violence investigations at post-secondary institutions had stretched to an average of 1,469 days.
The Office for Civil Rights wrote that it hopes to close cases faster as it concludes some of the oldest investigations and if Congress increases its appropriations.
Lhamon said that her office's increased workload is partly of its own making. "We knew when we issued the guidance we did in 2011 calling out sexual violence as a civil rights issue, we knew that would increase the visibility of the issue," she said, referring to a Dear Colleague letter that detailed colleges' obligations regarding sexual violence on campus.
The attention focused on sexual assault allegations through student protests and the White House task force on campus rape has also led to more formal complaints.
The Office for Civil Rights staff have said in the past that their priority is taking corrective action, rather than punishing a school. In the Boxer letter, they note they have "experienced positive results" on that score using their ability to threaten federal funding if an institution doesn't fall in line.
The Boxer letter also noted that the number of "forcible sex offenses" in annual college crime statistics has nearly doubled from 3,264 in 2009 to 6,016 in 2013.
Colleges are required under the federal Clery Act to track and disclose the number of crimes, including sexual assaults, reported each year to the school. Ongoing investigations into possible Clery Act violations, which are not handled by the Office for Civil Rights, are not disclosed to the public. Education Secretary Arne Duncan recently told The Huffington Post that the department is considering releasing the names of schools under Clery compliance reviews.
Related
Popular in the Community