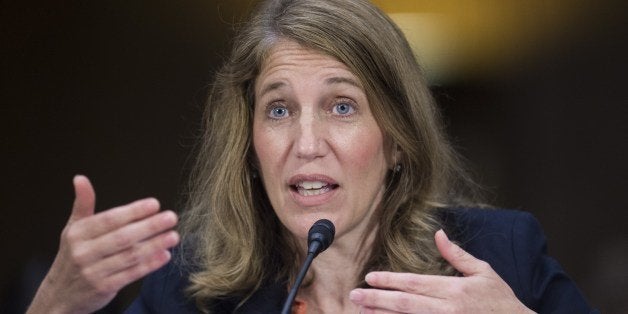 WASHINGTON -- Proposed regulations that could better protect unaccompanied child migrants in government facilities from sexual assault remain bogged down in the White House's approval process, despite reports in May that many instances of abuse had been inadequately investigated. Those reports have frustrated advocates who have long pushed for the new rules and see them as even more urgent given the influx of children and teenagers being apprehended along the U.S.-Mexico border.
As the administration strains to handle the humanitarian crisis of nearly 63,000 unaccompanied minors caught crossing the border illegally since October, human rights advocates worry the children might remain vulnerable to abuse in the facilities where they are being kept.
While the children and teenagers are often released to family members and eventually may be deported, those from countries other than Mexico or Canada first go to the Department of Health and Human Service's Office of Refugee Resettlement. The agency has its own internal standards in place, but it hasn't finalized implementation of the stricter standards required under the 2003 Prison Rape Elimination Act, or PREA. That means there are fewer formalized standards to help minors who already may be vulnerable to abuse, scared to speak out and unsure to how to ask for help.
"It's basic protections, both against sexual assault in custody and guidelines for what to do in response to sexual assault in custody," said Michelle Brané, director of the migrant rights and justice program at the Women's Refugee Commission.
PREA was originally passed by Congress in 2003 in response to reports of sexual assaults that frequently went unpunished in America's prisons. It created a broader system for collecting data on assaults, as well as mandating new policies that protect incarcerated individuals from abuse and allow them to report incidents with a lesser fear of reprisal. The law created for the first time a clear picture of rapes and other sexual assaults in the correctional system.
But the criminal corrections system isn't the only agency that keeps people in custody, and it was not until 2012 that the Obama administration charged that all agencies that hold individuals must comply with PREA. That includes the Department of Homeland Security, which operates immigration detention centers, as well as the Department of Health and Human Services.
The facilities operated by HHS differ widely from those run by DHS. The latter more closely resemble prisons, while the HHS detainees often go to group homes designed to offer a greater level of care to their vulnerable, underage inhabitants.
The Office of Refugee Resettlement, which administers the facilities that hold many unaccompanied migrant children, debated whether the president's order applied its agency, according to Chris Daley, deputy executive director of Just Detention International. Daley's group advocates for policies to prevent sexual assault in detention environments. He said officials claimed the facilities were not confinement facilities, and thus were not subject to the Obama administration's memorandum. Human rights advocates said this debate is partly responsible for delaying the rule's implementation.
"If they had just shifted their focus two years ago, instead of fighting about what kind of facilities they had and instead focused on making sure that whatever kind of facilities they have are as safe as possible, we'd be in a much different place right now," Daley said.
Eventually, Congress intervened. As part of the 2013 reauthorization of the Violence Against Women Act, Congress ordered HHS and DHS to implement regulations aligned with PREA in any detention facilities they operated.
Under the law, the regulations should have been submitted by September of that year. It was not until January 2014 that the Office of Refugee Resettlement sent a draft rule to the office in charge of the approval process.
The administration has given little indication about when that regulation might be approved. Earlier this summer, according to Daley, advocates were told the regulations would be released by early or mid-June.
Although the White House was particularly active in pushing for standards for DHS facilities, Daley said it seems to have been less focused on the HHS rules.
"The White House has been instrumental in protecting detainees in DHS custody, but they have not been as aggressive about the safety of the kids in [Office of Refugee Resettlement] custody," he said.
An administration official said that the White House does not comment on rules that are waiting on approval.
"Our Office of Refugee Resettlement works with federal, state and local law enforcement to ensure such allegations are properly investigated," Kenneth Wolfe, a spokesman for the Office of Refugee Resettlement, said in a statement. He declined to elaborate on why the rules had been delayed or answer questions about whether all cases are referred to federal law enforcement. He said that HHS and the Department of Justice were preparing a memorandum of understanding "to make clear the applicable reporting requirements."
Advocates said the delay leaves children in the facilities without key protections against sexual assault.
"The piece that's really lacking in current procedures regarding HHS is how you respond," Brané said. "So children's ability, for example, to file a complaint or to ask for protection in a way that is safe."
While the exact number of assaults in the system that houses unaccompanied migrant children is unknown, a Houston Chronicle investigation found 101 "significant incident reports" filed between March 2011 and March 2013. It is often unclear whether a case should be investigated by the federal government or local law enforcement agencies. Sometimes, local agencies will claim they lack jurisdiction over the facilities.
Minors who are the victims of abuse often have no easy way to report and pursue a case against their abuser, Brané said. For one thing, the children and teenagers are often cut off from the outside world -- meaning that if they suffer abuse at the hands of a facility staff member, they may have no safe way to report it. The minors also lack the consistent access to lawyers or advocates who act as a bulwark against unreported sexual assault in other correctional facilities.
The facilities can also raise jurisdictional issues. Because they are linked to the federal government, local law enforcement will sometimes decline to investigate a report about a facility. The children also frequently move states once they leave a facility, making it harder for authorities to follow up on reports of abuse.
And the growing scale of the problem is also worrying to advocates. In order to deal with the crisis at the border, HHS is bringing new facilities into the system at a fast clip -- raising concerns that the rate at which facilities are opening might outpace ORR's ability to properly vet them.
Until that happens, though, advocates say that Office of Refugee Resettlement could be taking proactive steps to prepare for the rule's approval. But as the agency's regulations are not readily available, and updates are laid out in internal memos, advocates lack a single place where they can see all information related to the agency's internal standards.
"There's nothing preventing ORR from doing all of this now. They could be implementing these protections now, and they may be implementing some of them, for all I know," Brané said.
Calling all HuffPost superfans!
Sign up for membership to become a founding member and help shape HuffPost's next chapter
BEFORE YOU GO
PHOTO GALLERY
Why Latin Americans Really Come To The U.S.