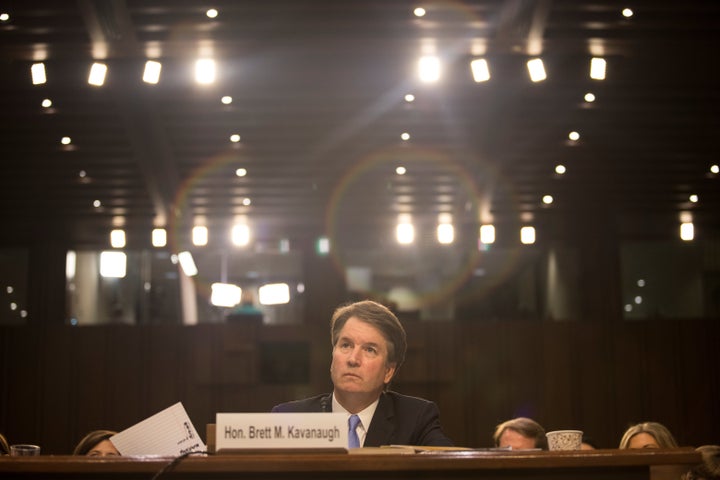 The woman, who goes by the name Christine Blasey professionally, is scheduled to testify on Thursday in front of the Senate Judiciary Committee about her allegation that Kavanaugh attempted to rape her when they were both teenagers. While the Democrats on the committee plan to interview her themselves, the all-male GOP majority bloc has enlisted a veteran prosecutor from Arizona, Rachel Mitchell, to conduct its questioning.
"It makes absolutely no sense for a sex crimes prosecutor to be hired to do the job of the senators on the committee," said Linda A. Seabrook, general counsel at Futures Without Violence, a nonprofit working to end violence against women, calling the arrangement unprecedented.
"This is not a criminal case. What is the standard of proof? And what will she be asking exactly when no investigation has been conducted into the allegations?" she said. "As a former prosecutor, I can't imagine what I would be asking about when I have no investigative material on which to rely."
She added that it was irresponsible to not demand the appearance and questioning of Kavanaugh's high school friend, Mark Judge, who Blasey has said was present in the room when the alleged attack occurred. 
Blasey has appealed for a full FBI investigation into her sexual assault accusation before testifying before the committee, a request that a number of Senate Democrats support. On Sunday, California Sen. Dianne Feinstein, the ranking Democrat on the Senate Judiciary Committee, asked for an immediate postponement of proceedings related to Kavanaugh's nomination. She also urged the White House to direct the FBI to investigate Blasey's allegations, as well as sexual misconduct claims brought by a second woman. Deborah Ramirez, a classmate of Kavanaugh's at Yale University, told The New Yorker that he exposed his penis to her at a party when they were both students.
On Wednesday, a third woman, Julie Swetnick, came forward, alleging that Kavanaugh was sexually aggressive with girls in high school and was present at a party where she was "gang-raped." 
Kavanaugh has denied any wrongdoing.
The chairman of the committee, Sen. Charles E. Grassley (R-Iowa), has said an FBI investigation is not warranted and is continuing the proceedings without pause. He plans to hold a committee vote on Kavanaugh at 9:30 a.m. Friday, the day after the hearing.
Grassley explained his decision to hire Mitchell, the chief of the Special Victims Division of the Maricopa County attorney's office, in a statement released on Tuesday night.
"I'm committed to providing a forum to both Dr. Ford and Judge Kavanaugh on Thursday that is safe, comfortable and dignified," Grassley said. "I've taken this additional step to have questions asked by expert staff counsel to establish the most fair and respectful treatment of the witnesses possible."
Others HuffPost spoke to had a less charitable explanation for his decision.
"What I actually think is that they want to ask asshole questions but don't want to do it themselves, so they're going to have her do it for them," said one longtime advocate for women facing gender violence, who works with Congress and asked not to be identified for fear of retaliation.
Indeed, even Sen. Bob Corker (R-Tenn.) implied that Republicans had hired someone else so that they wouldn't be shown on television screwing up.
[Bringing in Mitchell] is a transparently clumsy attempt to avoid the visual of a panel of all-male Republican Judiciary Committee members grilling a survivor about her sexual assault allegations.

Michael Polenberg, vice president of government affairs for Safe Horizon
Bringing in Mitchell is "a transparently clumsy attempt to avoid the visual of a panel of all-male Republican Judiciary Committee members grilling a survivor about her sexual assault allegations," said Michael Polenberg, vice president of government affairs for Safe Horizon, a victims' advocacy organization in New York. "Whereas prosecutors normally put sexual assault survivors on the stand in their capacity as witnesses to a crime, in this case the prosecutor is clearly being retained to malign and cast aspersions on Ms. Ford's credibility."
The National Task Force to End Sexual and Domestic Violence, a group that represents the leading U.S. organizations working to end violence against women, released a letter last week denouncing the committee for trying to ram through Kavanaugh's nomination.
"In this very public arena, with these incredibly high stakes, we need to get this right," they wrote. "Justice demands a fair process that treats Professor Ford far better than with the derision, scorn, and humiliation to which Professor [Anita] Hill was subjected 27 years ago."
Roger Canaff, a former prosecutor specializing in sex crimes, criticized the Senate Judiciary Committee for rushing the process. He said he knew Mitchell, the prosecutor tapped to interview Blasey, and called her a sincere and serious person. But without a real investigation, he added, there's not much she can do.
"Grassley has stated that they are trying to depoliticize this; they are trying to get to the truth," he said. "There is no way that that is going to happen ― not even close ― in the form they are suggesting."
He said if the committee is not going to allow for a full investigation, which could take days or weeks, they may as well do their jobs and question Blasey themselves.
"They want to be able to tell the American people, we brought in a female prosecutor with 30 years of experience, and she helped us make a determination, and I just think that's fatuous," he said. "It is going to end up being political theater."
Calling all HuffPost superfans!
Sign up for membership to become a founding member and help shape HuffPost's next chapter