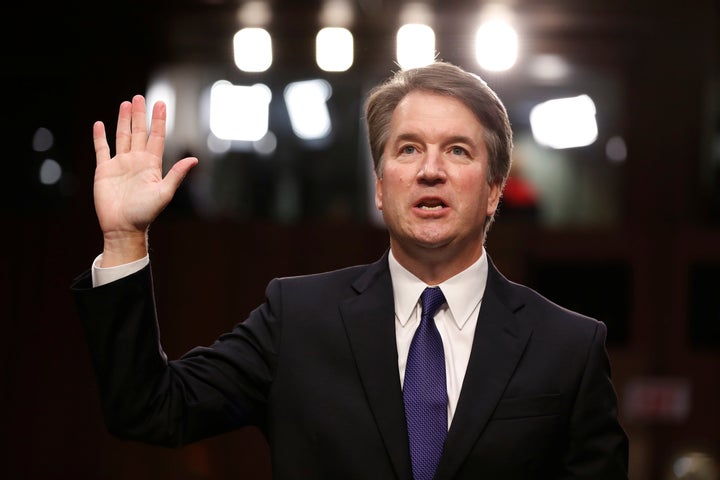 For two years, a task force of national sexual assault and domestic violence groups has been working behind the scenes with the Senate Judiciary Committee to reauthorize the Violence Against Women Act, which expires this year.
Now the National Task Force to End Sexual and Domestic Violence is suspending negotiations with the committee over its treatment of Christine Blasey Ford, the psychology professor who says Supreme Court nominee Brett Kavanaugh sexually assaulted her when they were teens.
In the days since Blasey came forward with her claims, a number of prominent Republicans have lined up behind Kavanaugh.
Sen. Orrin Hatch (R-Utah) called Kavanaugh a "good man," and said senators should judge his character today. Sen. Bob Corker (R-Tenn.) expressed sympathy for Kavanaugh, saying he couldn't "imagine the horror of being accused of something like this." On Friday, Senate Majority Leader Mitch McConnell reassured Republicans that Kavanaugh will be confirmed ― even though Blasey has not yet testified about her allegations. "Don't get rattled by all of this," he said. "We're going to plow right through it and do our job."
Blasey is currently negotiating the conditions under which she will testify before the Senate Judiciary Committee. In a letter to the committee on Friday, members of the National Task Force to End Sexual and Domestic Violence admonished senators for failing to treat Blasey with respect, saying lawmakers' actions and comments have set the clock back on responding to sexual violence.
"Your actions and comments in the past week have taken us back 25 years, as if VAWA never existed, as if all of the hard-won, evidence-based, best practices we have invested in as a nation were for naught. How can Congress legislate a coordinated community response for the nation, yet fail to live up to its own mandate?" the letter asks.
Elsewhere, the letter notes: "If the committee is not willing to engage in a process that upholds the dignity and safety of a person who has come forward to report that she was a victim of sexual assault, then they cannot pretend to care about the reauthorization of VAWA."  
The Violence Against Women Act — which directs the national response to crimes of domestic violence, sexual assault, dating violence and stalking — was set to expire at the end of September, but was extended through Dec. 7 under a stopgap spending bill. A bill to enhance and extend the law for another five years, introduced by Rep. Sheila Jackson Lee (D-Texas), has not been taken up by either house of Congress.
"There's an enormous amount of frustration on the part of sexual assault experts who have spent endless hours with judiciary committee staff," said Kim Gandy, president of the National Network to End Domestic Violence, one of the groups in the task force. "They are outraged at the behavior of senators publicly treating a survivor of sexual assault in this manner. We've expended all this time trying to work with them, and this is where we end up?"
The National Task Force to End Sexual and Domestic Violence called on Congress to enlist the advice of experts on how to engage in trauma-informed questioning prior to the hearing and called for a full FBI investigation before Blasey testifies.
"Survivors across the country are watching and paying attention," said Teri Poore, policy director with the National Alliance to End Sexual Violence, another group in the task force. "This is not a moment to make a misstep."
REAL LIFE. REAL NEWS. REAL VOICES.
Help us tell more of the stories that matter from voices that too often remain unheard.