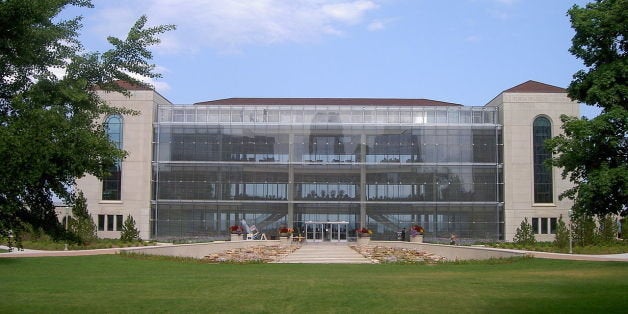 Too many victims of sexual assault don't receive the help they need when they need it. Some universities are trying to solve that problem with a tool familiar to tech-savvy students -- the smartphone application.
Loyola University in Chicago has created one of the first such mobile apps tailored to its local community. The "Here for You" iPhone app connects students to gender-based violence services and resources on campus and in the Chicago area, and helps victims to quickly report assaults. It also attempts to dispel myths about sexual violence and gives advice for speaking with friends who may be survivors.
The Chicago school launched its app this academic year, encouraging freshmen to download it during orientation.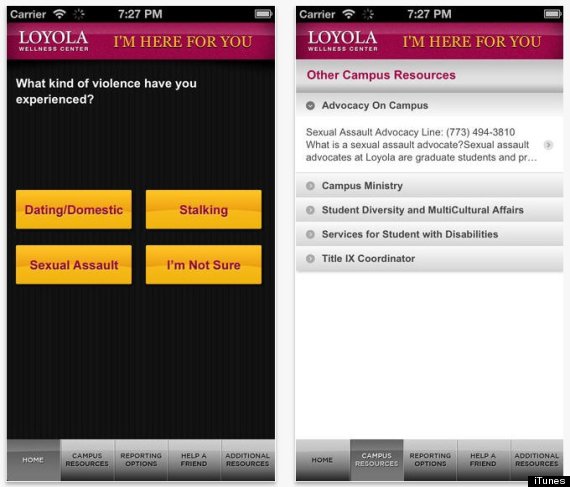 "This is not generally a topic that is very easy for students to discuss," Stephanie Atella, health educator at the Loyola Wellness Center, told The Huffington Post. "The app was just a private way instead of walking up to a poster and writing a number down."
Atella said the app was developed with a grant from the U.S. Department of Justice aimed at reducing sexual assault on campus. The university wanted to come up with something that wouldn't have ongoing costs. So instead of establishing a new staff position to spread awareness on sexual violence services, Loyola hired a company to build the app for about $10,000.
As for university officials' role in developing "Here for You," Atella said, "I'm not sure we could quantify the number of hours we spent gathering information for the app and kind of figuring out what went into it."
The app's name is the same as that of the university's training program for staff and faculty on how to respond to students who says they have been sexually assaulted. Loyola employees who undergo this training put a "I'm Here For You" sticker on their door or desk to let students they've been trained.
Other colleges are also exploring the use of mobile devices as a way to enhance student safety and distribute information on sexual assault services.
Last month, the Texas Association Against Sexual Assault and the University of Texas-Brownsville rolled out the TX Safety U on iOS and Android. The app lets users chose among 174 Texas schools and then pull up contact information for emergency and crisis centers, as well as useful information on sexual violence and related issues.
Connecting students "to assistance when a violent act has occurred is one of the primary purposes of the app," said Campus Sentinel co-founder Gary J. Margolis, whose company has created apps to provide campus safety information.
In 2012, U ASK was launched in Washington, D.C., by the nonprofit Men Can Stop Rape. According to the GW Hatchet, the app allows victims to dial the police, support hotlines and taxi services; locate the nearest medical center with rape kits; and access contact information for support centers at eight area universities.
The idea of sexual assault apps received an early push from the Obama administration, which in 2010 set the "Apps Against Abuse" technology challenge to encourage the development of mobile programs that could help prevent sexual violence. "Circle of 6" and "On Watch," the winners of that challenge, let users send messages to pre-designated contacts in case of emergency or if they are concerned for their safety.
The Rape, Abuse and Incest National Network has also created its own app for survivors of any age.
These apps are particularly useful, Loyola's Atella said, not just because college students are comfortable with the technology. They can also be more private than picking up a brochure or browsing a webpage on a computer monitor.
"It's something that if a student was in a violent relationship, they could download it and [later] erase it from their phone," Atella said. "It's just really accessible for them."
Loyola's app is currently available only for the iPhone, but the university is looking into an Android version.
Support HuffPost
The Stakes Have Never Been Higher
Related
Popular in the Community