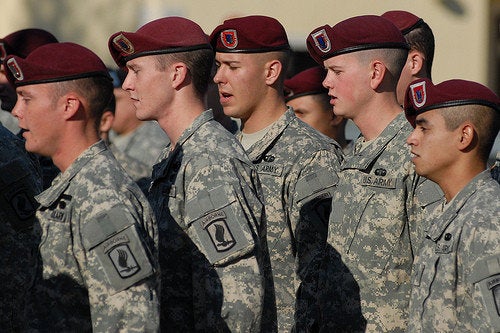 "Now serving" is a phrase I have become used to hearing since returning from military service in Iraq. Like many veterans, I often stand in line, waiting for medications, at the New England Naval Clinic. Some vets in line served on multiple deployments. Like me, they are trying to get back in the swing of being home again. I glance down at the printed white paper with my number on it... 132.
This slip of paper and my military ID are necessary to obtain the medications that have become necessary to me since coming home. It wasn't always like this. My day once started at 5 a.m. When I was in Iraq, it started at 2:30 a.m. -- and even earlier if the air raid sirens went off. Often the first one into the office, I would go through emails and review the commander's schedule. I proudly had many responsibilities and others looked to me for guidance and leadership.
"Leadership" is a word you never stop hearing in the Air Force. We are instructed to trust our leaders, support them, and, when given the opportunity, be one. I never imagined that at the very moment -- and in one of the most dangerous places in the world -- when I most needed leadership, our military would it fail me. I think about that in line at the Naval Clinic. I also think about my father and uncles who served our nation.
From the first day I entered the service, the goal was to make chief, the highest rank for enlisted in the Air Force. My Dad served in Korea and two uncles landed at Normandy, but the person I most admired was Uncle Teddy, the black sheep in the family. He ran away from home at 16 and joined the Navy. He volunteered with the famed "Flying Tigers" before retiring a Lieutenant Colonel. I kept his picture and service hat on my desk. It reminded me that I joined the military in honor of and to continue my family's service to our country.
In today's military, promotions almost always require a tour of either in Iraq or Afghanistan. I volunteered for my tour of duty in Iraq. At Sather Air Base on the west side of the Baghdad Airport, I started work as an element leader for 17 airmen whom I had never met and whose lives were in my hands. I immediately felt a great responsibility to get them all home safely. Our mission was to escort the many foreign nationals on and off base and supervise them as they worked on the base. We were known as Force Protection. Our transition to life in Iraq generally began well enough.
I was the only female non-commissioned officer (NCO) except for our supervisor, a senior master sergeant who had never deployed and had no experience with Force Protection. The oldest technical sergeant in our group seemed to resent us from the start of our tour. He clearly had issues with authority and women. I strived to overlook the female jokes and comments he regularly made and get along with him. One night he offered to drive me back to my living quarters. Tired and appreciative of not having to walk, I accepted a ride. In hindsight, I should have walked. He drove me to a secluded area of the base. I rejected his sexual advances and demanded that he take me back to the base. The next day, I told my boss what happened. Her response was: "It happens all the time. Forget about it." I was stunned, but knew I had nowhere else to go but back to work.
The technical sergeant began to stalk me. He even tried to break into my room one night. My boss continued to do nothing. One day in November 2009, my life and career were forever changed. Alone at my desk, finishing up paperwork for the day, I was alone. I walked to use the restroom. In the restroom, I was attacked and thrown up against the wall and raped. It seemed like slow motion. I could barely could move and breathe. The technical sergeant told me how much he enjoyed the attack. I wondered whether he was going to kill me and report me absent without leave (AWOL). He left and I just sat there in shock. The next day, I feared how my boss would react. She blithely sent me to a base chaplain who astonishingly said, "Most sexual assaults occur when drinking is involved." He told me to "take the day off and get some sleep." My disinterested boss said, "This is a 'he said-she said' kind of situation. Nobody would be able to sort out the truth." The truth was, few military commanders have the courage or training to address sexual violence in the military. I now have heard this type of story about hundreds of veteran rape and assault survivors.
After the attack, I was devastated. I felt alone and scared for my safety. At one point, I considered killing myself. After a few days, I called my supervisor back in the U.S. and they immediately requested that I be sent back home, which I was. My unit sent me for counseling
and tried to investigate. They concluded little could be done since the attack happened in Iraq.
Early in 2010, I was diagnosed with post-traumatic stress disorder (PTSD). I continue treatment to this day. After a year of counseling I am doing better, but my Air Force career is over and I am on military disability. It never needed to come to this. If my boss and the military had done their jobs -- which is not only to fight the enemy, but also protect its members from those who are unfit to serve the nation.
Today, as I continue the painful process of moving on, my attacker still wears the Air Force uniform. I cannot decide which is worse. Standing in line at the Naval Clinic, I feel like a stranger even though I am veteran like them. My service was tainted and I do not always feel like I should be in the company of such men and women. I certainly do not feel like a "hero" when citizens offer thanks for my military service.
My attacker took away my military career, but he also stole my love for the military and my sense of belonging to something bigger than myself. For this I blame the military commanders who fail to adequately investigate, prosecute or even track sexual predators in the armed services. As is, our military justice system too often punishes victims of sexual violence and anyone who corroborates their claims.
I hope and pray that reforms to the military justice system will finally occur -- either by litigation, Congressional intervention or by courageous leadership from within the Department of Defense. Too many military lives and careers have already been destroyed by this plague of violence -- and military leaders continue to look the other way. Snapped back into the moment, I hear a robotic female voice over the intercom: "Now serving 132 at window number three." I walk to the window and give the petty officer my ticket and ID. I look around and realize that this is my new normal and I still ask myself why it had to be this way.
Mary Gallagher served in the Air Force and Air Force Reserves from 2001 to 2011. She is a plaintiff in "Cioca v. Rumsfeld," which is pending in federal court in Virginia.
Related
Popular in the Community