About 1 in 10 female students in a massive new survey say they have experienced sexual assault involving penetration, by force or incapacitation, while in college.
In just the last school year, 6.9 percent of women and 9 percent of lesbian, gay, bisexual, transgender or queer students in the survey were assaulted in this manner. And half to three-quarters of students at each of the 27 campuses surveyed have experienced sexual harassment.
However, even among those who experienced the most serious crimes, such as penetrative rape, only about 1 in 4 students said they reported their attacks to either their school or law enforcement.
The survey results were released Monday by the elite higher education trade group the Association of American Universities and included responses from 150,072 students at 27 research institutions, with an overall response rate of 19.3 percent. AAU's survey is one of the largest ever done on sexual violence among college students in the United States.
The results of the survey are on par with a number of peer-reviewed studies of campus sexual assault dating back to 1987, and researchers who've looked at AAU's results say the bulk of it is not surprising. They also note the aggregate data shows there can be a significant variation between schools, and caution that these schools were not selected as a random sample.
The survey touches on several components not frequently found in the existing data on sexual assault, including some of the first research on affirmative consent. It's also one of the largest studies to query LGBTQ students.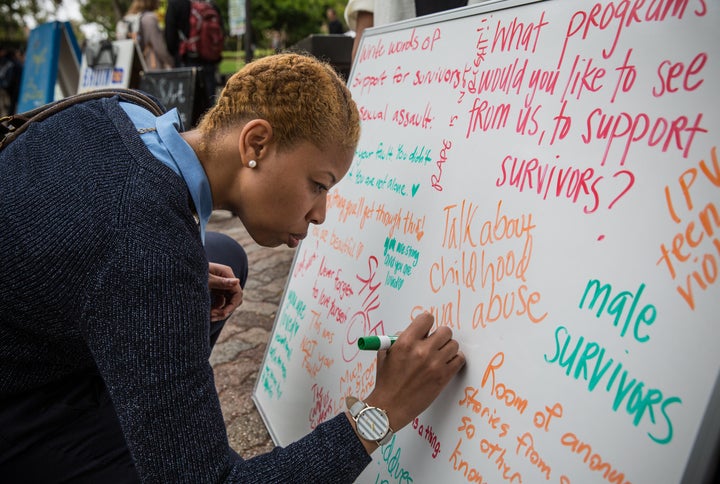 The AAU survey found 11.4 percent of undergraduate women and 14.8 percent of undergrad LGBTQ students at these campuses experienced sexual assault involving penetration or oral sex due to a lack of affirmative consent.
"That in itself is going to stimulate a lot of discussion," said Bonnie Fisher, a professor at University of Cincinnati, and consultant at Westat, the firm that conducted the survey. "We don't, as researchers, know much about this phenomenon because it hasn't been measured in the past."
When including other forms of sexual violence, including forced kissing, groping or nonconsensual touching of someone's genitals, the number of students experiencing the unwanted sexual contact rises to about 1 in 5. While some researchers and conservative columnists have criticized the inclusion of these broader definitions, AAU and Westat note that when they are done by force, threat of force, or incapacitation, they meet the typical criminal definition of sexual battery.
Incapacitation was defined as "unable to consent or stop what was happening because you were passed out, asleep or incapacitated due to drugs or alcohol."
Among women, one-third in the survey said they were sexually assaulted while in school, including either threats by coercion or lack of affirmative consent. Close to half of these victims experienced nonconsensual penetration, and 11 percent said they experienced these types of unwanted sexual encounter in the 2014-15 academic year.
Tara Richards, a criminal justice professor at the University of Baltimore who was not part of the AAU effort, called the survey results "an important new tool regarding the context of gender-based violence among college students." Richards said it was useful that the survey reminded schools that Native Americans and LGBTQ students experience higher rates of sexual violence, but noted that there remains a significant problem with victims failing to report in the first place.
"The fact that many students reporting 'penetration by force' still feel that they will not be taken seriously or that no one will care or act on their behalf highlights how far we still have to go regarding changing the entire culture around sexual violence," Richards told The Huffington Post.
Among the other findings in the AAU aggregate results:
No university had fewer than 49 percent of female college students in the survey who had experienced sexual harassment. The overall results found 3 in 4 LGBTQ students across all 27 campuses had experienced sexual harassment.

11.7 percent of students experienced sexual assault or battery

by force, threat of physical force or incapacitation

since enrolling in college.

One in 10 students in some form of a relationship experienced intimate partner violence.

LGBTQ and non-heterosexual students experienced higher rates of sexual assault and harassment.

LGBTQ and graduate students were more likely to have experienced intimate partner violence.

Freshmen were more likely to have experienced sexual violence compared with seniors, reinforcing that younger students new to campus are at a higher risk.

Three-fourths of victims of sexual assault involving penetration did not report it to either the university or police, with the predominant reasons being they did not consider it "serious enough," feared embarrassment and emotional trauma, or thought nothing would be done about it.
The fact that so few victims in the survey are reporting incidents even to their own campus organizations and offices should give pause to lawmakers pushing for mandatory involvement of law enforcement, said Alison Kiss, executive director of the Clery Center for Security on Campus.
Since the survey also found a majority of students believe their own school would handle a report of sexual assault correctly, Kiss said, more campuses need to do a better job of promoting the resources and options available for victims.
"You can mandate reporting to law enforcement all that you want, it's not going to fix things -- if anything, it's going to chill reporting," Kiss said. "[These results] highlighted the need for more education, as well as awareness, of where to report, how to report, and to look at where there are confidential resources for victims coming forward."
Although AAU and independent researchers cautioned that the results only reflect the elite schools participating, Sen. Kirsten Gillibrand (D-N.Y.) said the survey of 150,000 students should put to rest any debate about whether sexual assault is a prevalent issue on campuses. Gillibrand is an original sponsor of legislation in the Senate that seeks to reform the way colleges address rape.
"This is the latest study to confirm that at least one in five undergraduate women experiences some form of sexual assault on their campus," Gillibrand said in a statement. "How many surveys will it take before we act with the urgency these crimes demand?"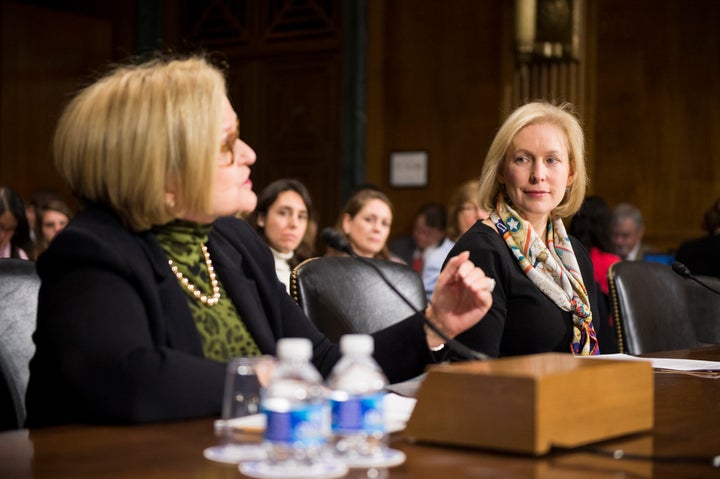 Surveys were mostly distributed over a three-week period in April, and the response rate varied widely across institutions, which both AAU and independent scholars believe affected the findings. David Cantor, vice president of Westat, noted that some institutions chose to offer a cash reward of $5, which increased participation by roughly 10 percent.
Mary Koss, a longtime sexual violence researcher at the University of Arizona, warned that "selective participation" would be a concern "no matter how large the sample size."
However, Koss said, AAU's and Westat's claim that this is the largest-scale survey on campus rape is likely accurate. Koss said the usefulness of the survey will depend on how each campus uses its own data.
"We hope the data our universities have collected in this survey will help guide their policies and practices as they work to address and prevent sexual assault and sexual misconduct on campus," AAU President Hunter Rawlings said, "and to ensure that reports of sexual assault and sexual misconduct are handled with care, compassion, and a commitment to fair, prompt, and impartial review and resolution."
Some researchers bristled at the high cost of conducting the survey, with a charge from AAU of $85,000 per school. That concern helped prompt a group of 22 academics to design their own climate survey, which they are offering to any school to use free of charge. However, AAU said they will now release their survey instrument to any college to use for free as well.
AAU is allowing each university to decide whether, and when, to release their individual campus-specific results. Most of the schools told HuffPost they plan to start releasing their data this week.
This story has been updated to include comment from Tara Richards and Sen. Kirsten Gillibrand.
Related
Popular in the Community