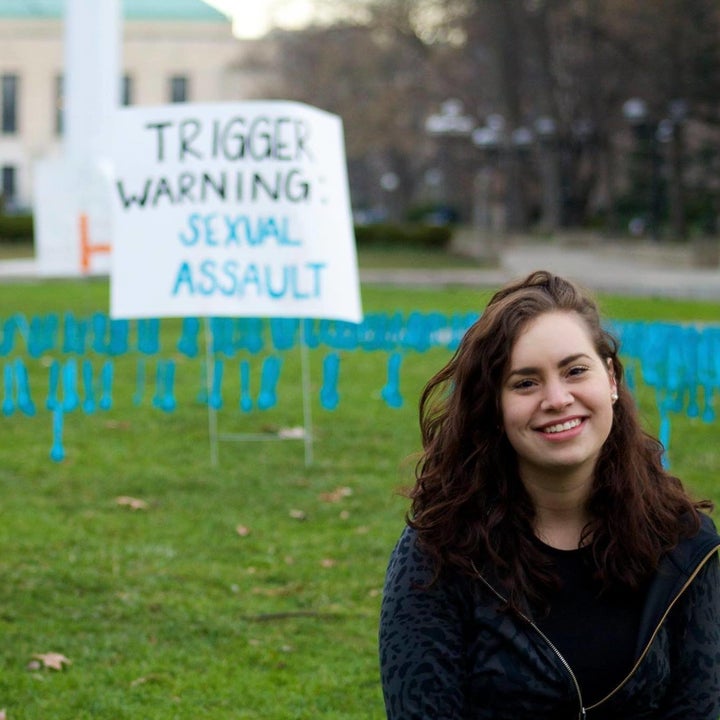 Fabiana Diaz woke at 4 a.m. one day last year to plant hundreds of teal forks in the ground on the quad at the University of Michigan. The forks were representative of one-in-four women and one-in-six men who experience sexual assault across America — Diaz being one of them. It was an act of protest, an action to raise awareness around the prevalence of sexual assault on campus.
Diaz cried with other survivors that day, and found the experience liberating though stressful. She writes about it in the new book We Believe You: Survivors of Campus Sexual Assault Speak Out, an anthology of voices discussing sexual assault: the experience, the aftermath, the activism.
"I still think it's very surface-level," Diaz told The Huffington Post. "I still think people don't fully comprehend it's not just that night -- it's the nights after that night too." She said the weight of being a survivor never fully goes away.
Diaz is one of three dozen contributors to the We Believe You, including Annie E. Clark and Andrea Pino, who are listed as the two main authors. The writers are diverse: some identify as gay or bisexual, trans or queer, and some are first or second-generation Americans. A couple are a tad older, and experienced sexual violence after they passed the typical college age bracket of 18 to 22 years-old.
The diversity of the book is very important, Diaz said: "I am an immigrant and I tried to talk a lot about my family and my culture because it plays a big role on how I express on my survivorhood."
In We Believe You, several themes are apparent: Their identities are much more complex than simply identifying them as a survivor, and their activism takes many different shapes. Being a sexual assault survivor is not a cookie-cutter experience, and they are tired of being known as the "Sad Rape Girls," as writer Alexandra Brodsky put it recently in an article. And just because the survivors have gone public does not mean they are all better and fully-healed.
"I will never be fully healed, but I am so much greater than the sum of my traumas."
One anonymous author states they do not believe "time heals all wounds." Another author, named Aditi, writes, "I will never be fully healed, but I am so much greater than the sum of my traumas."
"The assault itself is not a transformative event that makes you a hero," Pino said. "But many survivors feel that publicly they can never have a bad day."
At the Oscars' rehearsal, Lady Gaga asked if some of the survivors there already knew each other. Sari Rachel Forshner, one of the survivors, said they replied that they did, because of their activism work.
"I didn't have that," Lady Gaga replied, according to Forshner. "That one sentence really stuck with me."
Indeed, a common theme from interviews over the past week with the survivors-turned-authors of We Believe You is that they wish they'd had a book like it to read immediately after they were assaulted.
"Now it's more talked about on campuses and at a national level, but it wasn't always like that, and it's still not like that at all campuses," Diaz said.
For some, the book is the first time they've gone public in a major way with their story.
In Forshner's case, she writes about being drugged at a party and then sexually assaulted in the middle of the street as a University of Southern California sophomore in 2012. She doesn't go into detail in the book, however she told HuffPost that witnesses told her a university-employed security staffer saw what was happening, but simply instructed them to stop having sex in public and moved on. The next day, she said, she discovered blood from a head wound.
When a federal complaint was filed against USC in summer 2013, Forshner told her story to this reporter, but decided for her own reasons that she was not yet ready to go public, and so an article was never written about it. The book is the first time part of her story will be published.
Forshner left USC, deciding she needed to stay off campus until the student she says assaulted her is gone.
In one of her chapters from We Believe You, she discusses feeling like the person she used to be is no longer there, and how her body "has become alien."
"The truth is," Forshner said, "behind the scenes, no matter how poised we may appear, the effects of getting assaulted don't leave you for the rest of your life. … The horrible truth is something is lost forever."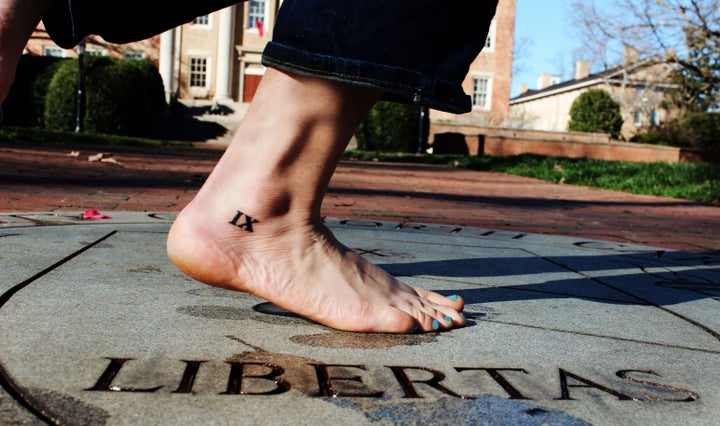 "We're getting more and more used to the narrative of the survivor coming forward and the school not listening to them, but life goes on after," Litalien told HuffPost. "What do you do and how do you do it? I'm really glad to help shed light on it and my healing process."
"Behind the scenes, no matter how poised we may appear, the effects of getting assaulted don't leave you for the rest of your life.""
Clark discusses in one chapter her experience as a survivor and being bisexual, something not mentioned in media coverage of her work, writing about how she grappled for years with how to disclose both of those aspects of her identity. But Clark pointed HuffPost to other aspects of the book that she felt were more critical for readers to notice, like a section called "Everyday Activism," which discusses the different ways people can engage in activism.
"It's not about being on an Oscar stage, it's not about being on these big platforms -- it's about the everyday things people can do to chip away at rape culture," Clark said in an interview.
Lilly Jay, another contributor, said she'd like more people to understand the personal stress a survivor deals with by being involved in activism or being public about their experience.
"When you're a survivor and people are asking for you to give of yourself so consistently, it's like an entitlement to our bodies shifts to a sense of entitlement to our stories, and access to us as storytellers and voices in this movement," Jay told HuffPost.
"There's definitely a way in which being public [about having been sexual assaulted] is celebrated, and it is regarded as being more brave," she added. "I think as long as we have young men and women having to be really public, that means that something still isn't working."
Related Coverage Of Survivors In The Book:
Related
Popular in the Community