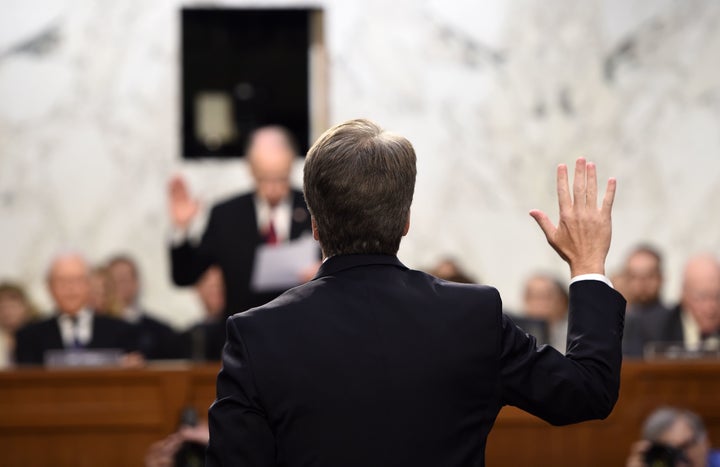 Over 100 people signed an open letter urging lawmakers on the Senate Judiciary Committee to believe survivors of sexual violence.
"We are many, but we speak with one voice: Believe us, trust us, stand with us," the letter, written by reproductive rights activist Alison Turkos, reads.
The letter, published online Monday night, asks Senators Dianne Feinstein (D-Calif.), Chuck Grassley (R-Iowa), Cory Booker (D-N.J.) and others on the committee to believe Dr. Christine Blasey Ford, who goes by Christine Blasey professionally. On Sunday, Blasey publicly accused Supreme Court nominee Judge Brett Kavanaugh of sexually assaulting her in 1982 at a high school party. In light of Blasey's allegation, the vote to confirm Kavanaugh has been delayed.
"Dr. Blasey Ford's story, all too familiar to many of us, is not to be taken lightly. It is not to be dismissed as 'boys being boys.' It is not to be swept under the rug or denied," the letter continues. "You have the power to make sure that doesn't happen."
The statement is signed by 141 survivors from 33 different states, including Washington, D.C., and Puerto Rico, Turkos said. She is inviting survivors of sexual assault to sign the online letter if they want to.
"A sexual abuser has no business serving on the highest court in the land. The nomination of Brett Kavanaugh is an insult to all of us ― to every survivor who has come forward. Our liberty, our dignity, our humanity demand to be heard and validated," the letter states. "That is impossible with Brett Kavanaugh on the Supreme Court."
"We will hold these senators accountable, we will never forget this moment."
Turkos, a survivor of multiple rapes herself, told HuffPost that she was inspired to write the letter because she wanted to ensure that victims of sexual violence were centered in the conversations about Kavanaugh.
"Survivors are too often left out of the conversation, our voices and stories are reconfigured by men, the media and those in power. I wanted to lift up and center our voices and experiences, ensure they're not being drowned out and ignored," Turkos said.
She added that in the wake of the Me Too movement, the Senate Judiciary Committee's decision on whether or not to elect Kavanaugh is more important than ever.
"This is a crucial moment for senators to do something. We want senators to continue to listen, to continue to act upon these allegations. We will hold these senators accountable, we will never forget this moment," Turkos said. "I want it to show these senators that Dr. Blasey Ford has the full support of a community, and sadly she's not alone."
Kavanaugh's confirmation hearings concluded last week, but the vote was postponed in order to add one more hearing on Blasey's accusations. The Supreme Court candidate has agreed to testify on the issue in front of the Senate Judiciary Committee on Monday. Blasey, however, has not committed to testifying, asking that the FBI investigate her claims first.
"We are survivors and we will not be silenced," the letter powerfully concluded. "We stand with Dr. Christine Blasey Ford and with all survivors. The question is ― will you?"