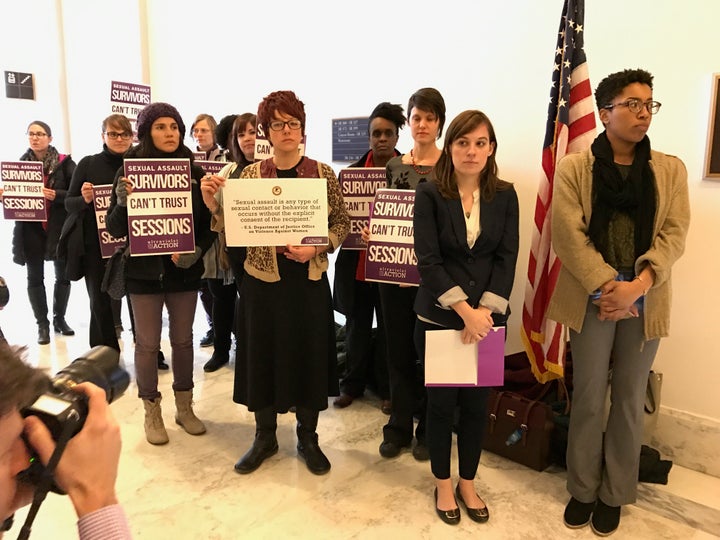 Rape and sexual assault survivors protested outside the office of Sen. Jeff Sessions (R-Ala.) on Monday, contending that President-elect Donald Trump's choice for attorney general can't be trusted to enforce the law when women's rights are violated.
"We do not trust Sen. Jeff Sessions to tackle the epidemic of rape," said Sophie, a sexual assault survivor who identified herself by her first name only. "If Jeff Sessions doesn't know the definition of sexual assault, he should withdraw his name from nomination."
The group delivered a poster with the Department of Justice's definition of sexual assault printed on it.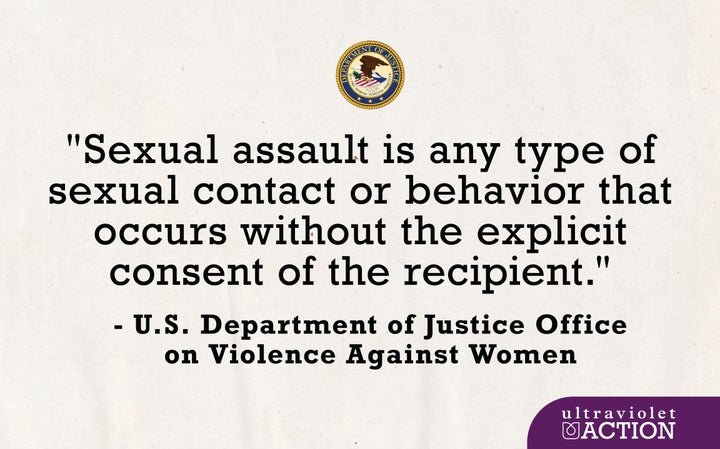 UltraViolet, a national women's advocacy group, organized the protest. More than 100,000 people have signed a petition from UltraViolet urging the Senate Judiciary Committee to reject Sessions' appointment.
The National Task Force to End Sexual and Domestic Violence also opposes Sessions' candidacy. The national coalition of organizations working to end domestic violence and sexual assault released an open letter last week, stating that the senator's record suggests he won't fairly enforce the law when it comes to historically marginalized groups.
"The role of Attorney General requires a demonstrated commitment to providing equal protection under the law—particularly to people who face discrimination because of their race, religion, gender, gender identity, sexual orientation, disability or other identities," the group wrote. "Senator Sessions' history leads us to question whether he will vigorously seek to ensure that all victims and survivors of gender-based violence, particularly vulnerable populations and those at the margins of society, have access to vitally needed services and legal protections."
The Senate Judiciary Committee is set to begin confirmation hearings on Sessions' appointment on Tuesday.
______
Melissa Jeltsen covers domestic violence and other issues related to women's health, safety and security. Tips? Feedback? Send an email or follow her on Twitter.
______
Popular in the Community