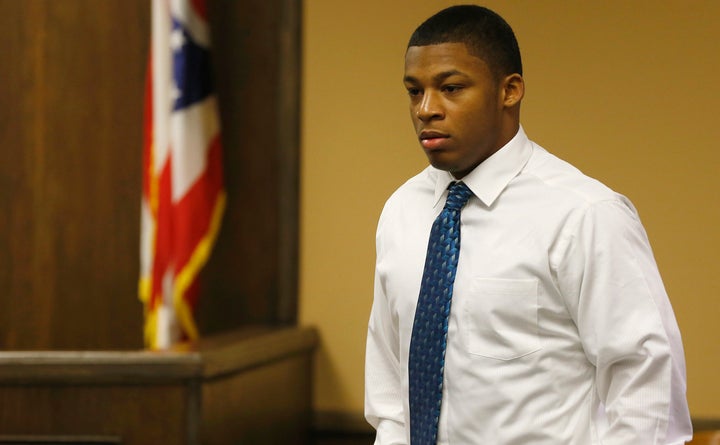 The decision, and Richmond's new and high-profile position on campus, have stirred up strong reactions from other Youngstown students ― especially survivors of sexual assault who say participation in athletics is a privilege that Richmond lost the moment he raped a 16-year-old girl. 
"I strongly believe that education is a right and sports are a privilege," 21-year-old YSU student and sexual assault survivor Rachel* told HuffPost. "I believe that Ma'lik should have been forced to hang up his cleats the night he raped that young girl." 
I strongly believe that education is a right and sports are a privilege.

Rachel, YSU student and sexual assault survivor
"As YSU students prepare to return to school and spend fall nights watching their football team play, there is a huge problem," the Change.org petition, created by YSU student Katelyn Davis, reads. "That problem is that Richmond will be on the field, playing a game. He will be representing the university and all that it stands for. President Tressel and Coach Pelini, are you more concerned with your football team's status than the disgusting rape of a young girl?" 
Students HuffPost spoke to are mainly upset with head football coach Bo Pelini. According to local newspaper the Vindicator, Richmond wasn't look to play football at YSU; it was Coach Pelini who approached him about playing.
"The kid is humble and he wants to put [his past] behind him," Pelini told The Vindicator. "He's been going to school. He's been here as a student. He's proved he can be part of the student community." 
Students organizing against Richmond aren't only at odds with Pelini and the school administration ― they're going up against other students as well. On Aug. 6 other YSU students created a petition in support of Richmond titled "Second Chance For Ma'lik." 
"Ma'lik was convicted and has served his punishment and has since earned the right to attend Youngstown State and participate on the football team," the petition in support of Richmond reads. "Being that he has accepted his punishment and has served his time we are in full support of Youngstown State University giving this young man a chance to have an impact on society."
As of Friday morning, the petition had received over 1,000 signatures. 
In response to the mounting controversy surrounding Richmond, the school sent an email to all YSU students on Wednesday evening explaining that Richmond will be a "practice player" and will not compete in any games during the fall 2017 football season. While the school wrote that it's "fully aware of the gravity of the situation," Richmond will remain on the team. 
"YSU does not restrict any student's ability to take part in extracurricular activities as long as they are in good standing with the institution," the statement reads. "YSU believes that extracurricular activities assist in a student's ability to succeed."
Read the full YSU email below, provided to HuffPost by a YSU student.
Even though YSU is making Richmond sit out this season, he'll most likely still have one more year of eligibility to play football in 2018. YSU sophomore and sexual assault survivor Alyssa,* who also signed the petition, was not satisfied with YSU benching Richmond. She wants to see him off the team altogether.
"I do not think this has resolved the problem, since Ma'lik is still a member of the team," she said. "His presence strikes fear into survivors and victims ― a campus should be a safe space for anyone and everyone, but by not only accommodating a convicted rapist, but allowing him the privilege of representing the school, people who have experienced sexual assault and harassment will be forced to relive these traumatic events and fear that they are attending a school that condones such things."
Other supporters of the petition voiced their disappointment that Richmond will remain on the football team in a Facebook group for a Sept. 9 protest. The protest, which will take place at a football tailgate, will specifically call out YSU President Jim Tressel and Coach Pelini for allowing Richmond on the team, and to stand in solidarity with survivors on campus.  
"Only until next season [will Richmond be sitting out]. Then he can play. The wording is misleading on purpose," one member of the Facebook group wrote, referring to YSU's emailed statement on Richmond.
Another member of the Facebook group was more optimistic, writing: "I feel that it is a step in the right direction and I'm impressed that our voices have been heard and at least acknowledged." 
Ciddy Howlett, a 23-year-old YSU student, told HuffPost that the university's decision to bench Richmond for a year is good but not great.  
"I do feel that the school's administrators heard our concerns; and I am glad to see that he won't be actively playing this season," she said. "That being said, I wish they would have cut him from the team in general. I have no real problem with Ma'lik attending classes. Education plays a key role in rehabilitation. Playing football and serving as a representation of the university does not." 
*Names have been changed for privacy purposes.
Calling all HuffPost superfans!
Sign up for membership to become a founding member and help shape HuffPost's next chapter
BEFORE YOU GO