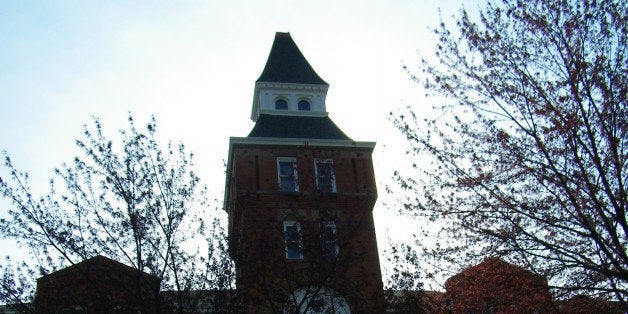 Loophole No. 1: The University of California, San Francisco, punished a student found responsible for sexual assault with a yearlong suspension that started one month after he had finished all his classes for his degree. Loophole No. 2: He's still allowed on campus -- a fact that the victim says UCSF failed to tell her.
Colleges are under greater pressure now to respond to sexual assault allegations, thanks to a wave of student activism and action by the White House and members of Congress, as well as investigations by the U.S. Department of Education. But strong punishments for guilty students at some universities aren't always as forceful as they seem.
And federal officials have little to say about that. The Education Department's Office for Civil Rights is currently investigating 110 colleges and universities for how they handle sexual assault cases. The agency has released guidance indicating certain school policies it considers necessary to adhere to the gender equity law Title IX, but it has not stipulated what kind of punishment schools should dole out for various offenses.
"What I do is to enforce Title IX, [and the law] doesn't specify what is or is not an appropriate punishment," Catherine Lhamon, assistant secretary for civil rights at the Education Department, told The Huffington Post.
Her office's guidance directs colleges to take "prompt and effective" steps to address sexual assault and harassment among students. But she noted "there's a lot behind what is prompt and effective" in particular cases, and she said her office is "not well-positioned" to set specific punishments.
"I think we've said all that needs to be said," Lhamon added.
Without government-mandated sanctions, schools have varied widely in what they've judged to be appropriate punishment. Some have slapped sexual assault offenders with "expulsion after graduation" or book reports.
In the UCSF case, a student who asked to use the pseudonym Vera told HuffPost that the school's investigation of her sexual assault case dragged on for six months. By the time the offender pleaded no contest in mid-April, he had completed all his classes. He will serve a one-year suspension and then he can receive his Doctor of Pharmacy degree, the university said in an email obtained by HuffPost.
On April 30, five days after the offending student was suspended and more than one month after he'd finished his courses, Vera said she spotted him on campus. When she complained to the university, a UCSF lawyer responded that nothing in his punishment actually bans him from campus.
"Under the Student Code of Conduct, suspension does not necessarily result in a complete ban on campus. ... In this case, the University has had 'no contact' orders in place that prevent the respondent from initiating contact," the UCSF lawyer wrote to Vera's attorney, Laura Dunn. "While his student status is terminated for a specified period of time, he will not be restricted from accessing certain School resources."
The UCSF lawyer went on to explain that the offending student must let the school know when he comes on campus and that there is still a no-contact order requiring him to stay away from Vera.
UCSF spokeswoman Jennifer O'Brien declined to comment on Vera's situation, but said in a statement that in cases "where an individual is considered to be a physical threat, the university takes measures to either prohibit or restrict their access to the campus."
Dunn, founder of the advocacy group SurvJustice, observed a similar situation in a case she worked on at the University of Nevada-Las Vegas.
A male UNLV student who had been set to graduate in the summer of 2014 was found responsible for sexual assault and given a four-year suspension that September, according to a federal complaint Dunn filed on behalf of the reported victim. Since the investigation had put a hold on his graduation, that meant he should not receive his diploma until May 2018.
Four days after that suspension was supposed to start, the victim, who requested anonymity, learned that the offending student was permitted on campus for a fraternity event. UNLV had failed to tell the woman in the case that since the accused had appealed his punishment, he was not yet barred from campus.
She then learned in October 2014 that her offender had received his UNLV diploma, according to her complaint. The school said that someone must have "messed up," according to the complaint, but that even with his diploma in hand, he technically hadn't graduated.
Dunn argues that punishment after graduation or other loopholes in seemingly strong sanctions are "yet another way for colleges and universities to avoid their obligations to address sexual violence." And she thinks they hope the victims simply won't notice.
"With the heightened scrutiny, campuses want to look tougher on this issue without actually having to be tough," Dunn said. "They still feel that sexual violence is not an issue they should truly show zero tolerance on or that it is someone else's problem to deal with it."
UNLV declined to comment on the case.
In a case at Michigan State University, a junior who asked to be identified only by her first name, Ashley, said a male student had sexually assaulted her. The accused was found responsible for sexual assault in January 2014 and expelled, according to confidential documents provided to HuffPost. But the offending student sued Michigan State to challenge its procedures and then later dropped the suit. Ashley points out that the lawsuit-related delay gave him time to finish out the semester, and then he transferred to the University of Michigan.
Moreover, on May 5 of this year, Ashley said, she received an email that her offender's request "to observe a graduation ceremony on MSU's East Lansing campus" this weekend had been granted. Ashley said she had no way to appeal that decision.
"I feel like MSU has failed me again," Ashley said. "They're allowing him back like it doesn't matter."
A Michigan State official said the university is limited in what information it can share, but did confirm that the expelled student has been granted permission to attend his brother's graduation. He "will be in the company of his parents at all times," the official said.
Calling all HuffPost superfans!
Sign up for membership to become a founding member and help shape HuffPost's next chapter
BEFORE YOU GO