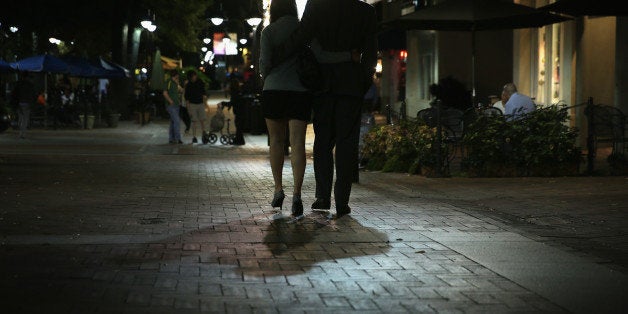 Officials in three states are calling for laws that would require college transcripts to indicate if a student has been suspended or expelled for committing sexual assault.
Currently, there is no federal law requiring schools to note such sanctions on a student's transcript, and colleges do not have to ask applicants if they have ever been punished for sexual assault. However, lawmakers in California and Maryland have proposed legislation that would mandate transcripts include sexual violence offenses, and Virginia is on the cusp of becoming the first state to enact such a law.
The bill passed through the Virginia legislature earlier this year. Gov. Terry McAuliffe (D) has made amendments to it, which lawmakers are scheduled to review on Wednesday.
Proponents of requiring schools to disclose sexual assault sanctions have made an example out of the state of Virginia -- specifically, they point to the history of Jesse Matthews Jr., the suspect in the killing of University of Virginia student Hannah Graham. Matthews was punished for sexual assault at Liberty University nearly 15 years ago, but was able to transfer to Christopher Newport University, also in the state, without disclosing his offense.
Paul Trible Jr., a former Republican congressman who is currently the president of CNU, began lobbying Virginia legislators to draft a bill to require sexual misconduct notations on transcripts after Matthews' history was brought to light.
"The fact that a student will carry this information with them for the rest of their lives should act as a powerful deterrent to committing these acts," Trible told HuffPost last year.
Virginia passed a bill that would require a notation when a student "withdraws from the institution while under investigation" of sexual misconduct or if they've been found responsible for sexual assault. McAuliffe has recommended an amendment that would allow a student to have a note that they were under investigation removed from their transcript after at least two years, and has sent the bill back to lawmakers to review this week.
However, during the debate on the bill, some Virginia lawmakers said they were concerned that the notations would amount to a "scarlet letter" and could prevent some accused students from continuing their academic careers.
McAuliffe has also appointed a task force to investigate campus sexual assault in the state. So far, the group has recommended establishing a statewide database of any student dismissed or expelled for sexual assault to increase information sharing among schools in Virginia, and is scheduled to present a final recommendation in June.
The California bill was developed in part because there is no consistency among public universities in the state, the staff of its author, Assemblymember Das Williams, said. Williams found it "disconcerting" that a student who gets expelled or suspended from the university for sexual assault can apply to another school without disclosing that information.
"There is always accountability for cheating on a test -- that will go on your record," Williams told The Huffington Post. "On some campuses, you can rape a woman and that will not go on your permanent record and that's unacceptable."
He said he views his legislation as a deterrent to sexual assault because it would show that the offense can have repercussions beyond the campus.
"Some of these campuses are only two [subway] stops down the road," Williams said. "There is zero accountability if the other campus is not informed."
Sexual assault survivor activists largely support disclosure measures, while the higher education community is split.
"It makes sense to begin with schools that are publicly funded by the states and take that as the impetus to pressure private institutions to do the same thing," said John Kelly, a survivor and activist who believes transcripts should include sexual misconduct charges.
Kelly, a Tufts University senior, said they reported being assaulted and that their assailant transferred to a different school without being required to disclose the offense.
Tufts officials told HuffPost that while their transcript notations are generic in terms of what misconduct a student was punished for, they believe their system works "very well" to "alert to outside institutions that a disciplinary record exists."
The Association for Student Conduct Administration, a professional trade group, called last year for schools to begin adding notations about sexual assault sanctions on transcripts. Another trade organization, the American Association of Collegiate Registrars and Admissions Officers, notes that its members' opinions on the matter are split. However, "there is nothing preventing the sending institution from transmitting the details of the disciplinary records," AACRAO says. Brad Myers, AACRAO's president and the registrar at the Ohio State University, puts notations about serious misconduct on OSU students' transcripts.
A student proposal from the University of Kansas has suggested a different way that schools can communicate details about sanctions against students.
KU currently notes on a transcript when a student is expelled for nonacademic misconduct, but it doesn't provide specifics about the misconduct. A measure passed by the student government of each state university in Kansas would require that if a student expelled or suspended for nonacademic misconduct attempted to transfer to another public college in the state, student affairs officers at both schools would have to approve the enrollment in writing. The hope, according to KU senior and student holdover senator Emma Halling, is that both schools would then know exactly what the student did.
"I think this is a great move," Halling said. "It allows universities to make educated decisions about the students they're considering admitting. We're not infringing the rights of someone who has been found responsible of a violation. We're just letting universities make educated decisions on who they accept."
The governing body of public colleges in the state has discussed the proposal, but has not yet acted to put the policy into place.
Although there is no pending federal legislation that would require colleges to disclose a student's punishment for sexual assault, U.S. senators have discussed the issue during other hearings about sexual violence on campuses.
Because officials at some schools have indicated that they believe sharing information about a student's sexual assault sanctions with other colleges could get them in trouble, U.S. Rep. Jackie Speier (D-Calif.) has said she plans to present a bill clarifying that this is not the case.
Related
Popular in the Community