Members of Congress are shifting more attention to the fact that students found responsible for sexual assault can transfer schools without notifying their new institution of their record.
Staffers working for several representatives have told The Huffington Post that lawmakers are discussing the issue and considering if they should move on it legislatively. For now, just one, Rep. Jackie Speier (D-Calif.) is publicly stating that she will introduce a bill aimed at filling the information gap.
The increased focus follows revelations that Jesse Matthew Jr., the suspect in the death of University of Virginia student Hannah Graham, was accused of sexual assault at two Virginia colleges he attended, without the information leaving those campuses. After being named a suspect in Graham's disappearance, Matthew was indicted in the case of a 2005 rape in Fairfax, Virginia, and forensic evidence recovered in his case has led to a "significant break" in the unsolved 2009 death of a Virginia Tech student, the Associated Press reported.
Colleges and universities have no legal obligation to notify another institution if they find a student responsible for sexual assault, though there's nothing preventing them from it, either. Guidance from the trade group American Association of Collegiate Registrars and Admissions Officers currently advises leaving disciplinary history off of a student's transcript.
In some cases, as HuffPost reported, schools have changed a student's record to remove expulsion in order to help the student get into another college after being found responsible for sexual assault.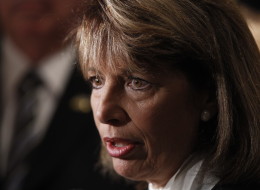 Following HuffPost's reports, Rep. Jackie Speier (D-Calif.) said she plans to introduce legislation making it clear that schools are allowed to share information about sexual misconduct punishments, despite current federal privacy law. The legislation is still being drafted, according to her office staff.
"For the most part, this issue has been swept under the rug historically -- out of sight, out of mind, get it off of our campus and it's someone else's problem," Speier said in an interview. "Because it's a closed system and they have their own code of ethics, it allowed [colleges] to ignore the fact that [sexual assault is] a crime in civil society."
The idea is not necessarily to prevent a college from admitting a student who was punished at another school, but to at least share information so that the next college can make a fully informed decision. Indeed, even in high-profile cases, like at the University of Oregon, some colleges have not shied away from admitting a student who they know has been punished for sexual misconduct.
Paul Trible Jr., president of Christopher Newport University, which admitted Matthew from Liberty University in 2002 without any knowledge of Matthew's sexual assault case at that school, is pushing lawmakers in his state to require every college to include disciplinary sanctions on transcripts. His institution already includes the information, he said.
"We should put these on the transcript because every school gets a transcript, every school looks at a transcript, and if these kinds of offenses are displayed, then every school is on notice," Trible said in an interview Wednesday.
At a Tuesday Senate hearing on campus sexual assault, which largely focused on the relationship between police departments and campuses around the issue of rape, Sen. Richard Blumenthal (D-Conn.) called how schools handle the records of students disciplined for sex offenses "critically important."
"If he's gone, the school says, 'Well, we've done our job, we've gotten rid of them,'" Blumenthal said. But the next school considering enrolling the offender, he added, should be asking about that student's past and why they're leaving their previous school.
"They can protect a whole lot of students on this if they simply ask the question," Blumenthal said.
Legislation on campus rape introduced by Sens. Claire McCaskill (D-Mo.) and Kirsten Gillebrand (D-N.Y.) and co-sponsored by Blumenthal does not currently address the issue of what to do about a student accused of or found responsible for sexual misconduct who transfers. Blumenthal's staff, as well as McCaskill's, told HuffPost they are not currently drafting up a bill to tackle the issue.
"Whether schools should be compelled to provide that information proactively is certainly worthy of discussion and consideration -- currently, our bipartisan bill focuses more broadly on the more structural ways to protect and empower students, provide new resources and services, and on punishing perpetrators and holding schools accountable," said McCaskill spokeswoman Sarah Feldman.
Peg Langhammer, executive director of the Rhode Island sexual assault trauma center Day One, said Congress should put something in a bill related to students who want to transfer after being found guilty of sexual misconduct.
"Congress should do everything in its power through this legislation to ensure that this information is shared with any future institutions that student attends," Langhammer told HuffPost after Tuesday's hearing, where she participated as a witness. "We've seen too many horrific cases throughout the country where this did not happen. If we allow universities to keep this information a secret, then we as a community are willingly putting students at risk by not protecting them from known assailants."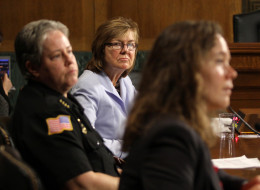 The higher education community is not totally against the idea of noting the information on transcripts. The Association for Student Conduct Administration, for one, put out a white paper in July saying colleges and universities should include the disciplinary records and that receiving institutions should be more proactive about asking about a student's past.
"I think it's a powerful deterrent," Trible said. "The fact that a student will carry this information with them for the rest of their lives should act as a powerful deterrent to committing these harmful acts."
"I recognize that someone is innocent until proven guilty," Speier said, but that doesn't mean colleges shouldn't share what information they have about a student with other institutions enrolling the same person.
"The problem is that they bent over backwards to protect the defendant, and in so doing, placed a whole other universe of people, particularly women, in jeopardy," Speier said.
Related
Popular in the Community