A neighbor overheard Vanessa and her boyfriend shouting and the sound of something -- her body, it turns out -- hitting the dorm room wall one night in May 2014. The neighbor reported the fight to a residential assistant, who then reported it to Columbia University officials.
As a result, Vanessa, who asked to use a pseudonym for privacy reasons, was called into a meeting the following week with a university official overseeing sexual violence cases at Columbia.
The university wanted to investigate the incident, but Vanessa did not want to make a report. She was not ready to admit that she was in a violent relationship. "I kept holding off on the investigation, waiting for him to get his shit together, and that never happened," Vanessa said.
Despite Vanessa's unwillingness to participate in an investigation, the university imposed a no-contact order between her and her boyfriend. Columbia officials told her that the university would consider punishing her if she broke the no-contact order, according to emails obtained by The Huffington Post -- even though she was the one suspected to be in an abusive relationship. The punishment, officials said, could be as severe as suspension.
Vanessa and her boyfriend were still dating, so neither abided by the directive. But that meant that when Vanessa finally was ready to have her boyfriend's behavior investigated, she couldn't bring her case to the university, because that would have meant admitting that she had violated the order.
Colleges issue no-contact orders as a tool to protect victims from their alleged assailants, and apply confidentiality rules to prevent students from airing the school's dirty laundry. Several students told HuffPost they were threatened with possible suspension if they violated what they consider to be gag orders.
Indeed, in a number of cases, colleges issued veiled threats of punishment to survivors of reported sexual assaults, often telling them to keep their cases hush-hush in phrasing that some experts believe may violate federal law.
"Even if they never carry out the threat, the fact is that it's chilling the speech of a lot of victims," said Adam Goldstein, an attorney at the Student Press Law Center, an independent watchdog group that has long been concerned with college-imposed gag orders.
These threats have prevented sexual violence victims from getting protection from their universities or from police, made it difficult to get emotional support from friends and to discuss their experiences in public, shielded the colleges from outside scrutiny and, in some cases, simply made victims feel like they were the ones on trial.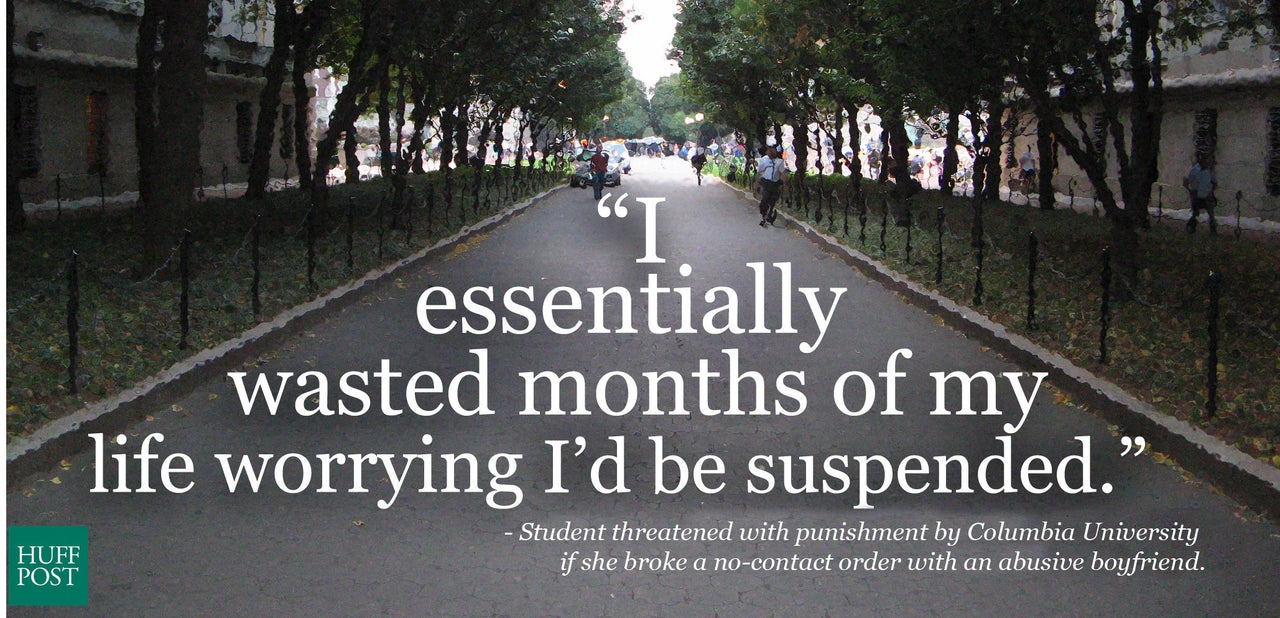 In Vanessa's case, she says the threat of punishment for breaking the no-contact order pushed her even further into her boyfriend's arms, since the rule prevented him from getting checked in to visit her at her dorm. Instead, Vanessa spent more time off-campus with him, which she now admits was "dangerous" because the university couldn't protect her there.
One student at Pace University complained last year that the no-contact order she and her alleged assailant were issued made her feel even more victimized. The directives stipulated that they could not talk about the case to friends on campus, which she felt was effectively a gag order.
"In a sense, it was blackmailing me to keep quiet," the Pace student said.
Colby Bruno, senior legal counsel at the Victim Rights Law Center in Boston, says the way colleges are applying no-contact orders, placing an equal onus on both students, is misguided.
"They think if we don't do this to both people, then we are in violation of [our obligations under] Title IX to be equitable," he said. "That's not the case."
At Pomona College in California, alleged victims are told they cannot share the name of the accused person, what their sanctions are or what came up in the investigation.
Yenli Wong, a recent Pomona graduate, said that during her senior year she had wanted to write a blog piece for HuffPost about being sexually assaulted, but didn't want to get in trouble for breaking the school's confidentiality rules about the investigation that had taken place. Wong had no intention of revealing her assailant's name -- she just wanted to tell her story. But the school had previously told her that breaking the gag order would open her up to disciplinary charges.
In an email, Pomona Dean Miriam Feldblum told Wong that her blog post could "refer to specific relevant policy sections in the Handbook, such as 'non-consensual sexual contact,'" but could not disclose details from the "alleged policy violation statement."
Wong says Feldblum's response was nonsensical to her, because it didn't explain whether the blog post would be considered a violation of the gag order.
"I felt very trapped and was extremely worried that the college might punish me if I spoke out about what happened to me," Wong said.
Pomona went further than that: Without prompting, the school warned Wong's boyfriend, Julien Breistroff, that if he disclosed information about the case, he, too, would be opened up to disciplinary charges, according to emails provided to HuffPost.

Feldblum told HuffPost that victims and witnesses have been concerned in recent years about confidentiality of sexual assault cases.
"As a college and community we want to be in a position where survivors feel confident coming forward," Feldblum said.
Current federal law and guidance from the Education Department stipulates that schools cannot place gag orders on students in cases of violence once they are resolved. An Education Department official told HuffPost earlier this month that colleges "may not require a complainant to abide by a nondisclosure agreement, in writing or otherwise," in regards to the outcome of an adjudication.
Students made their views clear at Pomona's commencement this past May by covering their mouths to protest the gag order. Wong, who graduated in that ceremony, eventually wrote the blog post, and was not disciplined by the college.

While the Education Department makes clear that gag orders are illegal in the case of investigations that have been resolved, it's less obvious to what extent a school can limit a student's speech about their own case while an investigation or disciplinary process is ongoing.
"If students are allowed to collect evidence and identify witnesses and things of that sort, there's going to have to be something in a policy that would sort of establish the parameters [under which] you can talk about this issue with others whom you are going to identify as witnesses," said Nancy Chi Cantalupo of NASPA, a student affairs professional group.
In four other sexual assault cases at Columbia examined by HuffPost, students said they, too, were given the impression by school officials that they risked punishment if they talked about their cases. These students also believed that they had essentially been placed under "gag orders." The orders stopped the students from getting emotional support from friends, they said, and from discussing why they were uncomfortable participating in certain student events.
Columbia officials pushed back, saying they would never punish a student for talking about their case and noting that, in fact, that's how reporters are able to cover these incidents.
But students who receive these sorts of confidentiality instructions will almost always believe that they -- as victims -- are at risk of being sanctioned, according to S. Daniel Carter of the campus safety group VTV Family Outreach Foundation.
"I think a lot of this simply speaks to the fact that there's a lack of trauma-informed communication being carried out in these cases," Carter said.
Ultimately, colleges are attempting to avoid situations where the names of accused students are involuntarily made public, such as through the circulation of "rapist lists."
At Columbia, Paul Nungesser's name was posted in one of these lists weeks before any news article ever named him. Nungesser is currently suing Columbia, alleging that the university failed to stop harassment directed at him while his accuser, Emma Sulkowicz, was participating in activism against sexual assault.
But the gag order is also a way for colleges to try to avoid outside scrutiny, critics say.
Schools are doing this "because they can get away with it," said Goldstein.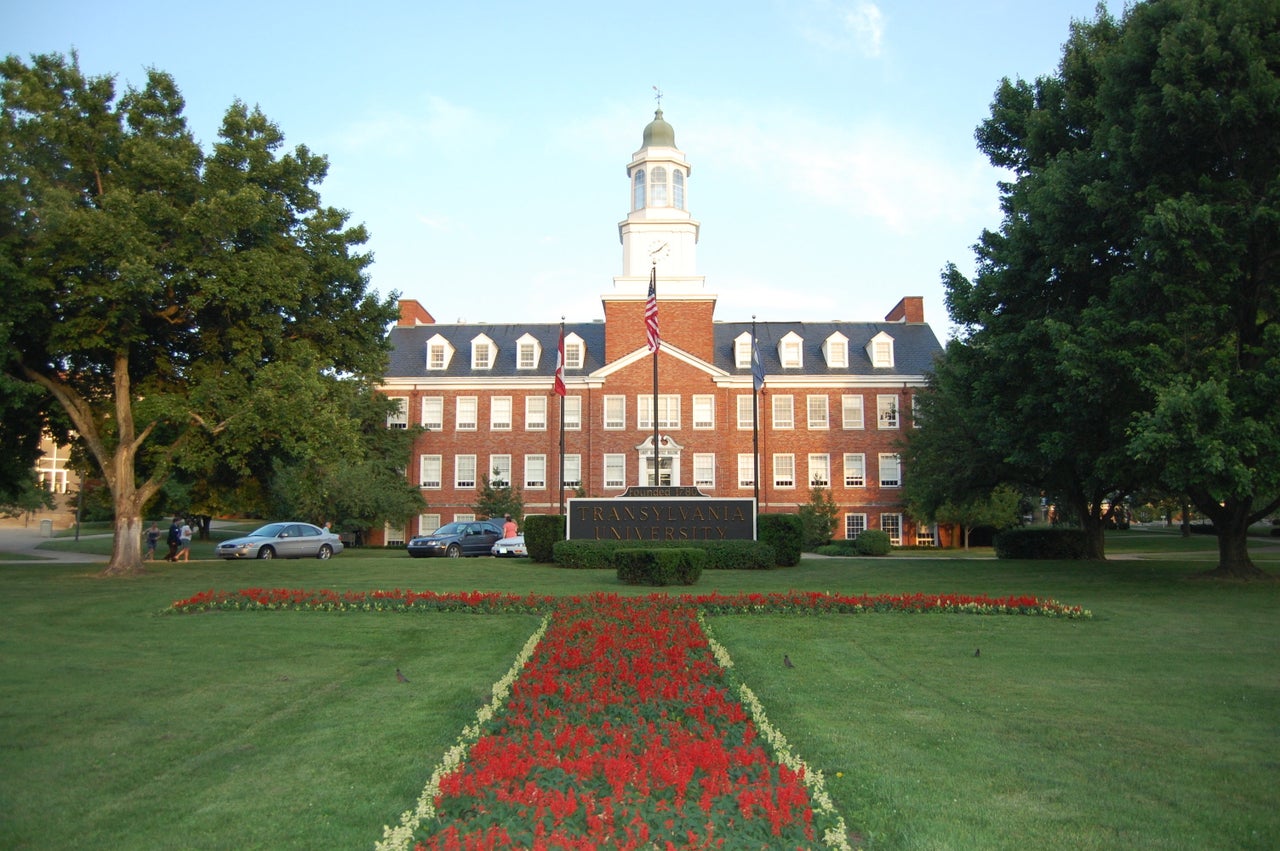 One student, a rising junior at Transylvania University in Kentucky who asked to remain anonymous, was warned by the school's Title IX coordinator 23 hours before a hearing in her sexual assault case that administrators had learned students were discussing the case. The student was told this could result in her being disciplined. She told HuffPost she nearly dropped the case out of fear she was going to get in trouble, even though she hadn't actually spoken with anyone about it.
University spokeswoman Michele Sparks said that Transylvania wouldn't actually have punished the student, though she noted that the school does ask both the accuser and accused to keep things confidential in the interest of a "fair and equitable" hearing.
The alleged assailant was ultimately found responsible for harassment, but not sexual misconduct. Later, the student says, the Title IX coordinator rebuffed the suggestion that a gag order had been issued.
"She said, 'I hope you don't feel that we told you you couldn't talk about it,'" the student recalled. "I was like, don't tell me that!"
"She so adamantly denied they put a gag order on me," the student continued. "I feel like that was done in malice to protect the university's reputation more than anything,"
Later in 2014, Vanessa finally began cooperating with Columbia in its investigation of her boyfriend. But this was only after she remained silent for months because she was afraid to reveal that she had violated the no-contact order. Eventually, as evidence mounted against her boyfriend, Columbia gave him the option of going through the entire disciplinary process or simply dropping out of school.
"They were going to advise him to either withdraw [from school] or he could do the whole hearing," Vanessa said. She insists that there was plenty of evidence and that a hearing would have found him guilty.
On Jan. 22, 2015, Columbia informed Vanessa that her now-former boyfriend had dropped out of the university. If he ever wanted to reapply, he'd have to complete the disciplinary process.
Vanessa later learned that Columbia likely wouldn't have punished her for violating the no-contact order. "That's good, but then they shouldn't have a policy which states the opposite," she said. "I essentially wasted months of my life worrying I'd be suspended."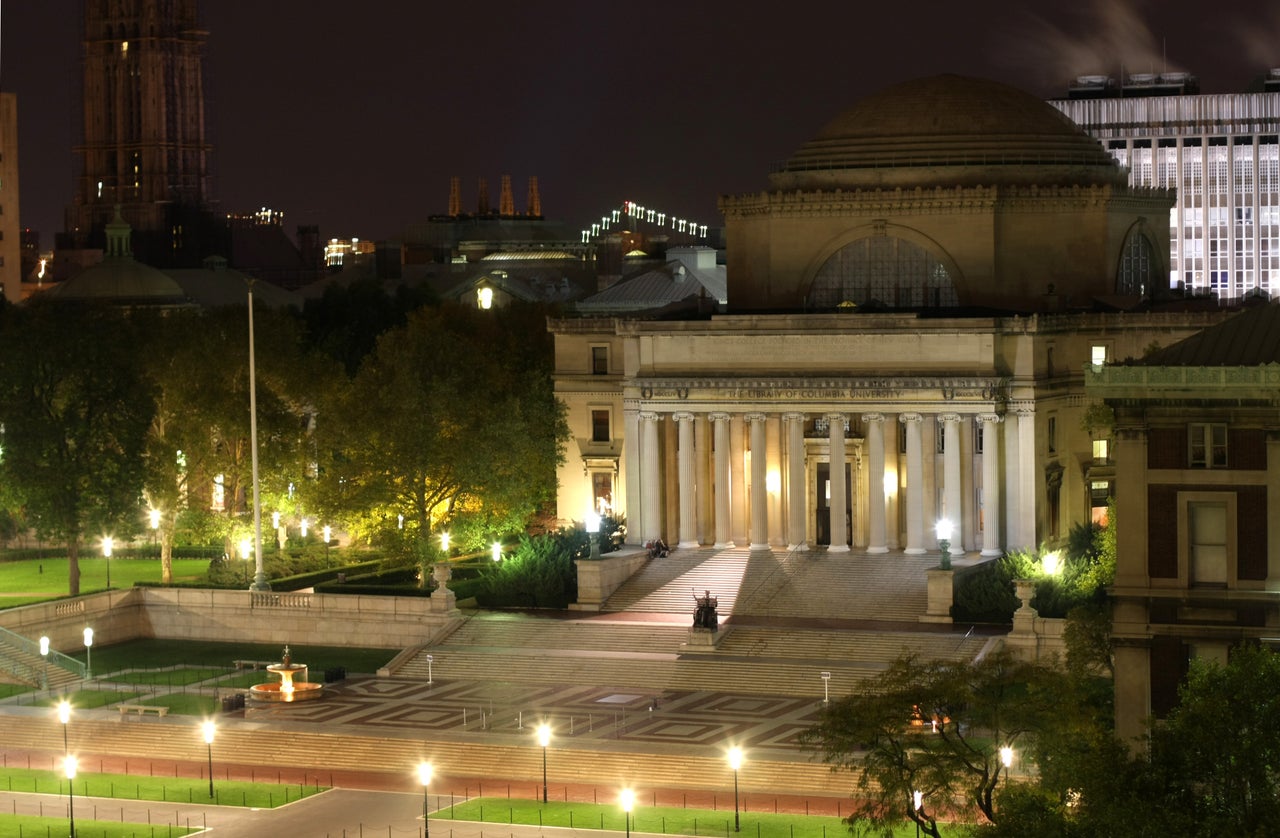 Related
Popular in the Community