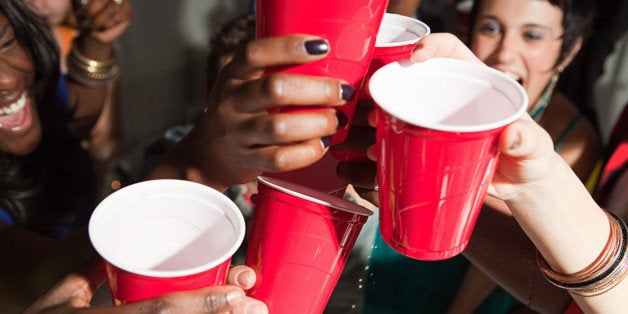 Last week the White House Task Force to Protect Students from Sexual Assault released its report and recommendations for college campuses. It includes several important initiatives, but fails to address the most significant cause of sexual assault on college campuses -- excessive substance use.
Of course there is a clear and immediate need to educate college campuses on how to be compliant with the law when a sexual assault incident occurs; to provide victims a safe outlet to report unwanted events; and the importance of learning about bystander intervention. These are obviously necessary actions once an assault has already happened. But why the conspicuous silence about the single biggest force compelling the perpetration of sexual assault and setting the occasion for victimization -- alcohol and other drug abuse?
Yes, the report acknowledges the relationship between intoxication and sexual assault. The first sentences of the report state that many students "are sexually abused while drugged, drunk, passed out, or otherwise incapacitated." But that sentence is also the last time that the intoxication issue is addressed within the report. With more than half of all campus sexual assaults fueled by substance misuse, the fact that there is no mention of this as a true preventative strategy is a glaring and negligent omission.
If we want to stop sexual assaults from occurring on campuses -- and not just get better reporting and handling of them -- we must address the glaring and all too normative behaviors within the college student culture of binge drinking and other substance abuse. In recent polls, almost a quarter of college students reported monthly or more frequent binge drinking; and between 2012-2013, more than 97,000 college students reported binge drinking-related unwanted sexual acts and assaults. In fact, research so clearly indicates that substance misuse is the greatest influencer and mediator of sexual violence on campus that not addressing it in this report can only be read as willful neglect.
And it is not possible to claim that colleges have no ability to take constructive action to reduce campus intoxication. Take Dartmouth College for example, under the school's progressive leadership, they have recognized the excessive drinking problem and related consequences on their campus and are beginning to make a dramatic culture and behavioral shift. They have initiated the National College Health Improvement Project, whose team works with improvement and measurement experts from The Dartmouth Institute for Health Policy & Clinical Practice to bring health solutions and quality improvement methods to address the problem of high-risk drinking. The National College Health Improvement Program introduces things like brief monitoring and intervention to college campuses, which has been shown to reduce drinking among college students.
Binge-drinking and 'experimentation' have become, in many ways, an expected part of "the college experience." In no other part of our society is rampant and excessive substance use so fully embraced as on campuses across the country. Because so many campuses are passively accepting binge-drinking, they are also accepting the all-to-common results of that out-of-control drinking, with devastating consequences -- including sexual assaults, hazing, destruction of property and campus violence in general. But it doesn't have to be that way.
Collegiate decision makers can and must take responsibility for protecting their students. And to do this -- they can and must tackle the leading influencer, mediator and fueler of violence on campus -- excessive alcohol and other drug use. Until they do, all other interventions and policy changes will merely result in better reporting and fairer handling of truly tragic sexual and other violent assaults that could and should have been prevented in the first place.
Popular in the Community