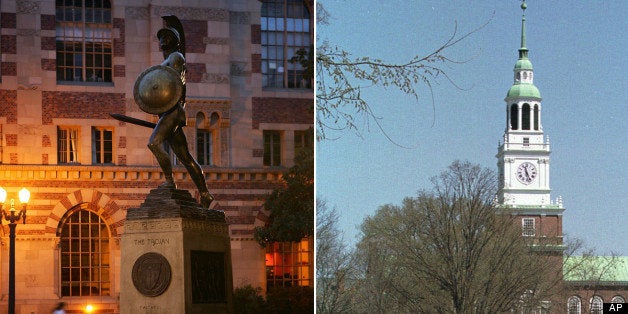 When University of Southern California student Tucker Reed was sexually assaulted in 2010, she turned to school officials. But instead of helping to bring her justice, she said, their "ignorance and indifference" further traumatized her. She said a USC official told her the goal was not to "punish" her assailant, but rather to offer an "educative" process.
"Rape is not an educative experience," Reed said. "It is a crushing, life-altering, inhuman violence."
Feeling like she had no other options, Reed on Wednesday filed a formal complaint with U.S. Department of Education, claiming USC's administration failed to respond adequately to the assault. Students and alumni who were assault victims at three other prestigious schools -- University of California, Berkeley; Dartmouth College; and Swarthmore College -- filed similar claims alleging the schools failed to properly adjudicate campus sex crimes.
The filings were coordinated through a network of campus sexual assault survivors and advocates. The complainants from the four colleges received help filing the complaints from students and alumni at the University of North Carolina and Occidental College who filed similar complaints against their schools earlier this year. Some students at Occidental and USC have retained attorneys, including Gloria Allred, for potential lawsuits against the schools.
"We have reached a critical mass where we can no longer be ignored or treated as singular issues," said Annie Clark, alumna of UNC-Chapel Hill, one of five women to file a complaint against her former university.
The complaints say the schools violated students' civil rights by not thoroughly investigating sexual assaults, and failed to obey the Clery Act, a federal law that mandates the accurate tracking and public disclosure of crime statistics on campus, including sex offenses. Violations may lead to financial penalties for institutions, like the $165,000 one imposed on Yale recently, or revision of university policies with oversight by government officials, like at the University of Montana. In extreme cases, the government can withhold federal funding, resulting in multi-million dollar losses.
The Clery Act complaint against UC Berkeley claims the administration discourages victims of sex crimes from reporting assaults, UC Berkeley senior Anais LaVoie said. Members of the Greek leadership tried to persuade victims against reporting, and campus officials said the sexual misconduct "wasn't a big deal," LaVoie said.
When students at UC Berkeley did file reports of assault, victims say they often did not get updates on the investigations. UC Berkeley student Sofie Karasek said she reported being attacked and the school never opened a formal investigation.
"They solved it through the early resolution process, which meant that there were no hearings and they never asked me for evidence," Karasek said. When that process concluded, Karasek said all she got from school officials was a three-sentence email telling her the situation was resolved. "I received another email telling me my assailant was charged with a violation of student conduct, but it did not say if any disciplinary action been taken," she said. A week later, after Karasek got those emails, her attacker graduated.
Janet Gilmore, spokeswoman for UC Berkeley, said the school hadn't seen the complaints, so it was "premature to comment."
Officials at other schools targeted by the complaints noted they had not seen the charges. All said their institution takes sexual violence seriously.
A statement from USC's Division of Student Affairs proclaimed all reports of sexual violence are taken "extremely seriously," and each instance is investigated.
Reed and fellow USC student Francesca Bessey said the school doesn't clearly communicate the process for reporting sexual assaults.
Reed said she used counseling services on campus for a year before she was told how to report her assault. She officially reported she had been raped to the university Department of Public Safety in November 2012 and later presented authorities with four audio recordings of what she said are confessions by her assailant. At least one of the recordings has been published online, and others have been transcribed and posted on her blog). School officials told Reed the alleged assailant claimed he was forced to confess, she said.
Her case was dismissed by USC on May 9, 2013. The school student affairs office said in a letter to Reed, "They agreed they had sexual intercourse together. This office acknowledges that their perspectives on the sexual intercourse differ."
After hearing about Reed's case, fellow USC student Bessey said she had little faith in the school's investigation into her assault.
"USC immediately sent letters to students and parents about a Halloween shooting," Bessey said, referring to a 2012 campus shooting. "They had an entirely new security policy within a few days. That is the response that should be happening in response to sexual violence on campus."
Swarthmore president Rebecca Chopp pointed out her administration commissioned an external review of the school's sexual violence policies and procedures. "We are dedicated to not only being in total compliance with Title IX, but to setting the standard for compliance for higher education in this country," Chopp said. Title IX is the federal law that prohibits sexual discrimination in any educational program that receives U.S. aid.
The civil rights complaint filed against Swarthmore on Wednesday alleges that the suburban Philadelphia school has not properly investigated reports of sexual violence. College officials attempted mediation between assailants and victims as a means of settling reports of sexual assault, which placed students in an "unsafe situation," Swarthmore student Mia Ferguson said.
The Dartmouth complaint includes testimony from 38 students and alumni alleging 14 violations of the Clery Act related to sexual assault, according to student Lea Roth. The Dartmouth complaint also documents 11 incidents of lesbian, gay, bisexual, transgender discrimination and hate crimes, Roth said.
"It's heartbreaking to know that these testimonies are just the tip of the iceberg," Roth said.
Dartmouth spokesman Justin Anderson said, "No educational institution should be complacent about claims of sexual assault and discrimination, and Dartmouth is not."
"It's probably true that the overwhelming number of schools in this country have lagged in needing compliance with both Clery and Title IX," said Fairstein, whose company isn't working for any of the schools named in the complaints. "This is a problem of enormous proportion on college campuses."
Support HuffPost
The Stakes Have Never Been Higher
Related
Popular in the Community