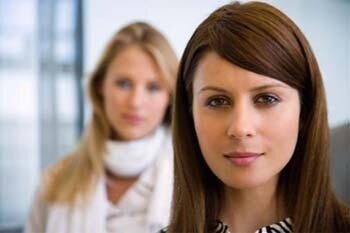 Sumaira, who worked at the Islamabad office of an international non-governmental organisation (NGO), spent her days in fear and unease,dreading the inevitable moment her senior male colleague wouldbrush up against her. He would, then, always claim that he was trying toexplain a work-related matter to her. In addition, for over a year she hadbeen subjected to other objectionable behaviour such as ogling andunwanted text messages and calls. When she did not reciprocate, thecolleague became vengeful. On at least three occasions he had writtenanonymous letters to the management, accusing her of having illicitrelationships with men at the office. As a result Sumaira's work sufferedand she was constantly stressed out even when not at the office.
The three tiers of management above her, including her direct boss andthe country director, believed her but had no idea how to handle the issue."I had told my boss that I was being harassed by my colleague," she says,"but since there was no existing policy against sexual harassment, theydidn't know how to help." The administration finally found an indirectway of fixing the situation: she was advised to complain that her colleaguewas embezzling funds, since he had also been asking her to approveincorrect expense receipts. This is how she addressed her woes and got rid of her tormentor "but unfortunately not because of the way he treated me," she says.
Sumaira's plight may sound familiar to many others because harassment at the workplace is, to date, not recognised as a punishable offence in Pakistan. Because of this, coupled with the lack of awareness about the issue, many women do not get as much support as sheenjoyed in such situations -- in fact, in many a situation, a complaint can create even more problems for the woman being harassed. Maheen Usmani, who used to work at Dunya TV, says she faced even more problems after she filed a complaint against the channel'smanaging director, Yousaf Mirza Baig. "He would call me late at night, stare me down duringmeetings and eventually he started cutting out TV reports that I had worked on." In what eventually became a famous case, Usmani says she was barred from entering herown office and later heard defamatory rumours about herself.
Data on the number of women affected by harassment is hard to come by since there isno law under which cases can be registered. This means estimates are anecdotal at best. "Isee about 50 to 70 women per year," says Ambreen Ajaib, who has been working forthree years as a psychologist for victims of harassment at Bedari, a women's rights NGO.
However, even she admits that such numbers may not reveal the actual situation as many are not willing to admit to have been targeted. "It's difficult to get exact figures becausefew women have access to us and because many women believe that the fault lies with them -- that a woman normally lures the man and that if she is dressed a certain way she will be harassed and so on. Any woman who reports harassment always mentions what she waswearing."
However, there is now hope of some improvement in this situation in the shape of the two legal frameworks -- an anti-sexual harassment bill (the Protection Against Harassment at the Workplace Act 2009) and proposed amendments to the Pakistan Penal Code (PPC). The latter will also result in amendments to the Criminal Procedure Code (CrPC) to incorporate the punishments specified in the PPC amendment. If the bill and the amendments are passed by parliament, they may go a long way in helping those who are at the receiving end of sexual harassment at the workplace. Dr Fouzia Saeed, a founding member of the Alliance Against Sexual Harassment (Aasha), an umbrella group of six NGOs formed in 2001, assisted in drafting a code of conduct for the workplace, which has served as the foundation of the anti-harassment bill. She says the much-needed bill and amendments will protect both men and women. According to her, a number of politicians, some associated with the law and women development ministries, worked for the bill. "Sherry Rehman, who was then the information and women's development minister went out of her way to take the bill up," adds Saeed, also mentioning the support of Pakistan Peoples Party Senator Raza Rabbani. She adds that since Rehman resigned from her ministries, the effort has been spearheaded by Shehnaz Wazir Ali, special assistant to the prime minister on social sectors.
Aasha first drew up the code of conduct in 2003. It was implemented for test purposes in various companies, such as Attock Refinery, McDonalds and Shell. Later, the private sector, labour unions, academia, civil society and the government were consulted and their suggestions incorporated. The final version of the bill was presented to the government in March 2008 and approved by the cabinet in principle in November 2008. After makingsome changes, the cabinet formally approved it in February this year. It was then tabled inthe National Assembly in April and handed over to the law and women's developmentcommittees. It is expected to be presented in the National Assembly in November.
The bill defines sexual harassment as "any unwelcome sexual advance, request forsexual favours or other verbal or written communication or physical conduct of a sexual nature or sexually demeaning attitudes, causing interference with work performance orcreating an intimidating, hostile or offensive work environment or the attempt to punish the complainant for refusal to comply to such a request or to make it a condition for employment." Following this are ways of dealing with the issue through informal channels; if these prove unsatisfactory, the formal procedure is laid out.
Under the formal procedure, companies are required to form inquiry committees. According to Saeed, "the employee can go directly to the committee or to his or her supervisor who can then forward the complaint to the committee." The employer is also meant to make logistical adjustments so that the accused and the complainant do not interact with one another and retaliation from the accused is meant to be "strictly monitored". The bill also sets out procedures for holding inquiries as well as penalties for minor and major offences, ranging from mild reprimands to firing the accused. It addresses appeals against penalties and provides for an ombudsman, who is to be appointed by the law ministry at the provincial level. This person is tasked with ensuring that the entire process is being carried out fairly,especially when the head of an organisation is the accused. Both the victim and the accused have direct access to the ombudsman.
The bill makes it clear that the committee has 30 days to come up with the verdict as well as the penalty, if any. After this, the organisation's management is given a week to implement the penalty, such as, for example, firing or demoting the guilty party. Within a month, any aggrieved party can also appeal to the ombudsman, who has a month to decide the case. As an added protection, any employee can take their company to court for not following the formal procedure laid out in the bill and a fine of up to 100,000 rupees can be imposed on the organisation. "The complaint mechanism, nature of remedy - which includes psychological and other compensations - and appeal mechanisms are covered well," says Naeem Ahmed Mirza, programmes director at Aurat Foundation.
While the bill has been drawn up mainly for formal workplaces, the amendments to the PPC concerning sexual harassment have been framed to address the plight of women working in the informal sector. "Every year Aasha has held a working women's assembly where women from diverse backgrounds come together," explains Saeed. "Women in the informal sector wanted their issues to be addressed as well, so we proposed amendments to the PPC."For women outside the formal workplace,who often have more dire financial needs, thesituation can be tougher. Ajaib narrates the story of Shamshaad, a brick kiln worker who wasconstantly insulted and physically assaulted by her boss, at times in front of her husband. One day, when her supervisor was upset at her for leaving work early, Shamshaad and the men of her household were beaten up and her clothes were torn. The next day she was back at work -- she owes the manager 20,000 rupees and cannot leave until she has paid it off with her labour.
The second part of the government effort aims to address situations such asShamshaad's, where the victim is not part of a formal organisation that falls under thepurview of the sexual harassment bill. Begum Naseem Chaudhry, a member of the National Assembly's law committee, is overlooking amendments to the PPC and related amendments to the CrPC. A new section titled "Sexual Harassment" has been proposed, under whichoffenders "shall be punished with imprisonment which may extend to three years or fined up to 500,000 rupees or with both." However, it does not state the least time permitted: "In this case, a person could be jailed for a day or even a few hours as the jail time is not clearly stated," says Mirza.
Of course it will still not be easy to prove harassment unless the incident iswitnessed by other people or there is other tangible proof but at least theoffender, if found guilty, can now be punished under the law. As Saeedsays, "it will at least . . . allow people to register a case as the amendmentwill criminalise such acts." To file a complaint, one would register a firstinformation report and the police would take the case to a district court.This is, however, not the only drawback of the amendments and the bill.Clarifying the types and degrees of harassment would have been helpful,especially in the bill, which has a fairly broad definition. "What exactly dosexual advances, sexual favours and physical conduct of a sexual natureexactly mean?" says Abid Hussain Imam, an Islamabad-based lawyer. Inparticular, he points to the use of the phrase "sexually demeaning attitudes",which he says seems impractical due to the difficulty of identifying anattitude as such. In addition, critics point out that the bill does notdistinguish rape at the workplace from sexual harassment. In fact, the billdoes not mention the former. It is also unclear which acts merit major versusminor penalties.
Of course the big test of the bill will be its enforcement. Babar Sattar, anotherIslamabad-based lawyer, says that while the idea is a good one, the form inwhich it exists will be difficult to implement. The term "organisations" includes a myriad of establishments from medical facilities to factories. Sattar points out that these needdifferent rules based on the number of employees. For example, a three person establishment cannot have a three-person committee and an organisation of 50 people could have additional requirements. The authorities, he argues, "need to find permanent mechanisms that have more clarity and proper judicial forums instead of inquiry committees, which may not work in all organisations." He points out that the ombudsman is a quick way of solving the problem "but may not be practical in case the accused wants to file an appeal against the ombudsman -- he would have to go to the president or governor!
This has been put together by people who are concerned but it should not be approved in itspresent form. They need to seek the advice of legal experts and improve certain aspects of it."
Nonetheless, many others feel that the proposed law and amendments are a step in the right direction -- despite their drawbacks. Bushra Gauhar, chairperson of the NationalAssembly Standing Committee on Women's Development, while acknowledging weaknesses, adds that "we all need to unanimously vote in favour of this bill because it will be a message that we are serious about harassment," she says. "I know the bill took a long time inprocess [but] I'm very confident about it."
This article first appeared in the November issue of the Herald, a leading Pakistani monthly covering domestic politics, society and culture.
Related
Popular in the Community