If you're a waitress, sexual harassment is just part of the job.
A big source of the problem: tips. Servers rely on the generosity of strangers to make a living, so they need strangers to like them. Of the 688 restaurant workers ROC interviewed for the survey, women working in tipped eateries in states using the federal tipped minimum wage reported the highest rates of sexual harassment. In those states, restaurants only have to pay tipped workers $2.13 an hour and customers furnish the rest of their wages.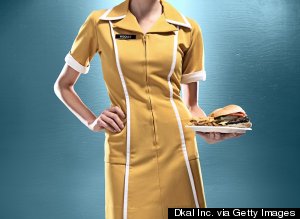 Female restaurant workers are subject to frequent sexual harassment.
The tipped minimum wage hasn't gone up since 1991, and it currently sits at a record low 29.4 percent of the regular minimum wage, according to the Economic Policy Institute, a think tank focused on low-wage workers.
For female restaurant workers in this situation, the pressure to be sexy is intense. Oft-fickle managers will do whatever is in their power to encourage plum checks and that often means reserving better shifts and tables for servers willing to dress a certain way or flirt with customers, according to Susan Schurman, dean of Rutgers School of Management and Labor Relations. Two-thirds of female restaurant workers said they experienced some kind of sexual harassment from management on at least a monthly basis, according to the report. At the same time, capricious customers, who may feel entitled to more than they're owed, have a huge say in how much servers get paid via tips.
"It is endemic in that industry," Schurman said, noting that "hey baby" calls that were part of her waitressing experience decades ago haven't disappeared. "There's an assumption that if you're in that job, you're probably not making a lot of money and maybe you're interested in earning something else."
The harassment problem isn't exclusive to women -- more than half of male servers reported being sexually harassed by customers as well. But the fact that waitresses are so frequently subject to sexual harassment is particularly alarming given the way the part-time, low-wage recovery has pushed many women into these kinds of jobs. Jobs in low-wage sectors such as retail and restaurants have boomed in recent years, while middle-income work has slowly eroded.
And women are more likely to hold these jobs: Two-thirds of minimum-wage workers are female. Between 2009 and 2013, 35 percent of women's job gains were in low-wage work compared with 18 percent of men's, according to the National Women's Law Center. Women also make up two-thirds of tipped restaurant workers, the ROC study found.
The kinds of inappropriate things customers say to these women run the gamut from sexual teasing and questions to pressure to go on dates. More than one-third of the women ROC surveyed reported being touched or pinched by a customer. Many of these women are hesitant to acknowledge the experiences as anything more than just part of the environment, the report found.
It's easy to see why they don't bring it up. Laura Ramadei made headlines earlier this year after calling out a man on Facebook for putting his hand "ever so gently -- ON MY ASS" (emphasis hers) during a bartending shift. The man denied touching Ramadei to The New York Post, but did acknowledge quipping to her, "I would like you to go with nothing on it."
He also described Ramadei's post as "pretty ridiculous," calling her a "f--king c--t."
Still, after Ramadei posted her screed, she got scores of messages of support from servers who shared stories of even worse experiences.
"I think it went viral largely because so many people related to it," she said in an interview. "There can be confusion around I'm serving you and I'm bringing you alcohol and I'm bringing you food and you think you're entitled to more."
In her Facebook post, Ramadei noted that she was wearing "a loose fitting, long-sleeve shirt, jeans and no makeup" and was still a target for harassment. But one thing that can increase the likelihood of unwanted sexual attention is when restaurants require workers to wear gendered uniforms, the ROC report found.
Those types of environments are pretty common. At eateries where workers have a dress code and not a strict uniform, women are often pressured "to wear something that's a little more sexy," Schurman said. Among workers with uniforms, nearly three-quarters of tipped employees reported that the women's outfits were more suggestive than the men's, the ROC report found.
In fact, the country's fastest-growing restaurant chain, Twin Peaks, thrives on this sort of thing. Waitresses get graded on their hair, makeup and "slenderness," according to Businessweek. Their uniforms consist of fur boots, short khaki shorts and belly shirts that accentuate their cleavage. They're also expected to flirt with customers.
And that's good for business. Darren Tristano, executive vice president of Technomic, told Businessweek of the chain's success, "the results at Twin Peaks are higher because of the sexual appeal of its servers." Adding, "The customers, who are almost entirely male, make their decision based on that."
Popular in the Community