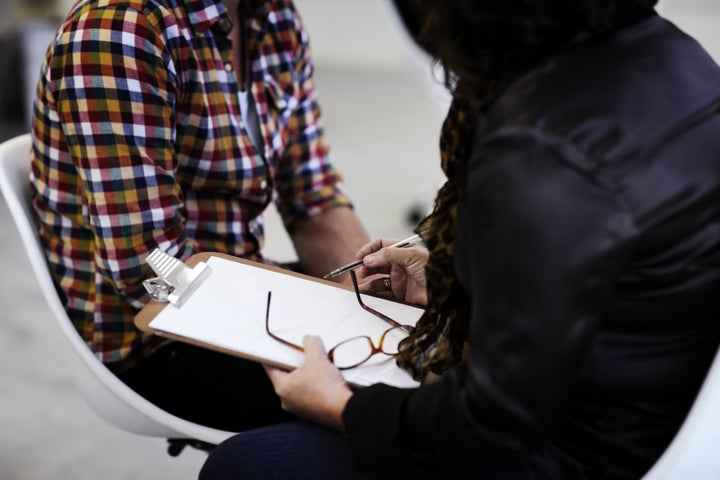 In 2002 I elected to get help to "cure" my homosexuality through a so-called therapeutic practice, "reparative therapy," "conversion therapy" or, as it's currently known, "sexual orientation change efforts" (SOCE). I sat opposite a man who communicated his heterosexuality quite strategically: family pictures, a "Father of the Year" mug and a shiny, gold wedding band. I coveted those tokens of heterosexuality, because I lived under the assumption that they were never mine to possess. I was 21, an adult, and I knowingly sought out help because I was told that my same-sex feelings were a "choice" that was wrong and curable.
Last fall California Governor Jerry Brown signed Senate Bill 1172 into law, making the state the first in the nation to pass legislation banning SOCE for minors. However, in December 2012, Liberty Counsel, on behalf of litigious members of the National Association of Research and Therapy of Homosexuals (NARTH), among other plaintiffs, was granted an injunction on S.B. 1172 by the Ninth U.S. Circuit Court of Appeals.
Conversionists have built the foundation of their practice on a faulty 2003 study by psychiatrist Robert Spitzer, who has since disavowed the study and openly apologized to the gay community last spring for "making unproven claims of the efficacy of reparative therapy." Before that, in 2009, the American Psychological Association (APA) began calling into question the legitimacy of SOCE practices. They organized a team of licensed professionals, the Task Force on Appropriate Therapeutic Response to Sexual Orientation, to look into the issue. The task force subsequently issued a report denouncing SOCE.
One foe of the California bill is Christopher Doyle, a member of NARTH and a SOCE practitioner, who claims that youth who are motivated to change their sexual orientation have a right to self-determination. His issue with S.B. 1172, he says, is that it "misquotes" the APA task force's report and conflates the issues of self-harm and suicidality. "It's outlandish," he tells me.
Judith M. Glassgold, Psy.D., one of six members of the task force, said in a press release in 2009 that licensed professionals should "be completely honest about the likelihood of sexual orientation change, and that they should help clients explore their assumptions and goals with respect to both religion and sexuality."
But Doyle tells me, "I'm not a Christian counselor. I am a counselor who is Christian." He states that he doesn't work with clients who don't want to change. "I believe that's unethical," he explains, adding that he's "straight-up" with the parents of minors about this. He says that he'll work with them on other goals, of course, but he also admits that his "own thoughts on sexuality are going to come in there." Doyle claims that his clients "are looking for the same tolerance and respect that the LGBT community is looking for."
Bradley R. Brenner, Ph.D., is a licensed psychologist and the founder of District Psychotherapy Associates in Washington, D.C. The organization offers an alternative to SOCE, called "gay-affirming therapy" -- a concept that Doyle introduced me to, oddly enough. Brenner tells me that gay-affirming therapy is a counterpoint to so-called reparative therapy, and that he and his associates interpret the meaning of the Hippocratic oath of "first, do no harm" to mean that they should affirm the identities of LGBT persons rather than promote negative stereotypes. Brenner tells that, just as it is for any psychologist, it is his and his colleagues' ethical duty to examine their own beliefs and limitations, and that if they can't help a client "get to a happy and healthy place," they must refer them to somebody else who can.
SOCE is both deluded and harmful, and pastors and parents are persuading youth to get "help" under the same false premise that I accepted: that being gay is pathological. The difference between a 13-year-old and me is that I was old enough to decide for myself whether I wanted "help" and then assess that "help" rationally. Although my thinking was often clouded by anti-gay propaganda, developmentally I had clarity of thought to start asking serious questions about these so-called therapeutic practices. Kids are being brainwashed, just as I was, by this quackery.
Several other states have joined the fight to ban SOCE, including New Jersey, where the legislation has already been approved by the state's Health, Human Services and Senior Citizens Committee and is heading to the state Senate. Similar legislation in Massachusetts has been referred to the committee on Children, Families and Persons With Disabilities. Raffi Freedman-Gurspan, the legislative aid to Massachusetts State Rep. Carl Sciortino, tells me that these practices are "the last vestiges of homophobia from the 1970s," and that "we need to act now."
Back in 2002, in my last session with my reparative therapist, he told me exactly what I already knew: I'm gay. My "choice" was to remain an active member of my faith or leave. In hindsight, I'm quite grateful for his honesty.
Doyle laments the irreconcilability of sexual identity with religion. "That's a tough one," he says. "I don't think anyone's ever really cracked that nut." And I think I can attest that he's right.
The Ninth Circuit Court of Appeals will hear oral arguments on S.B. 1172 on April 17, 2013.
Related
Popular in the Community