 When Melissa Barker was an undergraduate at the University of California-Berkeley in the spring of 2011, she reported a PhD candidate she had dated for domestic and sexual violence. No action was ever taken against the man, who would later be arrested on campus in 2013 for sexual assault.
Barker made multiple trips to the UC Police Department and university health center, but no one offered Barker any options about possibly having the man removed from campus, she said. In the fall of 2011, Barker says he attacked her while she was out in San Francisco, biting her arm.
"He actually bit me so hard," Barker said, "the paramedics said if I hadn't been wearing a leather jacket, he would've taken a chunk out of my arm."
After that incident, Barker attempted to get a no contact order against him through the university, since they were both still living in the same university-owned apartment complex. She said the UCPD told her there was nothing they could do. They did not refer her to any other office on campus for assistance, said Barker, who was a single parent at the time. She tried to avoid him until she graduated in spring 2012.
"I later found out he was arrested for sexual assault of another woman in the area," Barker said. "It made me so sick; it brought everything back. I felt so sick to my stomach. I came forward numerous times and tried to get help and brought evidence and nothing was done."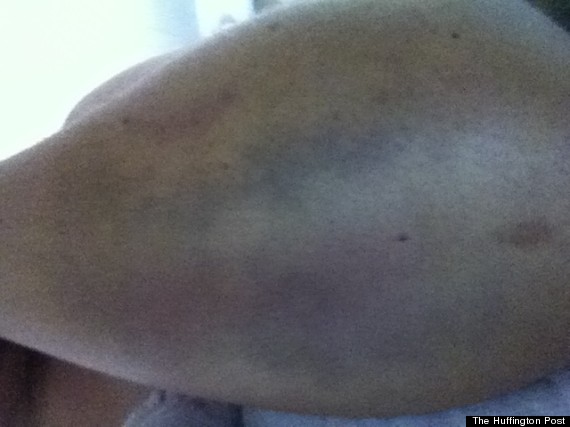 Melissa Barker's arm was badly bruised after an attack she said she suffered at the hands of a former boyfriend.
Barker was among the 31 current and former students to file two federal complaints against the university last month accusing it of mishandling sexual violence on campus. On Feb. 26 -- the same day those complaints were submitted to the U.S. Department of Education -- UCPD contacted Barker to tell her they would begin looking into her reports from more than two years earlier.
UCPD confirmed an investigation is ongoing but declined further comment. The UC health center insisted it refers all instances of suspected violence to law enforcement.
A new sexual misconduct policy released by the University of California system Friday will require offices on campus to provide information about resources available to any victim who reports an assault or abuse. But the manner in which Barker's case was handled illustrates the concerns that students and state lawmakers have about serial offenders being allowed to remain on campus.
California lawmakers also proposed two bills in January and February to reform how sexual violence cases are handled on university campuses. One, authored by Assemblyman Mike Gatto (D-Los Angeles), would require colleges to notify law enforcement of all reported assaults unless the victim objects. Another, by state Sen. Kevin de León (D-Los Angeles), would make certain aspects of campus judicial hearings more friendly to victims.
Gatto said his bill came about through conversations with local law enforcement, who he said "believe it's really detrimental to leave perpetrators in the community."
Neither bill, however, will address many of the problems alleged by students who reported their assaults, such as lengthy delays in investigating, failure to notify students of adjudication, and punishments that allow offenders to stay on or return to campus.
The day after Nicoletta Commins was sexually assaulted in late January 2012, she reported it to the UC Police Department and went to the university health center. Commins' case was picked up by Alameda County Deputy District Attorney Danielle Hilton, but the case never made it to trial.
Instead, the case was pleaded down, Hilton told The Huffington Post, due in part to Commins' desire not to testify. Hilton recalls warning Commins there would be no hiding in testifying. "You should know: everything that had happened that night, we were going to talk about it all," she remembers telling Commins.
UC-Berkeley waited until the criminal justice system had taken its course to adjudicate its case, Commins said. The criminal case settled in October 2012, and he pleaded guilty to felony assault and was punished with probation and community service. He was also ordered to pay restitution and also issued a no contact order, prohibiting communication with Commins.
Apparently the university resolved its case that month as well, though Commins said she wasn't told about it. She didn't learn of the university's adjudication until she followed up with the student conduct board seven months later, in May 2013. The university decided after the criminal conviction that her assailant would be prohibited from re-enrolling at Cal until Commins had left, and he was given a writing assignment.
"I imagine Bart Simpson writing something like 'I will not do this' 100 times on the chalkboard," said Commins, who's another of the complainants.
The new UC sexual misconduct policy stipulates criminal investigations should not impede school adjudication, and that victims must be kept informed of changes in the resolution process.
The university declined to comment on specific student cases, citing federal privacy laws. A spokesperson also noted punishments should be considered within the context of the cases.
It's possible Commins' assailant could decide to re-enroll at UC-Berkeley after she leaves. If he does, and the court grants him permission, no one will know of his past, because despite having been punished by both the university and the state, he was found guilty of assault and not a sex crime. That worries Commins.
"Just because someone gets in trouble with the law doesn't mean they won't come back and put someone in danger," Commins said. "You get expelled if you plagiarize. You get expelled if you deal some pot, and I don't understand how an act of violence isn't worth expelling someone."
The California Coalition Against Sexual Assault, which is backing de León's bill, has argued that federal law already addresses timeliness of investigations. The proposed legislation "is intended to implement national best practices whether or not an investigation is taking place, not necessarily to replicate or reinforce what is already required," CACASA's Denice Labertew and Sari Lipsett told HuffPost in a joint statement.
Aides for de León said they'll hear further discussion on their legislation with student activists in April.
Related
Popular in the Community