Anticipating Fifty Shades of Grey on Valentine's Day 2015, we're teased constantly with what's coming, but also what not to expect. I'm never surprised by how people react to salacious sensuality in our culture, because there remains an embedded prejudice to apologize for a woman's insatiable desires and curiosity, as if they're an anomaly. There has also developed what seems to be an anti-Fifty Shades campaign, which is rooted in the storyline itself, the non-traditional sex, as well as academic reactions that equate adventurous consensual sex with "violence against women."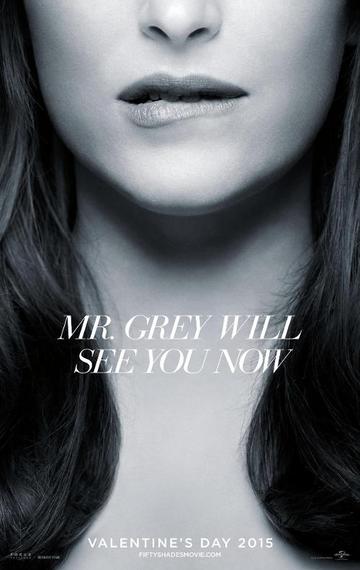 The latest trailer for the film is due to debut during Scandal on Thursday, a perfect audience who's unafraid of titillation tied to a hot, successful career woman's sexual appetite for two men whom she loves. Women are rarely treated to such a fierce feminine force.
Universal Pictures is hoping America is ready for Fifty Shades erotica, though even that's been subject to rumors, but it's been decided we're not prepared for a penis on a giant movie screen.
Sitting through the film Addicted, which has seen stronger staying power at local theaters than most films, when the ending came I felt slimed. It's no fault of the star, Sharon Leal, who delivers in every scene and carries the film. Leal is Zoe, a married woman with a drop dead delicious husband, Boris Kodjoe, with whom she has sex two to three times a day, but still isn't satisfied. Her perfect life and career isn't enough either. On and on the story goes, with other male eye candy added, all of whom are featured in erotic sexual scenes that aren't graphic, but are wildly carnivorous.
Now, this isn't a movie review. What I want to ask is how far have we come from 9 1/2 Weeks, the 1986 film that shocked so many moviegoers?
Why do American filmmakers continue to moralize and lecture where women who love hot, adventurous sex are concerned? Can't women just enjoy adventurous sex, including with multiple partners, if she chooses, without the judgment?
Why does the female lead in Addicted have to actually be an abused little girl who's turned into a sex addict because of it? Obviously, being a married woman running around having sex with clients (no matter how gorgeous), not to mention picking up men in a bar while your husband's asleep, is dangerous to your well being.
Fiction or not, millions of women are consuming messages in Fifty Shades that normalize and glamorize violence against women, under the guise of romance and eroticism. A pressing question remains: What is the empirical correlation, if any, between health risks and reading popular fiction depicting violence against women?
To associate the story of Fifty Shades of Grey with "violence against women"is to say consensual exploration meant to test the limits of our pleasure threshold is tantamount to a crime. It's preposterous, but what's worse is that it continues to infantilize women as human beings incapable of curiosity and the sense to protect themselves when adventuring into the boundless pleasure we can experience if we trust and let go with a partner.
I was a pioneer in the online sex and dating worlds, going back to the 1990s. I've seen victimization and have written about it in my books, some of which was highlighted in the Showtime documentary Sexy Baby. I advised women on relationships for years, talked to men about pornography, as well as women in the adult industry. In a country that refuses to accept that religion's role and traditional relationships have shifted dramatically, blame for young women's choices has many roots.
Fifty Shades of Grey depicts two unlike people drawn to one another through physical chemistry, where the man is the abused one and the woman heals him through meeting him on his sexual playground, finding she has a hedonistic vein, too, which she chooses to explore with him. Anastasia Steele and Christian Grey excavate sex and love, creating a tied in a bow fantasy ending, which is as unnecessary as it is contrived, but perhaps it helps make more people comfortable.
When you consider that just about every female character with a voracious sexual appetite and persona is made to pay a fateful price for craving sex that few male characters are ever meant to pay, one would hope in the second decade of the 21st century people would be able to separate consensual exploration from violence against women.
Maybe Fifty Shades of Grey will turn into one long tease, which is perfect for the American psyche.
At the very least let's hope it disabuses overwrought academics, and cultural critics, conservatives and feminists alike, while enlightening and teaching men that women have a lot more in our sexual playbook than your average American male or husband has been willing to discover.
Once is rarely enough for a woman, which seems to still shock our cultural senses, especially when it involves pushing puritanical prejudices out of bed and making room for more daring indulgences.
Calling all HuffPost superfans!
Sign up for membership to become a founding member and help shape HuffPost's next chapter