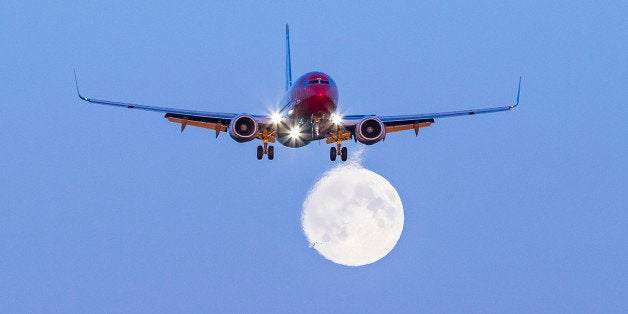 They are words we all remember when we fly. In fact, no doubt many of you have ignored them more than a few times: "in the unlikely event of a loss of cabin pressure, masks will drop from above your head..." Whilst some have a bit of fun with the delivery, the message is always the same: safety first. Aviation has worked hard to deliver a safety culture that runs throughout the entire system. From chief executives to baggage handlers, everyone works in partnership to deliver 3.5 billion passengers a year and 100,000 flights a day to their destination. The collaboration has led to extraordinary industry unity and, despite events over the past year, an even safer air-transport system.
We have taken the lessons learned through that effort and applied them to another challenge facing us -- climate change. Although aviation currently accounts for around two percent of global CO2 emissions, we are a growing industry and, without the proper plan in place, our emissions would continue to grow, as well. We have a challenge on our hands as a sector: how do we continue to develop to serve the needs of mainly emerging economies (which want to grow their air-transport connectivity to provide jobs and a means for trade and tourism), whilst also dealing with climate change? That balance will be crucial, particularly as the world has to meet the needs of the Sustainable Development Goals (SDGs) to help drive mobility and give more people access to the global village.
The aviation sector took up the climate challenge identified in SDG 13 by working in partnership. Through my organization, the Air Transport Action Group, we gathered airports, airlines, air-traffic management and the makers of aircraft and engines. A systematic review of our sector revealed opportunities to increase fuel efficiency through collaboration between the different groups.
New technology will help deliver serious gains in efficiency. We are in the middle of a wave of new-generation aircraft entering the world's fleet, each plane being 15-25 percent more efficient than the one it replaces.
When we get the aircraft in to service, there are a number of operational measures that can help cut emissions. Adding extensions to the wing of in-service aircraft can help reduce drag and increase efficiency. These little devices (which some have called sexy), have had a profound effect, with more than 56 million tonnes of CO2 avoided through this innovation alone in the past 15 years. Reducing weight on board also leads to fuel and emissions savings: one airline cut its CO2 emissions by 21,000 tonnes per year by putting in new slimline seats and another 28,000 tonnes with lightweight food-service trolleys. Another saved 12,000 tonnes of CO2 per year by giving its pilots tablet computers to replace heavy flight manuals. By using the most up-to-date weather reports and taking full advantage of favourable winds, another airline has cut emissions by 1.3 tonnes per flight. These are just a small snapshot of the many projects underway worldwide.
Our infrastructure, too, is going through a revolution. Use of new landing and tracking technologies help us free up airspace and allow aircraft to fly where they want, unconstrained by capacity limitations. We are also putting these tools into space -- by 2018, aircraft will be able to use a new satellite-based navigation system that will save an estimated 300,000 tonnes of CO2 per year, not to mention $100 million in fuel for airlines. The same system, deployed across the remote reaches of the Canadian Northeast, will save 757,000 tonnes of CO2 by 2020.
And it is not just about reducing the fuel we use, but also about flying on better fuels. Did you know that more than 2,000 commercial flights have already taken place using sustainable alternative-aviation fuels? From later this year, they will become an everyday occurrence at Oslo and Los Angeles Airports, with more to follow. I'm not talking about fuel made from corn, either. The alternative fuels we can use are from waste by-products, from non-food crops and even from reclaimed waste gases from steel manufacturing.
Earlier, I spoke about ATAG gathering the industry together and launching a systematic approach to the climate challenge. We set ourselves three goals. The first, a short-term goal to improve fuel efficiency by 1.5 percent per annum, is being met through the projects noted above (and too many others to mention). The second goal is to cap our net CO2 emissions from 2020. We will do this through a global market-based measure that is currently being developed at the specialised UN agency, the International Civil Aviation Organization. We have been actively pushing this project forward as an industry and the momentum is encouraging. From 2020, all growth in emissions from aviation should be offset. This is the first time any global sector has initiated such a scheme.
The third goal is more ambitious. We want to halve CO2 emissions from air transport by 2050 (based on 2005 levels). Through radical new technologies and the scaling up of alternative fuels to industrial levels, this goal is not only possible, but probably surpassable. We have 35 years to make it happen. But we have achieved great things before. We went from the Wright Brothers to the jet engine in 40 years. And we became the safest form of transport. All it took was some teamwork and some dedication. Surely we can do it again.
This post is part of a series produced by The Huffington Post, "What's Working: Sustainable Development Goals," in conjunction with the United Nations' Sustainable Development Goals (SDGs). The proposed set of milestones will be the subject of discussion at the UN General Assembly meeting on Sept. 25-27, 2015 in New York. The goals, which will replace the UN's Millennium Development Goals (2000-2015), cover 17 key areas of development -- including poverty, hunger, health, education, and gender equality, among many others. As part of The Huffington Post's commitment to solutions-oriented journalism, this What's Working SDG blog series will focus on one goal every weekday in September. This post addresses Goal 13.