When blogger "evil fizz" went shopping for her 3-year-old daughter's Halloween costume, she was prepared for an overload of princess costumes, glitter and potentially hazardous accessories. What she wasn't expecting was an over-abundance of "sexy" costumes for girls as young as 2. During her shopping trip, she took pictures of those that most offended her sensibilities, including a "little black dress" for preschoolers, pleather "fire chief" costume with knee-high boots made to fit a 4-year-old, and a tween "delinquent devil."
"Evil fizz" was not only appalled by the skimpy cuts and suggestive material she saw throughout the stores, she also couldn't believe how the young models on the packaging were posed -- "hip thrust out, chest forward, lots of makeup, come hither look," she wrote on Feministe.
Rewind 20 years, and you'll find that Halloween wasn't always this way. Patterns for kids' costumes sold in the 80s and early 90s, and currently available on sites like Etsy and Amazon, show longer hemlines, notably more coverage, and a marked absence of pleather. "Princesses" wore long dresses back then; "cats" were outfitted in full bodysuits.
(Scroll down to see more comparisons of classic costumes vs their 2012 counterparts. Story continues below photo.)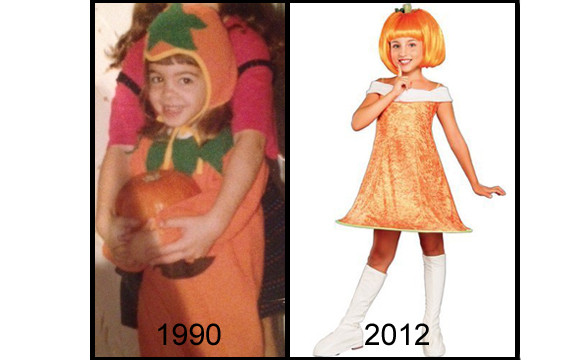 Just two decades later, however, the costumes for sale show how far the meaning of Halloween has shifted. Instead of competing for the scariest or silliest costumes on the block, women (and, as "evil fizz" found, young girls) are vying for the sassiest and most risqué getups.
The whys are many: Studies show girls are being fed sexualized identities at younger ages; there is an increasing demand for costumes that are "of the moment" (Sexy Big Bird anyone? We mean before Sesame Street Workshop put the kibosh on that); the Internet means marketers must push the boundaries in order to stand out.
In recent decades, the exponential growth of the Internet has led to an "extremification" of nearly everything in society, Lisa Wade, associate professor of sociology and founder of Sociological Images told the Huffington Post. "Things are more violent, things are weirder, the satire is sharper and we see this rise in sexualization," she said.
And the result is that parents find it harder to draw firm lines. "Evil fizz" tried, buying her daughter an old-fashioned(ish) Olivia costume, all that was left after the sexy princesses and such were ruled out.
HuffPost blogger, David Valdes Greenwood is trying too, telling his 4-year-old daughter she couldn't dress up as Madonna one Halloween. "Until she is old enough to have a more mature understanding of the messages that can sent by what she wears and how she looks, it our job to help her understand what is (or isn't) appropriate and why," he wrote.
Still, it's a battle most parents seem to be losing. Comparing costumes of the 80s and 90s with those of today, the contrast is stark and startling. Click through the gallery below to see what princesses, heroes and animals looked like back in the day vs. what they've transformed into now. Then, in the comments, tell us, what is your child dressing up as for Halloween?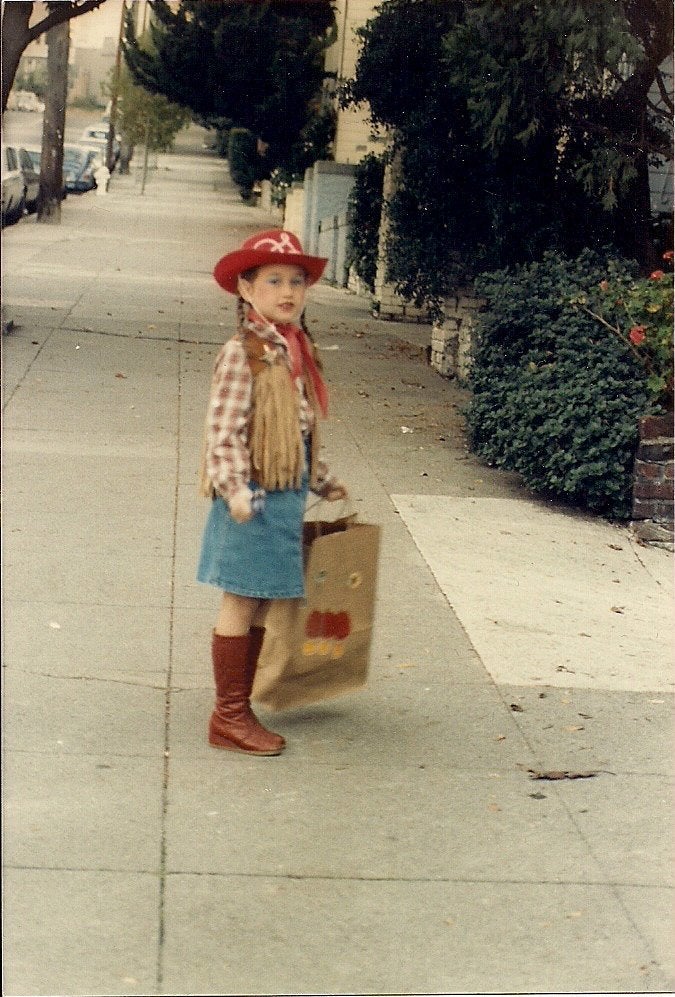 Halloween Costumes: Then And Now
Popular in the Community