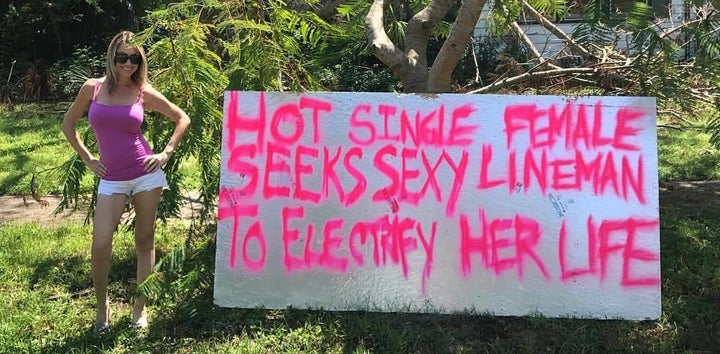 A Florida woman is getting a charge out of the way she was able to get the power back on at her home.
As with many Floridians, Hurricane Irma left Kynse Agles without power in her Fort Myers home.
The lack of electricity was especially troubling for the 37-year-old real estate agent since she just received two new organs ― a kidney and a pancreas ― last month.
"My power has been out for 10 days and when you have an organ transplant, you need a clean environment so power is a necessity," Agles told HuffPost. As Fox 4 Now noted, she has to stay in an air-conditioned environment to avoid complications.
In Irma's aftermath, Agles and her son have been couch-surfing. On Sunday, the desire to sleep in her own bed got to be too much and she decided to take matters into her own hands.
She borrowed some plywood from a neighbor and spray painted a sign reading "Hot single female seeks sexy lineman to electrify her life."
She then posted a photo of herself next to the sign on Facebook and let social media do its magic.
Agles insists the sign was only meant in fun and not to imply anything else.
"I wasn't saying I'm sexy. There was no air conditioning and I was burning up," she said. "But I figured, even if the sign didn't work, the neighbors would get a laugh."
However, within 24 hours, the power was back on at her home thanks to a group of utility workers from Pennsylvania who are helping out in Florida. They heard Agles talking about her situation on two area radio stations and came to help. After they finished, they posed for a photo with the sign.
Agles and her son are happy to be back home, but she's keeping the sign just in case another hurricane comes rolling through her neighborhood.
"But I may update it for next time," she said.
Calling all HuffPost superfans!
Sign up for membership to become a founding member and help shape HuffPost's next chapter
BEFORE YOU GO
PHOTO GALLERY
Hurricane Irma Hits Florida