Sexy vampires, your time is running out. There are two more Twilight
films to be released of the series then the "saga" is complete. What
does this mean to you? Perhaps relief? Maybe you are sad they are
ending? As a writer, I see this as a fantastic opportunity to corner
the sexy monster teen romance market. Okay, so with Twilight and the
Anne Rice stories before it, the world is kind of burnt out on the
whole sexy vampire thing. Right now I, Dave Scheidt know exactly what
the world needs. Are you ready for this? Are you sitting down?
I believe that mummies are my future. I don't mean to get ahead of
myself or sound too cocky, but this is going to be HUGE. I am going to
be a millionaire. So without further adieu, I present you some
ultra-exclusive chapter excerpts from my upcoming paranormal romance
novel, Sarcophakiss.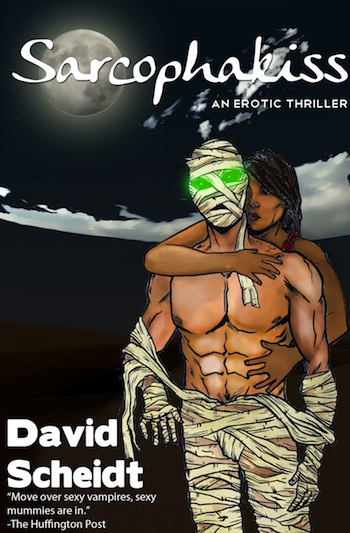 Grasping the crowbar she squeezed it a bit, took a breath then smashed
it into the corner of the Sarcophagus. Her tiny frame, exhausting all
her strength with one final blow. She fell to the ground and not a
second passed when the jewel encrusted tomb finally opened. Her heart
bounced against her rib cage. She started to sweat and without a
moments notice, removed her shirt and entered into the tomb, ready for
a different type of exploration.
She leaned into him and her lips wrapped around his rotted, paper thin
skin. Both their sets of teeth clicked together, his green and yellow,
hers white like a cloud. His kiss tasted of sand and death.
"You're not going to leave me are you?" he asked in his Egyptian
tinged rasp. "I'll never leave you." She softly whispered. "Not for
all the jewels in Cairo."
"BUT DAD, I DON'T CARE THAT HE'S BEEN DEAD FOR THOUSANDS OF YEARS, HE
HAS MORE LIFE IN HIM THEN A THOUSAND OF YOU!" she shouted.
The smell of wine danced off her lips and hugged each word that came
out of her mouth. She wasn't much for drinking but this was indeed a
special occasion, tonight was the night she would finally have her
pharaoh prince. For nights she dreamed of laying in bed, the floor of
her room draped in the dirty bandages of her decomposing lover.
Unwrapping his stale cracked, putrid body was much more thrilling than
any present she had opened on Christmas day.
So there it is, welcome to the first day of the rest of your new life.
The world was missing something and I realized it was sexy, forbidden
love between a young teen girl and a thousand-year-old decomposing
Egyptian mummy prince. The literary world is not ready for its
arrival nor is planet Earth. If any movie studio executives are
reading this, feel free to give me an offer for the movie rights.
Heed these words, Sexy mummies are the new sexy vampires.
Follow me at @davescheidt
Popular in the Community