WASHINGTON -- Want to make a member of Congress blush? Ask where they fall in the crowdsourced ranking of the sexiest lawmakers.
"Uh, no, don't know anything about it."
We see that Yankee twinkle in your eye, Sen. Murphy. Wink.
Capitol Hill's new obsession, SexyCongress.net -- seriously, does it get any more Washington than this? -- showed up in the World's Greatest Deliberative Body about two weeks ago. It's a website that offers you a choice as primordial and direct as it gets: Pick one.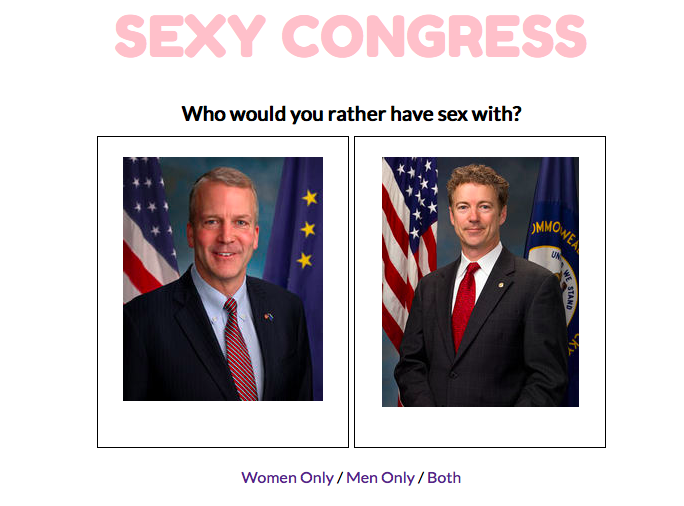 More clicks? Higher rankings.
HuffPost spoke with three of SexyCongress.net's stars -- Sens. Brian Schatz (D-Hawaii), Chris Murphy (D-Conn.) and Martin Heinrich (D-N.M.), a trio who'd rather be known for their progressive foreign policy agenda -- about the site on Tuesday.
Here's what we learned: Sexy senators are smart about when to stay silent. None of them would comment on where they stood in the ranking, but some nervous laughs suggested they may have an inkling of their standings.
The rankings continue to fluctuate as staffers and Hill reporters take a break -- or several -- to submit votes. As of Friday morning, Schatz and Murphy stood at No. 16 and No. 30, respectively, on the list of sexiest men in Congress.
Most lawmakers are men, in case you'd forgotten, so that's pretty respectable. Still, it's not all rainbows and butterflies in the cold, hard world of Hill hot-or-not. When HuffPost interviewed Murphy on Tuesday afternoon, he was in 29th place -- he's slipped one place. Perhaps it's time for him to turn to his former colleague in the House and the new No. 29, Rep. Paul Ryan (R-Wis.), for some advice on, ahem, strategic exposure.
It was the third member of the wonky trio, Heinrich, who found the topic most sensitive. Heinrich surged ahead in the rankings in the website's early days, and he hasn't budged from the No. 1 spot since.
(HuffPost may or may not have had a bureau-wide discussion on the subject. Spoiler: we agree he belongs there).
So there's a chance both Schatz and Murphy deflected in order to keep their New Mexico colleague out of the hot seat.
Still, it doesn't look like the looks conversation is one Heinrich can really escape -- he's got a streak going now, having landed at the No. 6 spot on The Hill's 2015 list of Washington's 50 Most Beautiful People. (He did not, unfortunately, make it to HuffPost's list of competing rankings).
Is there a hat-trick in the offing? Could there be a list of Albuquerque's sexiest mechanical engineers that we don't know about? We've got our eye on you, Martin…