The president of Seychelles, Danny Faure, implored the world to do more to protect the "beating blue heart of our planet" in a Sunday speech broadcast live from the depths of the Indian Ocean.
Faure, dressed in a Seychelles T-shirt and pink shorts, delivered his plea for the world's seas while sitting in an underwater craft more than 400 feet below the ocean's surface. According to The Associated Press, it was the first time a political speech had been broadcast live from a submersible underwater.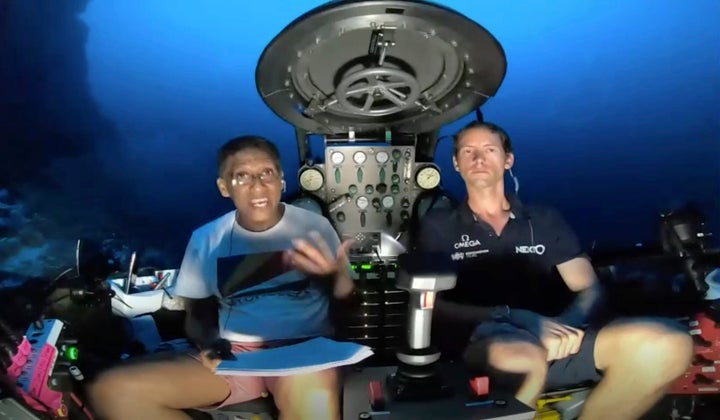 "The ocean is huge, covering almost 70% of our planet, but we have managed to seriously impact this vast environment through climate change, ocean acidification, overfishing, plastic and other pollution," said Faure, who is the leader of an archipelago under threat from climate change and other manmade environmental impacts.
"We need decisive, coordinated, international action," Faure added.
Only about 5% of the world's oceans are currently protected, AP said. U.N. member countries have agreed to increase that percentage to 10% by 2020, a goal that won't likely be met ― but even if that target is reached, it won't be enough to ensure the health of ocean ecosystems and maintain their biodiversity, experts have warned.
Faure's underwater visit was part of a series of British-led scientific expeditions, a project dubbed First Descent, aimed at exploring and conserving the Indian Ocean ― described by the project's website as the least explored and least protected of the world's oceans.
Faure said his deep-sea experience had shown him first-hand how humans have "managed to seriously impact this environment through climate change."
"I can see the incredible wildlife that needs protection," he noted in his speech. "Over the years we have created these problems, we must solve them and we must solve them together."
Related
Popular in the Community