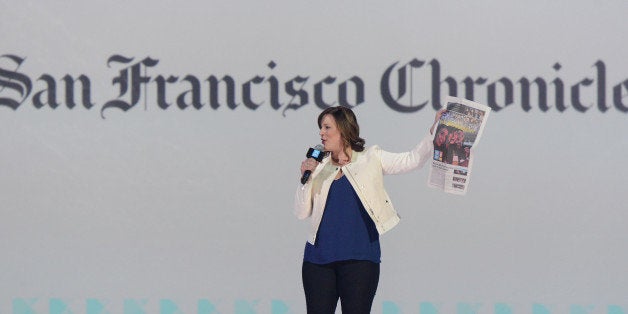 For the first time in the San Francisco Chronicle's 150-year history, a woman will serve as the paper's editor in chief.
"Audrey's news leadership at The Chronicle is emblematic of the future of all of our newspapers and websites: employ innovative storytelling to connect readers with the news and information that matters most to them," Mark Aldam, president of Hearst Newspapers, said in a statement.
Cooper, who has been with the paper since 2006 and most recently served as managing editor, reflected on her first attempts to join the Chronicle fresh out of college.
"I applied for an internship three years in a row," she said, smiling, the outlet notes. "I never even got a callback."
She joins a small circle of women in top roles at major U.S. papers.
The shortage of female leadership in media became national conversation in May when New York Times executive editor Jill Abramson was ousted from her role, which, at the time, Media Matters pointed out left the country with only two female editors -- Newsday's Debbie Henley and the Houston Chronicle's Nancy Barnes -- at the helm of any of the top 25 circulation daily papers.
However, women who do rise to Cooper's ranks still face a pay gap -- albeit a narrowing one. According to Folio's annual salary report, women in editorial director roles earn 4 percent less than men in the same position.

Popular in the Community