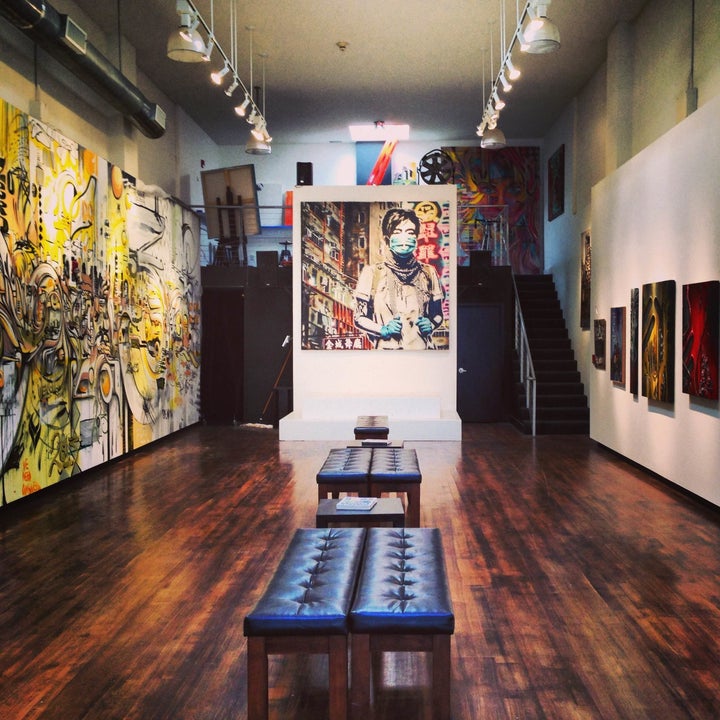 SAN FRANCISCO -- It's the night before the official opening of the Ian Ross Gallery. Music is blasting through the SoMa storefront while press, buyers and friends roam through the space.
But Ross isn't schmoozing with guests. Instead, he's posted at the back wall with a brush in his hands and paint on his fingers, at work on an enormous mural of the San Francisco skyline. Green and blue paints bleed into the corners; the artist is in his element.
Visitors to the new space will be invited to take workshops, witness artists in action, even pick up a brush and start painting. The curated work will change constantly, the existing murals reborn. The gallery will provide a home for the live art movement Ross has helped pioneer in a neighborhood filled with the tech startups that launched his career.
The space is more than just an accomplishment for Ross. It represents a milestone in the relationship between San Francisco tech companies and artists. With climbing price tags and increasing prevalence, live art is sparking highbrow interest in the Bay Area. And the tech boom might be responsible for the success.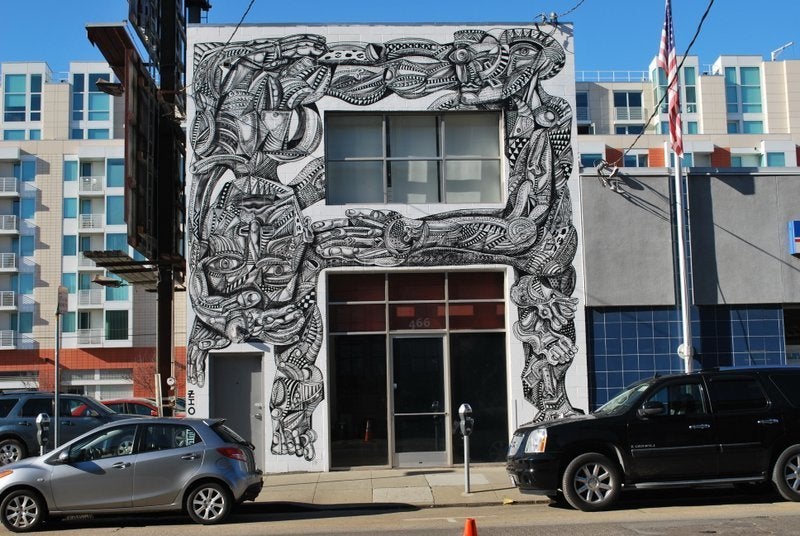 Live Art In San Francisco
Ross got his start in the genre at one of his first showings in San Francisco, after his publicist suggested he create a live painting for the guests. One beer and two tequila shots later, he dove into the experience and found himself completely inspired. From there, he tackled larger-scale live projects: Mission murals, street paintings and demonstrations.
When Ross linked up with tech companies, his career took off. A Facebook employee recruited him to paint a mural at the company's headquarters, and from there, he gave painting lessons to staffers in exchange for space. His process was even featured on MTV.
Since then, he has developed a reputation as the "startup artist." Though live art is traditionally associated with free, accessible street art, and Ross continues to create these pieces, his work can fetch up to $18,000.
But live artists have found a way to make to the tech boom work in their favor. Some say it's because the style is a good match for the vision of tech companies.
"Tech developers are doing something new. They approach problems in a completely different way," art advisor Danielle Wohl told The Huffington Post. "They are more open to art work that is the of the moment, and right now, street art is of the moment."
Wohl connects artists to clients like Facebook and Oracle. A few years ago, she helped launch Facebook's artist residency program. According to Wohl, the relationship between tech developers and progressive live artists is a natural fit.
"You can't put a 22-carat, gold leaf frame around a mural, and there's something appealing about that," she said. "It's different."
Jonathan Matas, a live artist and alum of the Facebook residency, explained that the startup mentality has bled into the art world. Live art is experimental, spontaneous and traditionally not highbrow -- yet it's still finding success.

"If it's cool, it flies," Matas told HuffPost. "You don't have to be famous, or work in this or that gallery."
Live art also incorporates the immediacy and interactivity prevalent in the tech world.
"In today's marketplace, you can bring an idea right to the market, let people interact with it, let people tell you what they want and then keep changing it and changing it and changing it," Intersection For the Arts Executive Director Deborah Cullinan said. Breaking down the barrier between the artist and the public in a live painting replicates that model.
And while the tech boom has created a cultural attitude perfectly suited for live artists, industry shortcomings have also created a void for live artists to fill.
Technology conditions consumers to experience visual stimuli at great speed and regularity, Matas explained. A traditional painting housed in a Union Square gallery might struggle to stand out. Live art, however, provides an alternative solution: it creates a full sensory experience for the viewer.
"Live paintings take on the environment that you're in," Carly Ivan Garcia , one of the artists whose work and process will be featured in Ross' gallery, explained. "People are buying the experience."
Ross hopes his gallery will provide a venue for the art and tech communities to come together. "I think we all are embracing any type of ideas for what a space like this could be used for," he said. "It's so unique."
Related
Popular in the Community