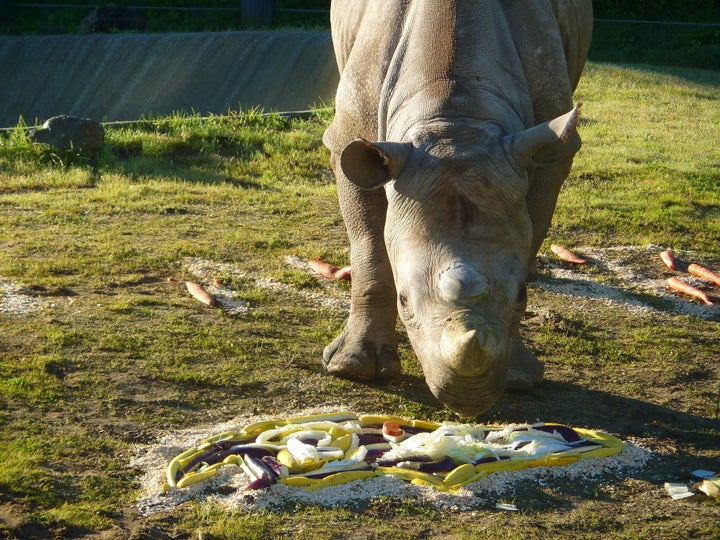 The San Francisco Zoo is taking the phrase "crushing the competition" to a new level.
On Thursday morning, Boone, the zoo's beloved black rhino, devoured the Ravens for breakfast to show his 49ers spirit. The four-year-old rhino is named after 49ers player Alex "The Rhino" Boone.
San Francisco Zoo staff members formed the Ravens logo out of eggplants and yellow squash (he's a vegetarian). Not much of an eggplant lover, Boone paced around the veggies before going for his prey. Boone's caretakers said the Ravens left a bad taste in his mouth.
"This is our way of showing support for the 49ers and Alex Boone," Communications Director Abigail Tuller told The Huffington Post. "It's our own pep rally."
Hometown pride isn't the only thing at stake for the zoo.
In the spirit of competition, zoo officials made a bet with their Maryland counterpart. If the 49ers take home a win, the Maryland Zoo will rename the ravens exhibit after their victors. However, if the Ravens sweep the bowl, Boone's exhibit will be renamed after the rival team for one month.
Losing the bet will be tough for everyone involved.
"All the animals are 49ers fans, Giants fans and Bulls fans," Tuller said.
Alex Boone first encountered his future namesake when the right guard visited the zoo with his family. He felt an instant connection to the animal.
Since the visit, Boone has been invited to act as Zoo Keeper for a Day The San Francisco Zoo has partnered with the 49ers Foundation to raise money for educational causes -- donations made in the name of the rhino will help to bring local children to the zoo.
To celebrate this weekend's festivities, the San Francisco Zoo is granting free entry to children decked out in 49ers gear Sunday.
Take a look at photos from Thursday's Ravens-eating extravaganza below:
PHOTO GALLERY
SF Zoo Rhino Eats the Ravens for Breakfast
REAL LIFE. REAL NEWS. REAL VOICES.
Help us tell more of the stories that matter from voices that too often remain unheard.
BEFORE YOU GO