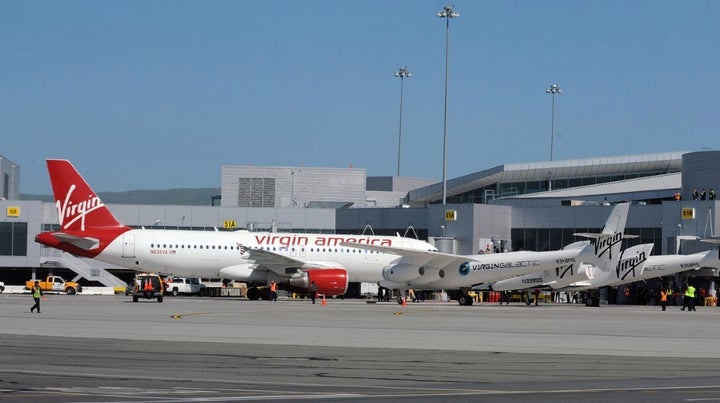 San Francisco International Airport's newly completed Terminal 2 was awarded LEED Gold certification this week. It's the first airport terminal in the United States to receive this distinction.
T2...is 15 percent more energy efficient than California's building codes require, [U.S. Green Business Council Executive Director Dan] Geiger said. Plumbing fixtures are 40 percent more efficient than standard fixtures, and all the water used in the terminal's bathroom facilities is reclaimed.

All of the containers and packaging used by T2's organic and local food vendors are required to be made from recycled materials, and ample skylights and floor-to-ceiling windows significantly reduce the facility's electricity requirement during daylight hours.
Another of the building's green-minded features is inclusion of free "hydration stations" that airline passengers can use to refill the water bottles they were required to empty out before going though security. The terminal also prominently displays signage educating travelers on issues on ecological and sustainability issues.
The 64,000 square-foot terminal reopened for business in April after a two-year, $383 million makeover.
LEED stands for Leadership in Energy and Environmental Design, and San Francisco requires that its new public buildings and major renovations projects achieve at least LEED-Silver certification, the second of four levels in the USGBC green building rating system. (The first level is basic certification; the highest level is platinum.)
When the project began, the airport team set out to get a lower rating of LEED Silver; however, midway though the construction process, they realized they could set their sights on the higher Gold rating.
India's New Dehli airport was the first airport terminal in the world to achieve a LEED Gold ranking, SFO is the second.
Another one of the building's eco-friendly features is a network of skylights and large windows that allow the interior to be illuminated during daylight hours with minimal use of artificial lighting.
"The original windows were only four feet tall," Design Director Terrence Williams told Half Moon Bay Patch. "Now you can run the building all day and never have to turn on an electric light."
Virgin Airlines owner, Sir Richard Branson, whose carrier is one of only two flying out of Terminal 2, praised the airport's efforts. "Virgin is known around the world for its focus on sustainability as well as for product innovation that improves the customer experience, and SFO's T2 represents the future of airport experiences across the globe," he said to World Architecture News. "Virgin America has the most fuel-efficient fleet in the US and thanks to the vision of SFO...it now has a home base that reflects the evolution of sustainable travel."
Related
Popular in the Community