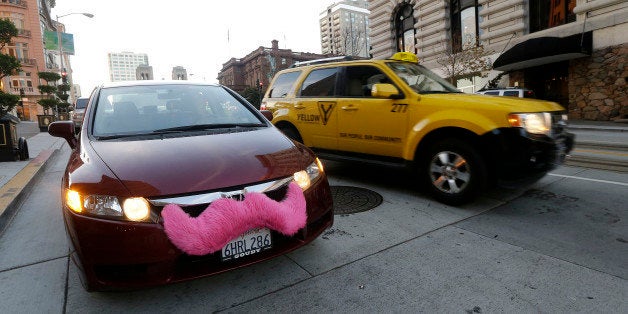 San Francisco taxi drivers are done playing nice.
For two hours on Monday night at San Francisco International Airport, cabbies with the San Francisco Taxi Workers Alliance clogged lanes, blocked terminals, refused to pick up passengers and posted signs in their windows reading, "This vehicle has full-time insurance, 'TNCs' (transportation network companies) do not!" the San Francisco Chronicle reported.
The protest came as tensions escalate between the taxi industry and smartphone app-enabled ridesharing companies in San Francisco and elsewhere. The airport decided last month to allow rideshare companies Uber, Lyft and Sidecar to operate at the airport in a pilot program requiring them to pay the airport $3.85 per ride, comparable to a $4 fee taxi drivers told the Chronicle they pay. The airport, known as SFO, is the first in California to ink such a deal and the second in the U.S. to do so, local CBS affiliate KCBS noted.
SFO spokesman Doug Yakel pointed out the irony of the taxi drivers' gridlock stunt.
Passengers stuck in the traffic tweeted their frustrations and warned of unsafe conditions.
Cab driver Skot Ballard argued to the Chronicle that rideshare drivers don't know the city, are unsafe because they look at their phones while driving and have cut into taxi drivers' income.
Barry Korengold, with San Francisco's Taxi Workers Alliance, echoed Ballard's frustration.
"We're not allowed to have this on-off insurance policy. We have to have 100 percent insurance. That's how taxi cabs are regulated," Korengold told KCBS. Uber and Lyft cover driver liability only when the app is in use. When the app is on, but with no rider, they only cover instances that personal insurance won't.
"It's a lot of unfair competition and it's going to put the taxis out of business," Korengold continued.
The SFO protest underscores a conflict between the fast-growing ridesharing industry and the taxi companies facing the new competition. Cabbies used similar traffic-blocking techniques in Washington, D.C., last month, while taxi drivers in San Antonio, Texas, mounted a more traditional protest in August with a rally outside City Hall.
The insurance argument remains at the center of taxi drivers' complaints in all cities where the rideshare companies operate. But customers care far more about service and reliability than about unfair competition. Rapid growth of the rideshare services suggests traditional taxis aren't stacking up with consumers.
"Convenience and ease are the primary reason people are so open to not trying, but permanently switching to ride-sharing apps," sharing economy expert Rachel Botsman told The Huffington Post. "The current taxi experience is often frustrating and unreliable," she said, speaking generally of traditional taxi services.
"A point that rarely gets talked about is how you can't reverse the consumer behavior," Botsman said. "The public has experienced a new way to get from A to B and in many instances decided the new way is better. Once the genie is out of the bottle, that new way exists, you can't reverse the story."
In San Francisco, birthplace of the three major rideshare companies, taxi drivers promise they're not going down without a fight.
"Our income has been cut so bad," Ballard told the Chronicle, "you'll definitely see more of this."

Related
Before You Go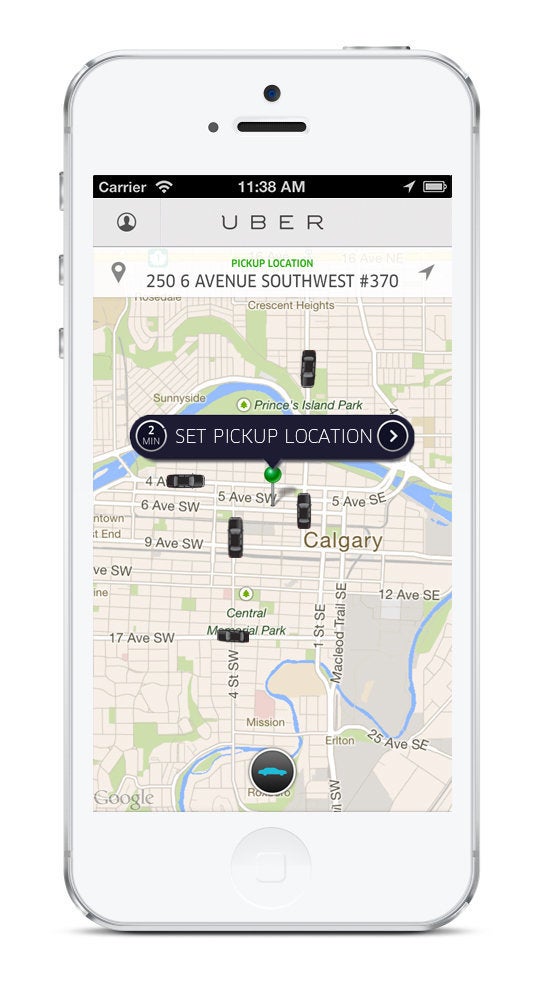 6 Facts About Uber
Popular in the Community