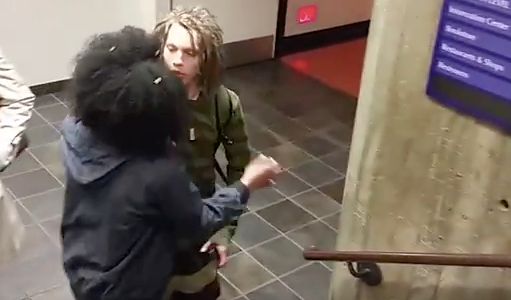 San Francisco State University said Tuesday that a woman who was caught on camera confronting a man about his dreadlocks is not an employee of the school. 
A video posted to YouTube on Monday shows a woman of color arguing with a white man about his hairstyle, which she says is from "[her] culture."
The video's title and some Reddit users described the woman as an SFSU employee, but SFSU said that neither of the people involved in the argument works for the university. 
The school said it is investigating the circumstances of what happened.
In the video, the man defends his dreadlocks by stating the style comes from Egypt and says to the woman, "Are you Egyptian? Nah."
The woman asks him what continent Egypt is on. She is seen grabbing the man's sleeve as he tries to get by her to walk up a flight of stairs and telling him to come back. At one point, the woman says, "You put your hands on me, you're going to learn." 
"I don't need your disrespect," the man replies as he walks away. The woman then asks the person with a camera why they are filming, and blocks its view with her hands.
"San Francisco State University promotes the rights of the campus community to engage in free speech, but does not condone behavior that impedes the safety or well-being of others," the university said in a statement. "We are taking the matter seriously and will promptly and thoroughly investigate this incident through applicable University channels, including our campus student conduct procedures."
University police were called to the scene, SFSU added, but no one pressed criminal charges. 
UPDATE, March 31: The male in the video spoke about the incident in a video uploaded to YouTube on Wednesday.
REAL LIFE. REAL NEWS. REAL VOICES.
Help us tell more of the stories that matter from voices that too often remain unheard.