BALTIMORE -- In the days since thousands of protesters in Baltimore, Maryland have declared black lives matter and demanded an end to police brutality, one officer is reminding her community that working together is the only way to move forward.
Mosby's statement was unexpected but welcome news for the community, and gave way to an honest dialogue between a cop and the citizens she protects.
"My heart is in this," Glanville told a small crowd. "I'm not wasting time on someone that's not trying to let me in, when I got all these other people that got the door wide open, saying 'Sgt. Glanville, please step in.' I am here, I'm available. I give kids my phone number, I tell people 'you need something, you call me.' It all starts with relationship building."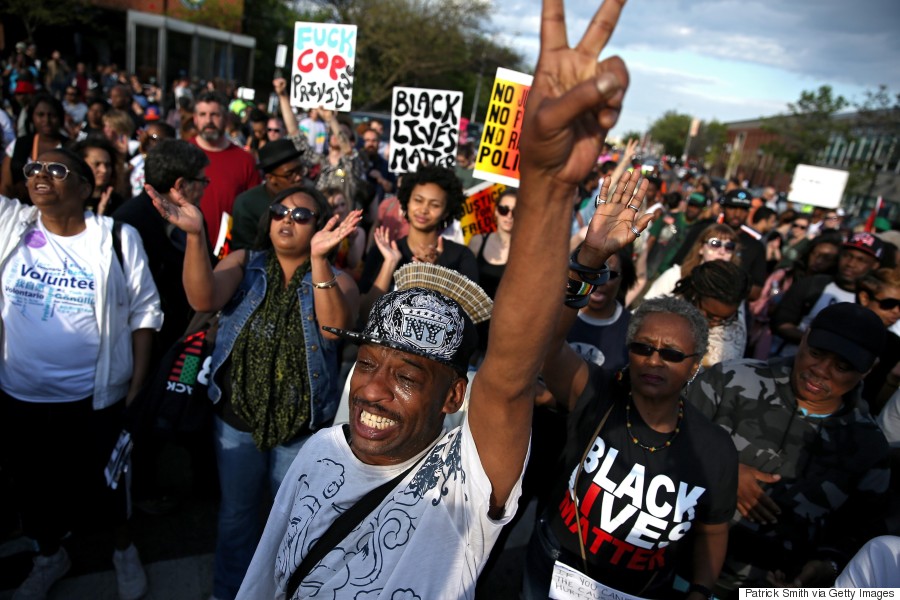 Glanville has been with the Baltimore Police Department for 19 years and has never received a complaint, she said. The officer, who has a degree in political science, told protestors that police and citizens need to start treating each other as human beings.
"You have to see past my uniform," she said. "I'm somebody's mother, I'm somebody's daughter, I have parents, I'm human. You have to remember that I don't just become a robot because I put this uniform on."

Community members who gathered around Glanville could be seen hugging the officer, and at times tearing up.
"We have to start doing better," Glanville told the crowd. "We know better, and we have to start doing better. It doesn't matter what color you are. People are watching to see the next move that Baltimore makes coming out of this ... I want other cities to look at this and be able to see a template....And the main thing we need to do is make sure these babies are ok."
Down the street from Glanville, a DJ played music for a crowd of hundreds who danced and cheered under the cusp of a full moon.
Lana, a 31-year-old old resident who declined to give her last name, walked around and burned sage with other women.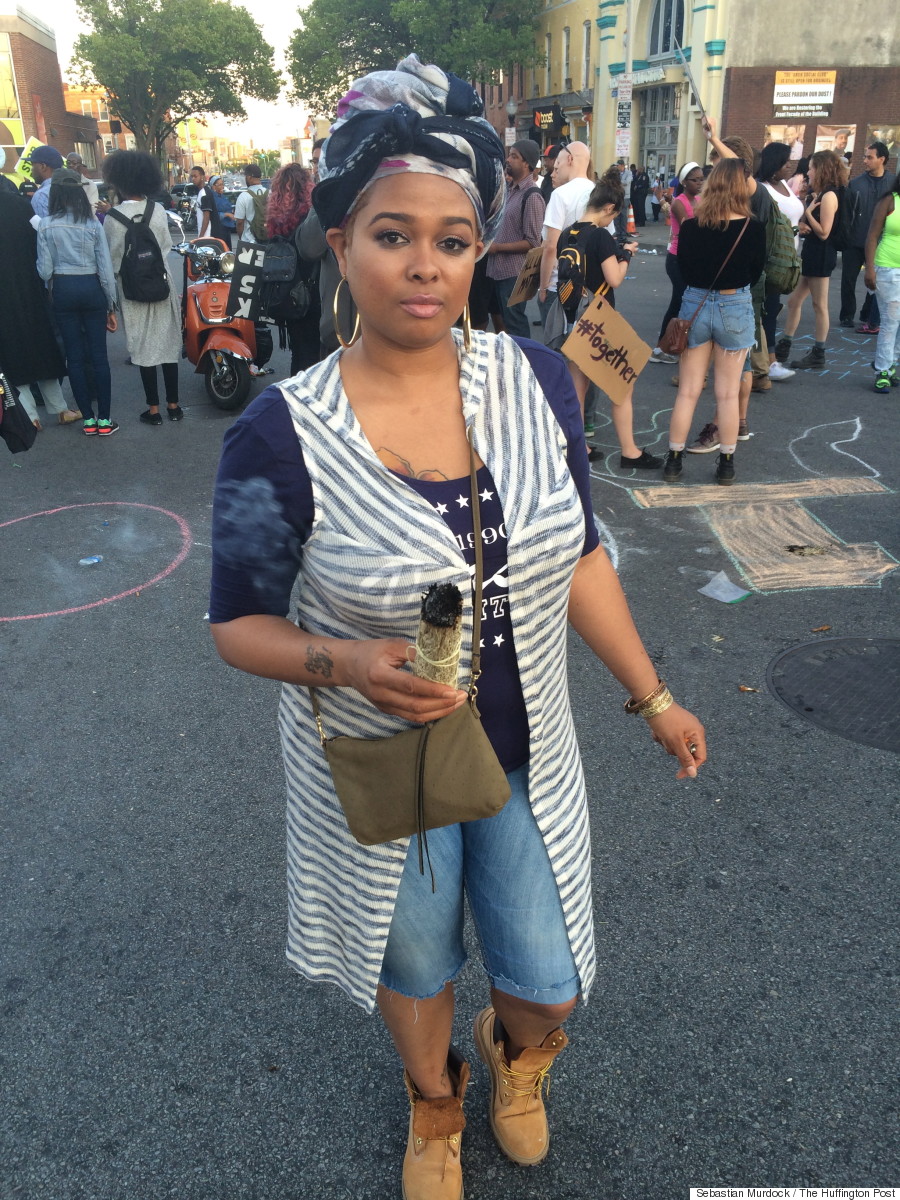 "There's a lot of bad s*** out here, and we just don't want it," Lana told the Huffington Post as smoke drifted through the air. "The way you get rid of it is you smoke it out. This is a spiritual war."
The demonstrator said she and other women burned sage because women throughout history have always been healers.
"We love each other," Lana said. "We've been hugging people and just giving love out, because more than anything we need love. It's corny, but that shit's true. A hug can change someone's attitude in a minute."
Michael Wilson, a 19-year-old gang member with the Bloods, has seen his share of violence. Wilson told the Huffington Post he grew up in the justice system, catching his first assault charge at 11 and getting locked up at the age of 16 for armed robbery. Despite a troubled past, Wilson said these demonstrations aren't about violence.
"It's cool, there ain't a lot of beef here today," Wilson said. "It's way better today than it has been in the past. I thought this was just going to be a lot of young people out here, but it's everybody coming together. [The media] makes it seem like it's bad, but Baltimore is a really good place to be at."
Wilson isn't the only witness to some of the progress that has been made in Baltimore in the last week. On Sunday, Maryland Governor Larry Hogan (R) said the city has already begun to withdraw National Guard troops. The news came in just hours after Mayor Rawlings-Blake announced she would lift the 10 p.m. city-wide curfew, which she initially instated following violent protests that erupted on Monday.
"My goal has always been to not have the curfew in place a single day longer than was necessary," Rawlings-Blake said in a statement. "I believe we have reached that point today."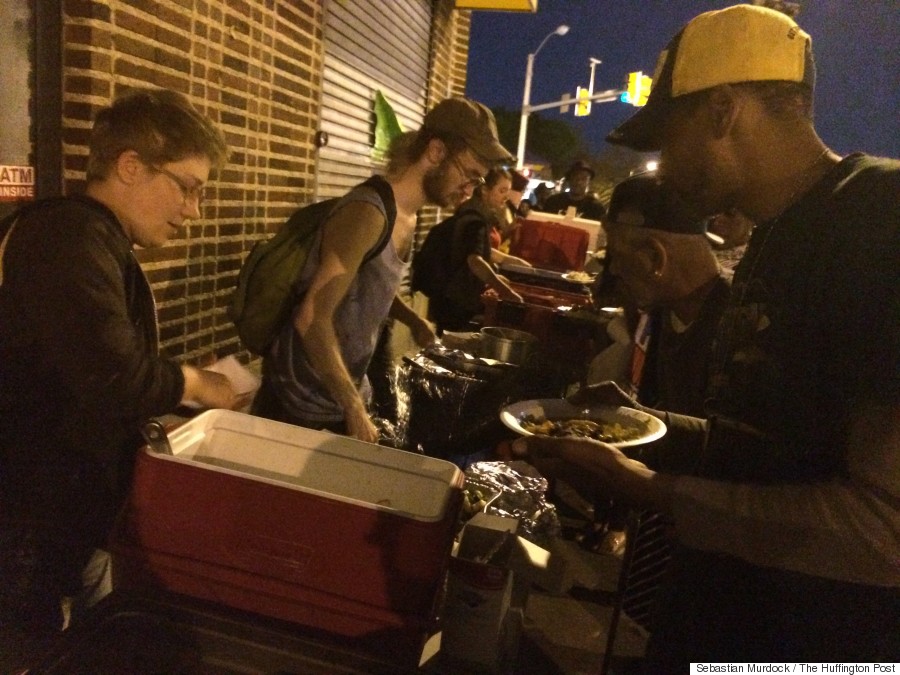 As the sun set, organizers with Baltimore Free Farm handed out massive plates of free food to residents of West Baltimore, including home cooked vegetables, potatoes, beans, rice, and gumbo.
Meanwhile, officers like Glanville stressed the importance of working together in a more collective effort to mend the relationship between cops and community members.
"This is my city too, so I'm saying to you, you can not think that all police are bad," she said. "Something is wrong. So everyday I put on this uniform, and do the best that I can to make sure that it's right, but I'm only one person, so I can only stand on my merits."
When a member of the media asked for her full name, Glanville said she wasn't here to speak to the media -- she was here to speak with her family.
Below are photos of Saturday's jubilant rally in Baltimore as thousands came together to remember Freddie Gray.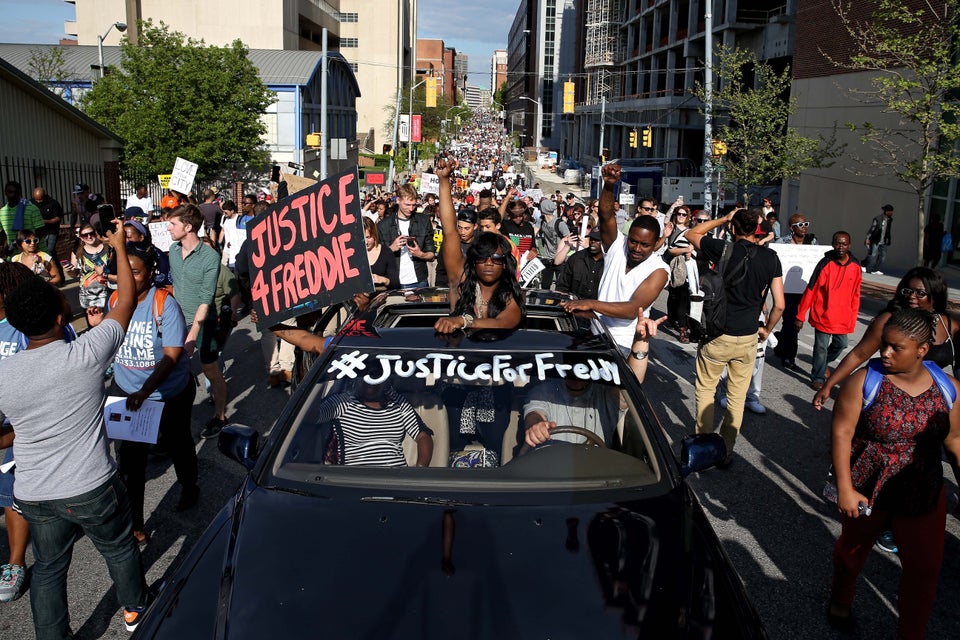 Baltimore Celebrates Beginning Of Justice
Like Us On Facebook |

Follow Us On Twitter |

Contact The Author
Popular in the Community